9 Pairs Of '90s Sunglasses You Need Right Now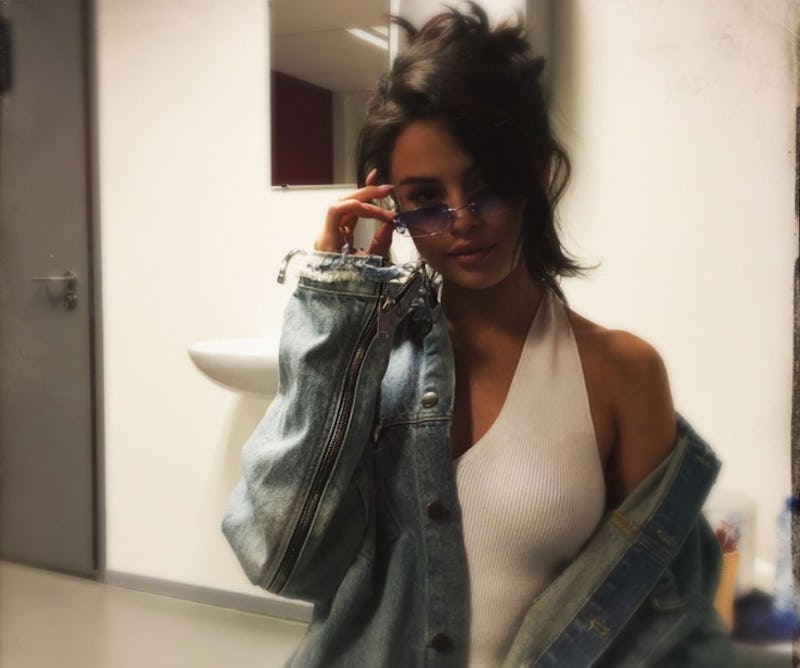 It seems as though the days of oversized bug-eye sunglasses are behind us. Just scroll through Instagram and you'll begin to notice a trend — celebs are rocking smaller, '90s-inspired sunglasses, instead of the large shades of years past.
This isn't exactly surprising to me considering almost every trend from the '90s has made a triumphant return to the fashion zeitgeist over the last few years. There are three basic characteristics that define this new wave of '90s-inspired sunglasses: They're small, they frequently feature colored lenses and they often have thick frames.
Just take the sunglasses worn by sisters Bella and Gigi Hadid recently. Bella rocked a pair of small oval Roberi & Fraud sunglasses while in Paris on Wednesday, and Gigi caught everyone's attention when she stepped out wearing small, red, cat-eye sunglasses while in New York City earlier this month. Kendall Jenner has also been spotted wearing small black oval sunglasses, which really rounds out the fashion model trifecta.
Perhaps one of the biggest proponents of the sunglasses trend is Selena Gomez, who has rocked several '90s-inspired sunnies for a variety of occasions. She's rocked an oval pair with red lenses, a slightly rectangular pair with ombre purple lenses, and a small black oval pair. Gomez is the queen of '90s sunnies.
She rocks these sunglasses like no other, convincing me that I need a small pair of sunglasses as well.
I'm actually pretty sure I had these exact sunglasses in seventh grade.
If only I knew these sunglasses were going to make a comeback, I would've saved mine. But we're in luck, because throwback '90s sunnies are popping up in all of your favorite stores, so you can get a pair (or three) for yourself just in time for summer.
Here are nine pairs of '90s-inspired sunglasses.
Replay Vintage Sunglasses, $28, Forever 21
Straight out of 1997.
1992 Slim Oval Sunglasses, $16, Urban Outfitters
These literally have "1992" in the name.
Crap Eyewear The Wild Gift Cat-Eye Sunglasses, $60, Urban Outfitters
Very Gigi Hadid.
Replay Vintage Sunglasses, $38, Forever 21
Definitely a throwback style.
90s Color Tinted Lens Rectangle Sunglasses, $15, Etsy
Give off serious Selena Gomez vibes in these red tinted shades.
Summer Cateye Sunglasses, $30, Topshop
These cat eye sunglasses are the perfect mix of modern and retro.
Oval Shaped Flat Lens Sunglasses, $9, Shein
I would like the record to show that I am officially obsessed with these pink tinted sunglasses. So cute.
Sadie Slim Oval Sunglasses, $16, Urban Outfitters
These check off all of the '90s boxes.
Replay Vintage Cat Eye Sunglasses, $18, Forever 21
Doesn't get much more retro than this.