9 Women Who Know Exactly Why "Paul Ryan So Scared"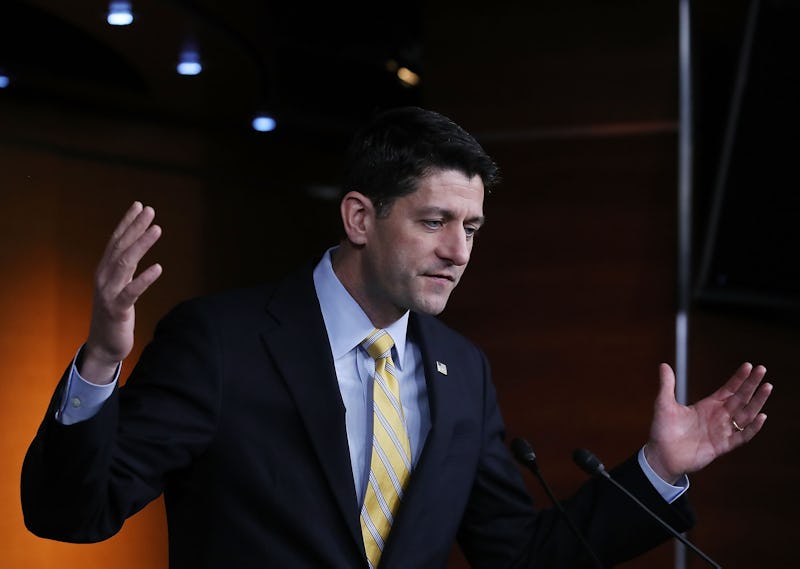 Mark Wilson/Getty Images News/Getty Images
Just days into the 2017 legislative session, Republican House Speaker Paul Ryan announced Jan. 5 that part of his party's plan to repeal the Affordable Care Act, also known as "Obamacare," would include defunding Planned Parenthood. Despite misinformation spread by Ryan and his fellow partisans, federal law since 1976 has prohibited taxpayer dollars from going to fund abortion services at Planned Parenthood. Nevertheless, gutting one of the nation's largest providers of health care and sex education to women and children has long remained a top priority among high-ranking Republicans. And given the deep red tint of the incoming Congress, it's no surprise that Planned Parenthood funding is once again on the chopping block.
But what was a surprise (at least to Ryan) was the massive pushback from citizens around the country who want Congress to keep its hands off women's health care. After 87,000 Planned Parenthood supporters signed petitions telling Republicans to back off, volunteers were slated to deliver printed copies of those signatures to the speaker's Washington office on Friday. It's a tried-and-true organizing tactic that has been used for many years, across the political spectrum.
But apparently, boxes of paper being delivered to the office of the man third in line for the presidency presented such a severe threat that Ryan hired six security guards to block his doorway. The overreaction promptly ignited social media with the hashtag #PaulRyanSoScared.
Grab some tea to sip as you read through these positively scathing — and spot-on — selections from the women of the Twittersphere raking Ryan over the coals:
Beware The Brownies
What Are Those Biceps For?
It'd Be Funny If It Weren't So True
Serious Question
A Whole New Kind of "Smear Campaign"
This Could Get Messy
Take A Lesson From Real Patriots
Where Is Nancy Drew When You Need Her?
We Double-Dog Dare You
Three cheers for nasty women trolling powerful men in 2017!