This Is What You Should Do After The Women's March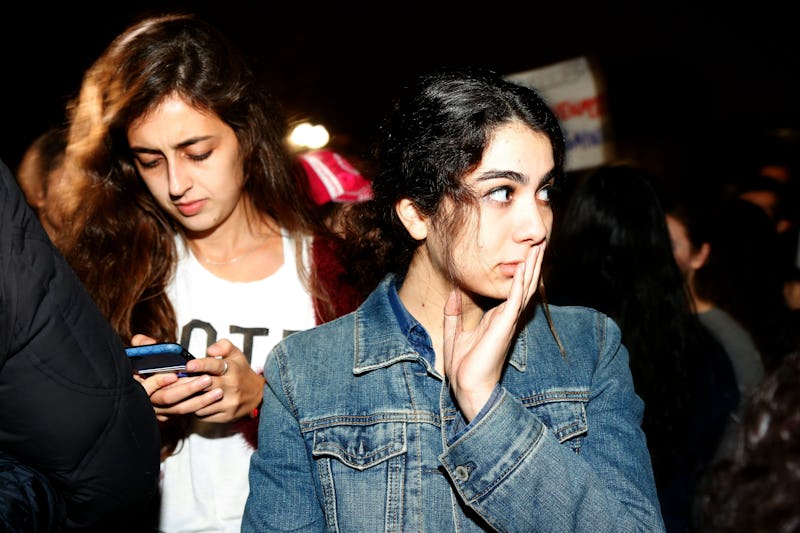 ANDREW BIRAJ/AFP/Getty Images
Thousands of people are set to descend on Washington, D.C. for the Women's March on Washington on Saturday. While Saturday morning and afternoon will be filled with march activities, including programming followed by the march itself, many people are likely wondering what to do after the Women's March on Washington.
The official Women's March on Washington After-Party, which benefits Planned Parenthood, is slated to take place at Washington D.C.'s revered 9:30 Club, and will feature an extensive lineup of musical performers. However, this event is sadly sold out, and thus people hoping to include a party as part of their post-march experience will have to seek out other venues.
Of course, partying is certainly not the only post-march option. First and foremost, Washington D.C. is very vibrant with many options for activities on any given weekend, all of which D.C. residents and visitors can certainly take advantage of and explore.
However, this list focuses primarily on activities that continue to revolve around the theme(s) of the march. Some do so in a very concerted, educational way and others merely provide outlets for leisure activities geared towards marchers. However you choose to spend your time post-march, I hope it is in the spirit of solidarity with fellow marchers, both those you knew prior to march and those you meet for the first time on Saturday.
1. Free Community Weekend At The National Museum Of Women In The Arts
The National Museum of Women in the Arts is offering free admission this weekend in honor of the Women's March. The Museum is open from 10 a.m - 5 p.m. EST on Saturday and features amazing art installations by women as well as a special exhibit on Simone de Beauvoir. On Sunday, the museum will also be conducting a free "Nasty Women" tour.
2. The Anti-Ball At Black Cat
This concert to benefit Planned Parenthood takes place at Black Cat, a music venue well-known by locals. According to Metroweekly, the Anti-Ball concert is the final event in "a series of 'Counter-Inaugural Events' dubbed 'You Can't Grab This Pussy.'" Doors open at 10 p.m. EST. While the concert looks to be sold out on Black Cat's website, it is certainly worth trying your luck for tickets on Craigslist or other third-party sites.
3. Eating At Restaurants Participating In "All In Service DC"
You will likely work up an appetite after spending hours marching on the National Mall. When making your choice about where to go for food and drinks, consider selecting a restaurant or bar from those participating in All in Service D.C., an initiative through which establishments have agreed to donate a portion of the weekend's profits to charity. The list of participating D.C. establishments is available here.
4. Grassroots Activism Teach-In
This teach-in, which is endorsed by the Women's March, features an array of advocacy training activities from 1:30-8:30 p.m. EST on Saturday. According to the official website, the program is designed to "gain a deeper understanding of the critical challenges facing our nation, find ways to plug into grassroots campaigns that tackle those challenges, connect with people from a vast array of movements and acquire skills to become more effective organizers at home." Registration is donation-based or free for students and low income individuals; you can sign up here.
5. Join The Multi-Racial Healing Space At The MLK Library
The multi-racial healing space event, led by Black Lives Matter: DC and several partners, aims to allow people a space to process the events of the weekend as well as to caucus and strategize for the future. The theme for the day is " "being in the world but not of it." The event runs from 12-5 p.m. EST; further information is available on the Facebook invite.
6. Women's March After-Parties
Several D.C. establishments are hosting special post-Women's March parties to celebrate solidarity around women's rights and provide marchers with a chance to decompress after a long day. Some of the many options for March After Parties include: the Women's March After Party at Lost and Found (8:30 p.m. EST), the WE for SHE concert at Songbyrd Music House and Record Cafe (6 p.m. EST), the Unity Ball at the District Architecture Center (8 p.m. EST), the Brooklyn Mamas Women's March After-Party at Eighteenth Street Lounge (9:30 p.m. EST), and the All Women Silent Disco Party at the Embassy Row Hotel (8 p.m. EST).
7. Roll Up Your Sleeves: How We Fight Back
This event, running from 5-6:30 p.m. at Local 16, a DC bar, will feature speakers, Q&A, and discussion all centered around developing a concrete advocacy plan for ensuring that fundamental freedoms and rights are protected over the next four years. The event is free and registration is via Eventbrite.
8. Post-March Happy Hours
A variety of restaurants are hosting post-March happy hours for people seeking affordable food and drink options in the afternoon or early evening. Some venues include: Hank's Oyster Bar, which is hosting a Women's March Community Happy Hour; the Black Squirrel, which is hosting an Equal Pay Happy Hour; and The Midlands Beer Garden, which is donating happy hour sales to House of Ruth, a center for disadvantaged women and children.
9. "Nasty Women Party" at Denizens Brewing
This post-march party is particularly appealing because it involves the release of a "Woman, You Nasty" beer as well as a "girl power" movie marathon. The event runs from 12 p.m. EST onward on the day of the march; the brewery also partners with several D.C. bars through which it will donate proceeds of its beer sales to several women's organizations.
As you can see, there are plenty of options for post-march activities in DC that range from very serious to very lighthearted. Hopefully this list will help you find an activity that suits your interests and needs, and that contributes to making the march weekend even more memorable.