These Puffy Pink Dresses Are So Dreamy You'll Never Want To Take Them Off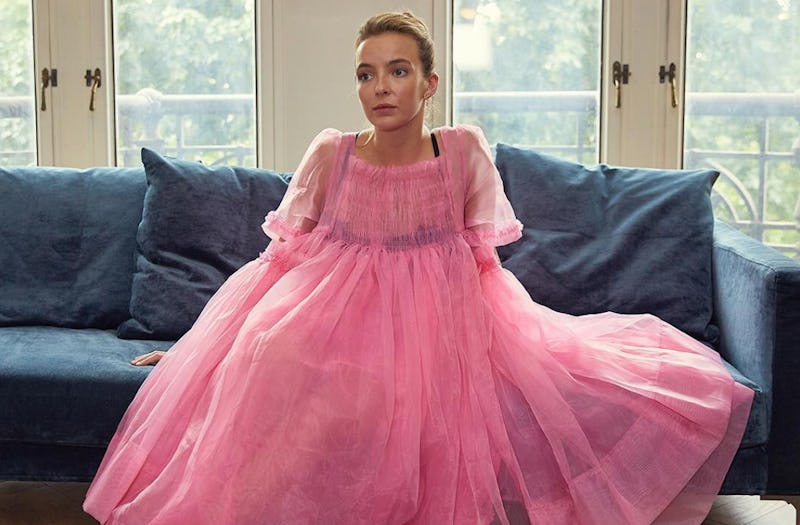 Killing Eve/Instagram
Ever since Killing Eve took to our TV screens, the world has been fascinated with puffy pink dresses. But, as proven by Villanelle's unmissable Molly Goddard dress, the trend has been ongoing for more than the past few months. In 2017, pale pink dominated the Paris Fashion Week catwalks with almost every single designer sending out a look in the feminine hue. In July that year, Pinterest revealed that millennial pink, as the shade is now famously known, was the most searched back-to-work word, as DigiDay reports. It seemed like everyone was fawning over the inoffensive colour.
But now, pink has taken on a new meaning. Women everywhere are relishing in upending the "girly" stereotypes often associated with the shade. Clothes adorned in all manner of pink hues are readily available, whether you want to stand out in the hottest of hot pinks or prefer to remain in the background in a raspberry-inspired piece.
Even celebrities have got in on the act. Earlier this month, Jennifer Lopez wore a pink dress that was so big it filled up an entire van. And at London's recent Fashion Awards, Paloma Faith rocked up in a dreamy concoction of puffballs and ruffles.
Taking inspiration from these A-listers, here's a few similarly puffy pink dresses that might be more suited to your budget.