Why You Should Join The ACLU Right Now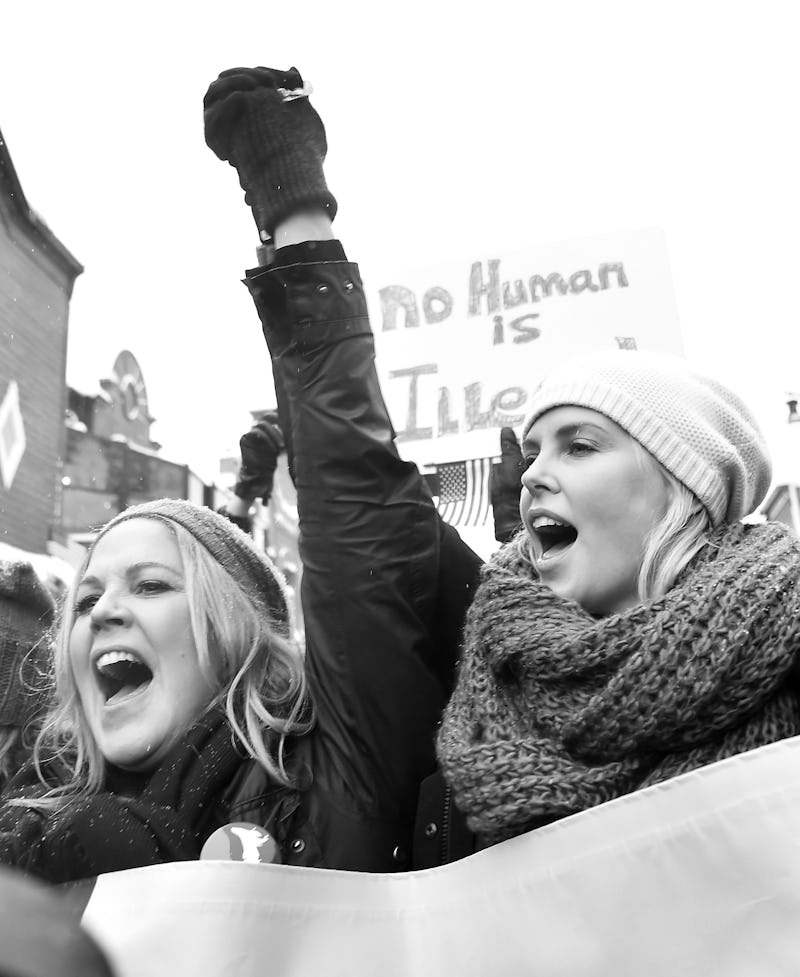 Michael Loccisano/Getty Images Entertainment/Getty Images
Just 10 days into the Trump Administration, and guess what: President Donald Trump is doing exactly what he said he would do. He's signed executive orders that will hurt the environment, sentence Obamacare to death, and call for a wall along the Mexican border. None of that should come as a surprise — and the people's ability to stop him is limited. Then came the Muslim ban Friday night, and finally something stopped Trump's destructive plans in their tracks. That's why you should join the ACLU. They filed a class-action lawsuit on behalf of those affected by the ban and won an emergency stay.
Then the ACLU threw some shade in the White House's direction — just to make the victory that much sweeter. "I hope Trump enjoys losing. He's going to lose so much we're going to get sick and tired of his losing," Faiz Shakir, the group's national political director, told Yahoo News.
Now if you do end up joining, you're in good company. CNBC reported Sunday that more than $24 million was donated to the group this past weekend. Some 150,000 people joined the group, according to the group's civil liberties executive director, Anthony Romero, who called it an "unprecedented public reaction to the challenges of the Trump administration." Normally donations total about $4 million a year.
But don't just jump on the bandwagon. If you're not familiar or need to be convinced of the group's worth, keep reading. There are endless reasons why it's time to join the ACLU, if you haven't already. Here are a few:
The Muslim Ban
This is big, and that's why so many grateful Americans have funneled their money to the group this weekend. A federal judge in New York blocked Trump's ban after the ACLU and other groups went to court on the blocked travelers' behalf.
They Go To Bat With Lawyers
The ACLU has been promising to take the Trump Administration to court since he was first elected in November. That's what the group does, whenever there's an unconstitutional law or executive order passed. "One thing is certain: we will be eternally vigilant every single day of your presidency and when you leave the Oval Office, we will do the same with your successor," Romero said in a statement after the election.
All The Way To The Supreme Court
And we're not just talking about your local courthouse. The ACLU will take the fight all the way to the Supreme Court if need be. They have 12 cases in front of SCOTUS this term. They're actually the private organization that has participated in the most cases before the Supreme Court.
They're With You On Abortion...
The ACLU believes in abortion access, and they are motivated to keep abortion legal and safe in the country through the court system and advocacy. It was ACLU lawyers who argued in front of the Supreme Court to get the Texas limits on abortion rights overturned in Whole Women's Health v. Hellerstedt. And there's more where that came from.
...And LGBT Rights Too
The ACLU was there for the marriage fights, and now they're representing trans Americans as well. They're leading the fight at SCOTUS this term to ensure that Gavin Grimm, a trans student in Virginia can use the bathroom that corresponds to his gender identity.
Plus, They're With You If You Protest...
The ACLU sends out free speech observers at protests to ensure that the police don't trample on your rights. Plus, you can read up on best practices for protests — that way you know your rights and can exercise them to the fullest extent of the law.
...Or If You're Stopped By Police
There's a comprehensive guide for what you should do that you can find on their website. You can even buy a wallet-size version.
Plus Sia & Jesse Tyler Ferguson Will Match Your Donation
Do it because the organization is fundamental to our democracy right now — not because celebrities tell you to. But, it couldn't hurt to double the donation when you become a member with matching funds.
And Finally, Their Twitter Feed
If none of that has convinced you, just take a look at their Twitter feed. It's not only covering their fantastic work around the country, but protests, news articles, and more that you're going to want to know about — at times there's even some humor and shade thrown in for your enjoyment.
Still not a member after reading all this? Click through to the ACLU's page and become one now.