These "Yes We Can" Tweets Will Make You Miss 2008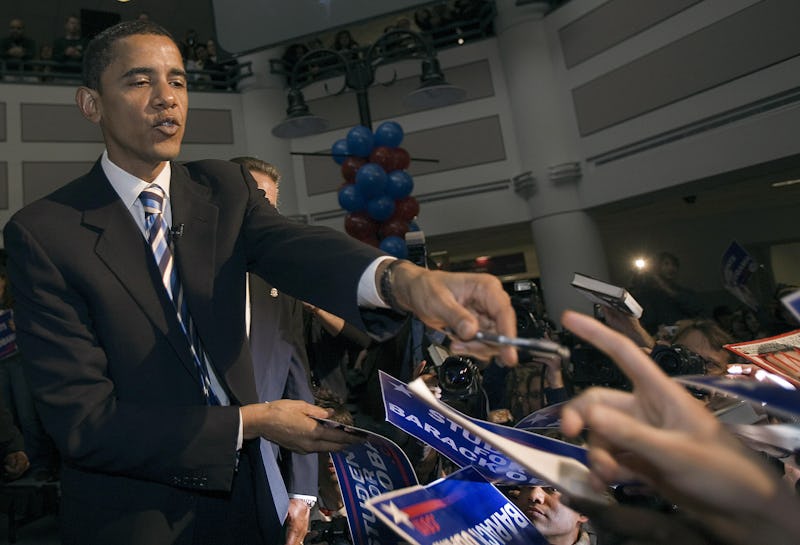 PAUL J. RICHARDS/AFP/Getty Images
There was no doubt that emotions would run high during President Barack Obama's farewell address on Jan. 10, but his shout-out to his campaign's famous "Yes We Can" slogan was particularly poignant for those that supported him 2008 and 2012. The outgoing president took it a step further when he finished his speech with "yes we can, yes we did, yes we can" tugging at the heartstrings of every bright-eyed former Obama for America volunteer. These "Yes We Can" tweets proved the power of the president's wildly successful campaigns, and how essential that slogan in both the future and present tenses will be moving forward.
There likely wasn't a dry eye in the house as the president ended his speech by harking back to the good old days of his campaigns, but in fact, Obama initially thought "yes we can" might be too corny to be his tagline. Good thing Michelle, along with Obama's formidable campaign manager David Axelrod, convinced the president to use the slogan, cementing in history a phrase that came to define Obama's history-making candidacy, and later, his presidency.
Below are some of Twitter's best reactions to Obama's powerful invocation of his world-changing campaign slogan, a slogan that became synonymous with the hope and change so many of us who worked on his campaigns yearned for.