A Teacher Allegedly Assaulted A Student Who Didn't Stand For The Pledge Of Allegiance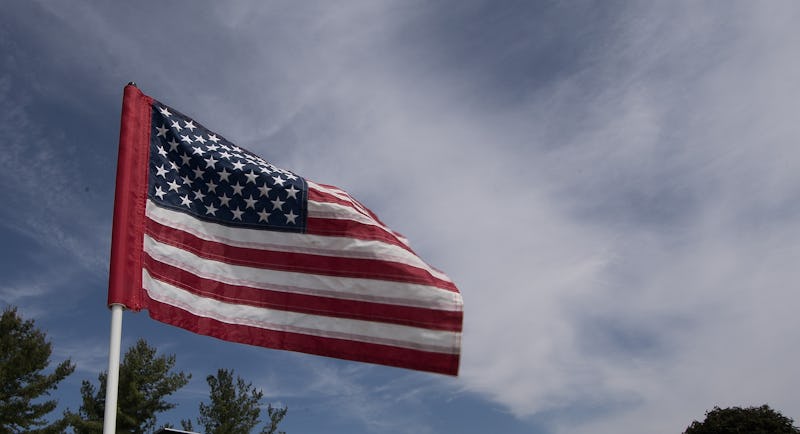 Leon Halip/Getty Images Sport/Getty Images
A physical education teacher in Lafayette, Colorado, is currently on paid administrative leave after allegedly assaulting a student who didn't stand for the Pledge of Allegiance on Feb. 1. Angevine Middle School principal Mike Medina stated in an email sent to parents and obtained by Bustle that "following an incident today at school, Ms. Smith was placed on paid administrative leave."
Lafayette Police Commander Brian Rosipajla tells Bustle that the Lafayette Police Department is investigating the alleged assault, and that there aren't any further details because the case is currently open. BVSD's Chief Communications Officer, Randy Barber, tells Bustle that they're cooperating with the Lafayette Police Department's investigation. He says that Smith "has served the Boulder Valley School District for 20 years."
Medina also stated in his email to parents, "We believe in due process and therefore ask that everyone respect Ms. Smith's privacy at this time. We are dedicated, as always, to supporting our students and ensuring that we have qualified educators working with them during their physical education time."
There aren't any laws in the state of Colorado about not standing for the Pledge of Allegiance. Colorado Revised Statute 22-1-106 states, "Each school district shall provide an opportunity each school day for willing students to recite the Pledge of Allegiance in public elementary and secondary educational institutions. Any person not wishing to participate in the recitation of the Pledge of Allegiance shall be exempt from reciting the Pledge of Allegiance and need not participate."
In an email sent to families within the Boulder Valley School District that was sent to Bustle, Superintendent Cindy Stevenson said, "In Boulder Valley School District our practice is to allow any person (student, teacher, other staff) to be excused from recitation [of the Pledge of Allegiance]. No basis for objection need be stated. Students who choose not to participate should not be disciplined nor should they be forced to stand, leave the room, or be ostracized in any way."
She continued, "I understand that our community, especially at the national level, is divided and there is a lot of passion around the issue. We do believe in due process and will await the outcome of the investigation before taking any appropriate action."
Stevenson's observation regarding division over standing or not standing for the Pledge of Allegiance came less than a week after Donald Trump mentioned standing for the Pledge in his State of the Union Address. Trump cited a 12-year-old's "patriotism" as the reason "why we salute our flag, why we put our hands on our hearts for the Pledge of Allegiance, and why we proudly stand for the National Anthem." This quip was a callback to his ongoing battle over NFL players kneeling during the National Anthem before football games to protest police brutality, in support of former 49ers quarterback Colin Kaepernick. In Sept. 2017, at a rally in Alabama, Trump said, "Wouldn't you love to see one of these NFL owners, when somebody disrespects our flag, to say, 'Get that son of a b*tch off the field right now. Out! He's fired. He's fired!'"
But most people who refuse to stand for the Pledge or National Anthem don't do so to disrespect the flag — for many, their refusal is meant to bring attention to injustices in the United States. As Kaepernick has stated multiple times, "I am not going to stand up to show pride in a flag for a country that oppresses Black people and people of color."
With the investigation still underway, it's currently unclear exactly what happened during the alleged incident at the Colorado middle school. But what is clear is that everyone has the right to stand or not stand for the Pledge of Allegiance or National Anthem, and no one — middle schoolers or multi-millionaire NFL players — should be forced to stand for something they don't personally believe in.