A Dallas Cop Who Fatally Shot Her Unarmed Neighbor In His Apartment Now Faces Charges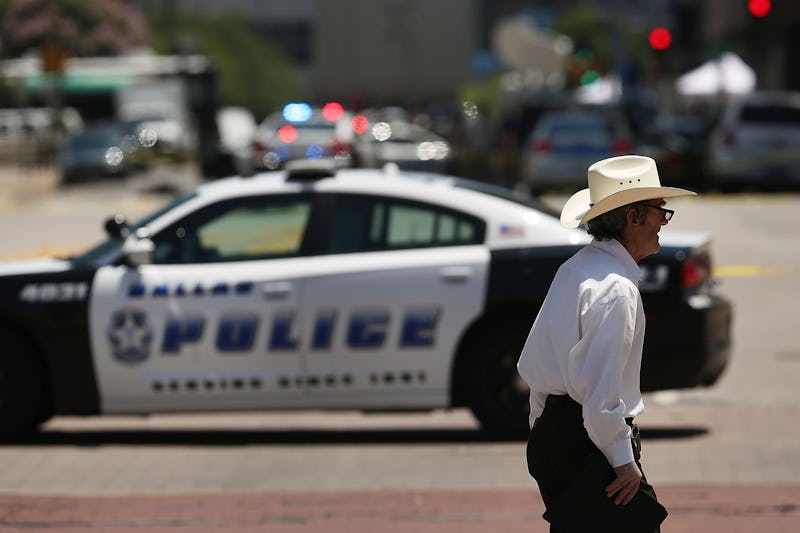 Spencer Platt/Getty Images News/Getty Images
Authorities in Texas have arrested a Dallas police officer who fatally shot her unarmed neighbor after mistakenly entering his apartment thinking it was her own. Amber Guyger was taken into custody Sunday and charged with manslaughter for the shooting death of Botham Shem Jean, but was released on bail later that day, CNN reported.
According to The Dallas Morning News, Guyger had just come off a 15-hour shift Thursday night when she parked on the wrong floor of her apartment complex's parking garage and entered Jean's apartment, allegedly mistaking it for her own. When she saw someone in the apartment's darkness, Guyger drew her gun and fired twice, thinking her home was being burglarized, an official said.
When Guyger realized her mistake after turning on the lights, she called 911. Jean, a native of the Caribbean island of St. Lucia who worked at PricewaterhouseCoopers in Dallas, died from his wounds at a hospital, The Washington Post reported. Authorities have said that Guyger and Jean did not know each other and that Jean's apartment was directly above Guyger's.
In a Friday press conference, Dallas Police Chief Renee Hall announced she'd decided to seek a warrant for manslaughter based on the evidence that had been gathered in the case. But then on Saturday, the Dallas Police Department announced they'd turned the investigation into Jean's death over to the Texas Rangers in an effort to eliminate the appearance of potential bias. In a press release issued Saturday, Dallas police said the Texas Rangers had opted to postpone issuing a warrant for Guyger's arrest until they'd had the chance to "follow up" on information garnered from her interview.
According to The Washington Post, Guyger's arrest on Sunday came amid mounting calls for police reform and accusations that Texas authorities were showing one of their own deferential treatment.
Lee Merritt, an attorney for Jean's family, called for Guyger's arrest in a press conference held Saturday. "This family is frustrated, this family is upset, this family is grieving that that has not happened yet," he said in a video of the press conference shared by The Dallas Morning News. "We believe the fact that has not happened yet is a reflection of deferential treatment for law enforcement officers. We are not asking anyone to jump to any conclusions, we are not asking for law enforcement to convict this person or deny them their right to due process. But we are asking that they be treated as any other citizen where there is evidence that they committed a crime be treated and that is for a warrant to be issued and an arrest to be made."
Merritt also said both he and Jean's family believed there was "at least enough evidence for a charge of manslaughter" but that there "is likely evidence for even stiffer penalty charges."
In a statement released after Guyger's arrest, Dallas Mayor Mike Rawlings thanked the Texas Rangers for "thoroughly investigating" and the city's citizens and community leaders for being "so respectful of the investigative process."
According to CNN, Guyger was released from Kaufman County Jail Sunday evening on a $300,000 bond.