A Dolce & Gabbana x SMEG Kitchen Line Is Happening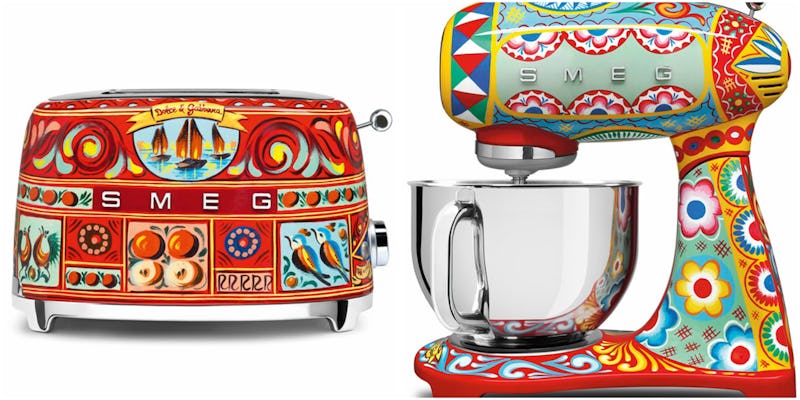 Courtesy of Dolce & Gabbana
Whenever there's a collaboration between big fashion brands and home goods, you better believe everyone will be talking about it. One of the latest and coolest fashion and home collaborations is the Dolce & Gabbana x SMEG Kitchen Line, and the internet is super excited.
If you thought you had a love for stand mixers and espresso machines before, think again! This colorful collection called Sicily Is My Love reflects Southern Italy designs and includes popular Sicilian folklore symbols including lemons, prickly pears, and acanthus leaves — it's a subtle nod to where both Domenico Dolce and Stefano Gabbana live.
While the collection is a beautiful surprise, this isn't the first time the two brands have worked together. In 2016, Dolce & Gabbana x SMEG created a line of only 100 hand-painted refrigerators, which each cost more than $34,000.
It's truly a collection where high fashion and culinary greatness meets design and craftsmanship with an even deeper meaning: "Food, the typical products of Southern Italy and their recipes of traditional dishes are the pulling force to which heart and soul will always return," according to D&G's announcement.
While the first collection of fridges were pretty pricey, we're hoping the new countertop appliances will be a bit more affordable — the brands have yet to say how much each one will cost.
However, starting in October, you will be able to shop the Dolce & Gabbana x SMEG appliances, which includes a toaster, blender, mixer, juicer, water kettle, and an espresso machine. See the gorgeous Italian designs for yourself below, but beware — it's going to make you want a cup of espresso in Italy, stat!
The appliances are filled with hand-painted imagery of Italy.
Dolce & Gabbana x SMEG Mixer
You going to want to bake all the time thanks to that lovely mixer!
Dolce & Gabbana x SMEG Espresso Machine
Italian espresso? Don't mind if we do!
Dolce & Gabbana x SMEG Toaster
The Italian designs are just too gorgeous for words!