A Feminist Miss USA Still Doesn't Exist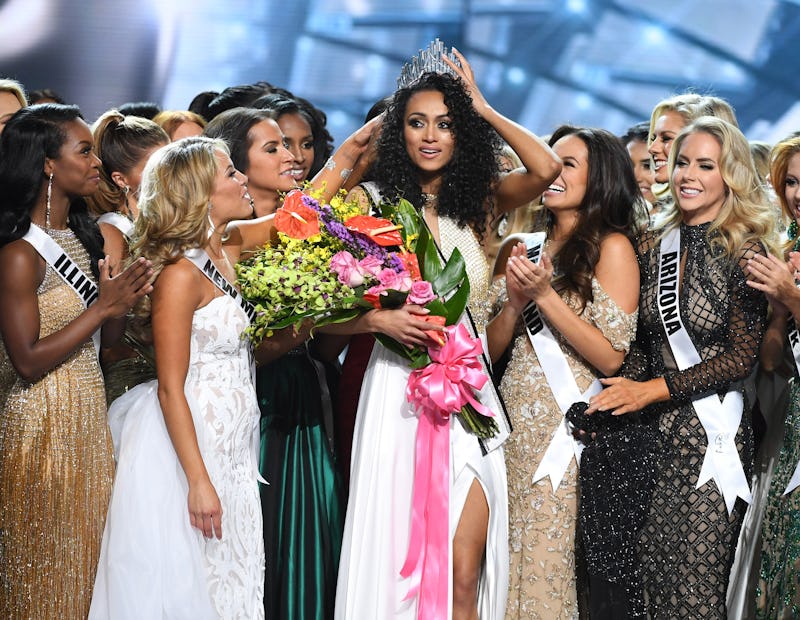 Ethan Miller/Getty Images Entertainment/Getty Images
Kára McCullough is a nuclear scientist. She is a woman of color. She is a beauty queen. And now, she's 2017's Miss USA — one of only 10 black women to win the title in the pageant's 65-year existence. But, as she made very clear on the Miss USA stage on May 14, Kára McCullough is not a feminist. When the final three contestants were asked what feminism means to them and if they considered themselves to be feminists, McCullough responded by saying that she'd "like to transpose the word 'feminism' for 'equalism.'"
As I sat in the crowd at the live broadcast of the show, I felt my entire body deflate when I heard McCullough's answer. Even though many in the arena cheered in approval of McCullough's answer, I felt utter disappointment to hear such an inspiring, powerful woman —someone who I was rooting for — define feminism as something insignificant. But then came runner-up Chhavi Verg, who stood on the Miss USA stage and confidently explained why she was indeed a feminist.
While that shouldn't seem like a big deal in any sense in 2017, when it comes to beauty pageants, it just is. There is a staggering amount of progress to be made when it comes to making an openly feminist Miss USA seem not only possible, but normal. But, even as someone who is far, far outside the realm of pageants, I believe it'll happen. And, regardless of the problematic aspects of pageantry, it's important that it does.
The definitively questionable parts of pageantry — the swimsuit competition, mostly — may or may not stick around. Regardless of that, though, the value of having a strong, confident Miss USA openly and comfortably say she is a feminist is immeasurably valuable. Despite its imperfections, the platform of the competition can be a powerful tool for representation and for visibility. Plus, the job of Miss USA after winning the title is to champion important causes — things like educating young women, an inherently feminist act, whether they call it as such or not. It's valuable in the same way that having diverse title holders and contestants is.
Unlike feminism, diversity is something that the contestants, hosts, and judges — as well as the Miss USA organization in general — promoted as important leading up to this year's event. And with a 2017 Top 10 that included five black women, one Indian woman, and one indigenous woman, it truly was diverse when compared to the past. The organization said diversity was important, and they followed through with visible progress. Is the competition as diverse as it can be, or as it should be? Absolutely not. All the women are all still thin, cis, and able bodied.
Imperfect progress — and calling out those imperfections along the way — is still progress in the end. For this year's Miss USA competition, progress led to the image of one woman of color crowning another for Miss USA — the pair of them making up 20 percent of all of the black women to win the title since 1952. That image is powerful.
Beauty pageants are always going to be about beauty standards in one way or another. But they also hold the chance to stretch and challenge what those standards are. Feminism and beauty might not seem to mix seamlessly at first glance, but in reality, feminism isn't that far off from pageants at all. Because true feminism means that women can be anything they want to be. They can be nuclear scientists. They can be pageant queens. And they can certainly be both.