Gunfire Reported At Ft. Lauderdale Airport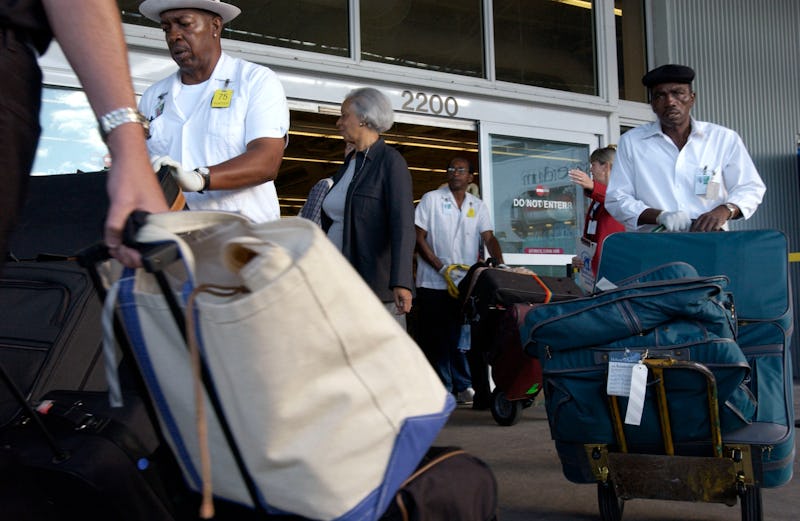 David Friedman/Getty Images News/Getty Images
According to reports from multiple sources, including tweets from former White House Press Secretary Ari Fleischer, a shooting has taken place at the Ft. Lauderdale airport in Florida. Early reports indicated that a number of people were injured and slain in the attack — according to NECN, at least nine people were shot and injured, and at least one person was confirmed dead. But those numbers grew even more dire as hours passed; law enforcement sources have since confirmed that at least five people are dead.
It's important to bear in mind that in the course of chaotic and violent episodes like these, early reports about the victims, attacker and/or attackers, and any motivations involved can often be unreliable and subject to change. In particular, early estimates of deaths and injuries can change rapidly as more information comes to light — although needless to say, hopefully these reported figures don't get any worse.
News of the shooting exploded onto social media by way of Fleischer's tweets — the former Bush administration press secretary and media/public relations consultant stated just prior to 1:00 p.m. ET that shots were being fired in the airport, and that "everyone is running." As it stands now, according to ABC News, law enforcement sources claim the shooter has been taken into custody. The shooting reportedly took place in the baggage claim area of the airport's second terminal.
About 15 minutes following Fleischer's tweet about hearing gunfire and people fleeing, he followed it up, saying that "all seems calm now but the police aren't letting anyone out of the airport." It's common protocol in situations like these to ensure there aren't multiple shooters or collaborators involved, although instances of such are fleetingly rare.
According to the Associated Press, Ft. Lauderdale mayor Jack Seiler has confirmed that the shooting was committed by a lone individual.
There has so far been no public statement from law enforcement about the shooter's identity or motivations, nor about the identities of the injured and slain victims. This is the first high-profile mass shooting of 2017, although it's already the sixth one of the year, according to the Gun Violence Archive.
The video embedded in the tweet below, for the record, is not graphic — as Fox 59 details, it shows an Indiana native named Corbin Bare arriving to drop a friend off at the airport about 20 minutes after the shooting, witnessing the police response on the scene.
The Broward County Sheriff's Office has confirmed that five people were slain in the shooting, and at least eight more have been taken to an area hospital. The extent of the injuries are unclear, however, raising the grim possibility that the death toll could still creep higher.
ABC News reports that President-elect Donald Trump has spoken to Florida Governor Rick Scott about the incident, a fact which Trump subsequently confirmed on his Twitter account. Notably, given his previously demonstrated penchant for airing his personal conclusions ahead of the facts, he's ventured no opinion as of yet about any possible motivations behind the shooting.
According to NBC News, the Broward County sheriff has updated that the shooter killed five people and wounded 13, that it appears they acted alone, and that they're uninjured and currently being questioned by the FBI to determine motive.
The sheriff also clarified that despite reports of an additional security incident, there have been no more shots fired since the initial incident.