This Makeup Artist Contoured Herself To Look EXACTLY Like Mona Lisa & She Belongs In A Museum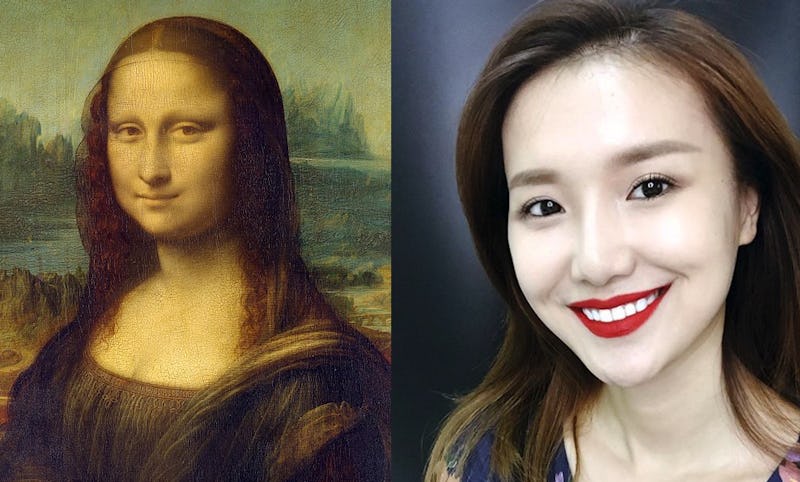 Makeup lovers have long known that putting on a face is akin to playing with art, but one beauty blogger just took that idea one step further. A makeup artist turned herself into Mona Lisa on Instagram, and the change proves the transformative power of our concealers and eyeshadow palettes. You can turn yourself into whoever you want to be — whether that's a more highlighted version of yourself, or a woman that sits smirking in the Louvre.
Her name is Yuya Mika, and she's a makeup artist from southwest China. While her Instagram only has a couple of photos she has collected thousands of followers, and for good reason. Half of her account is full of art history pieces that she has transformed herself into, making her look like she belongs hanging in a museum.
The Mona Lisa look was first posted as a video, where followers got to see a sped up version of Mika wielding her brushes and turning into Da Vinci's creation. In order to pull it off, she had to use a heavy hand with a dark contouring shade. Ignoring the rule of choosing an ashy shade just a few skin tones darker than your own, she picked up a dark brown color that was nearly the same shade as her hair and applied it to her brows, cheekbones, and the tip of her nose.
Using a sponge, she blended out the harsh lines to create the contours and shadows of the famous portrait. Moving onto the eyes next, she then applied some grey-blue shadow onto her brush and swiped it across her eyelids, proving that Mona Lisa was just as into blue eyeshadow as we are this season. In order to make sure her eye shape look the same as in the portrait, she took a brown pencil and began shading underneath and on top of her eyes to change their contours. The end result is jaw dropping, where she literally looks like the 515 year old painting.
This wasn't her only dalliance with museum quality paintings, though. Mika also turned herself into Da Vinci's Lady with an Ermine, swapping out the weasel for her cat.
In order to achieve this look she did the same as she did with the Mona Lisa version. The trick was using a very dark liquid contour color, and blending it out to match the lines of the portrait's subject. She also used two different brown tones to create deeper and lighter shadows on different parts of her face.
Her Instagram followers loved the creative transformations and asked her to continue making her way through the Renaissance with more looks. "You are art," one follower wrote. "Please make more make up videos like this! I love this very much omg!" another shared. "Leonardo da Vinci would be proud," someone posted.
While it would have been interesting to see her morph into Girl with a Pearl Earring or Portrait of a Lady, Mika took it a different direction with her next submission and went a little more contemporary. Fast forwarding a couple hundred years, her next post was of Marilyn Monroe, popping onto our feeds with a peroxide blonde crop and the actress's signature red lips.
Instead of hiding her brows with foundation like she did for Mona Lisa, here we have the thin arched brows of the '50s, accompanied with long lashes and Monroe's iconic double-pronged liner. Instead of doing just one cat eye flick, the actress was known to do two — one on top and one on the bottom — to make her eyes pop. That coupled with the well known mole, and she's basically the Hollywood starlet.
From the Renaissance to the mid-century, Mika proves that makeup has the power to transform. Be whoever you want to be this week!