We'll Probably Get Another 'Gilmore Girls' Season Thanks To This Record The Sequel Broke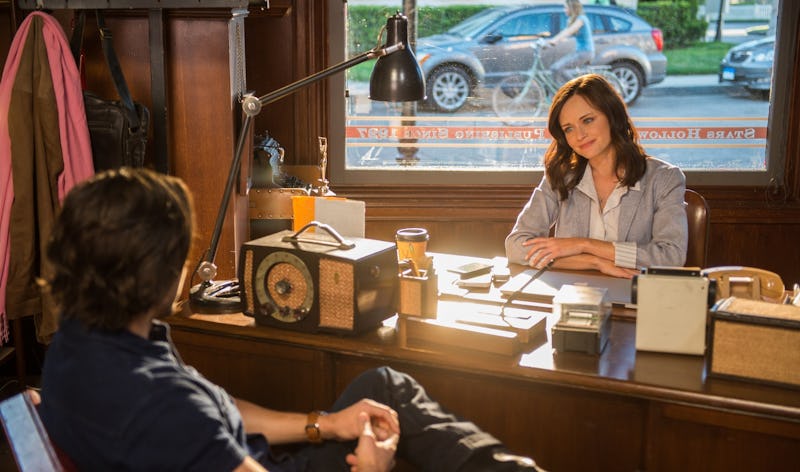 Netflix
This just in: More viewers finished Gilmore Girls: A Year in the Life in under 24 hours than any other Netflix series globally, per E! Online. According to Netflix, E! Online's source, this is thanks to a new breed of viewers that they call "binge racers." Apparently, a "binge racer" is someone who finishes watching a season in or under 24 hours after it has been released. Netflix has found that there are over 8 million "binge racers" worldwide.
This concept is important, because it could be one of the deciding factors in whether Netflix will give Gilmore Girls: A Year in the Life a second season. Netflix's vice president of original series, Brian Wright, stated that their streaming site "allows you to watch in a way you never could before, and there's nothing better than seeing a show engage our members and ignite a passion for viewing," according to E! Online.
The latter part sticks out. If you sift through the emotional stuff, it's possible to interpret what he's saying as that there's nothing better than seeing hard data to suggest that audiences are really into a show. Good reviews are presumably welcomed by the streaming site, but this suggests that the ultimate accolade a show can score is numbers of eyeballs on screens. So, really, why wouldn't Netflix renew a show that people were so hotly into that they watched around six hours of television in the space of 24 hours?
Of course, it also doesn't hurt that the series was very well reviewed, with an 85 percent fresh rating on Rotten Tomatoes. The Atlantic gushed "that A Year in the Life feels so emotionally resonant is somewhat miraculous," The Daily Beast pronounced the Gilmore Girls revival "everything you hoped for," and MTV described it as a "self-conscious, self-aware return to Stars Hollow." The audience response was slightly more cautious, with a 74 percent fresh rating — but that's still not so far off the initial response to the show. After all, Gilmore Girls Season 1 scored a 88 percent fresh rating on the website.
Of course, one more hopeful aspect of this is how the streaming site operates. Netflix seems to adhere to a renewal model, with Variety reporting in July that Netflix's chief content officer, Ted Sarandos, had stated that 93 percent of their original series have been renewed. While, according to Vanity Fair, Gilmore Girls originally debuted on the WB, the fact that this was new content created for the streaming site means it fits under this original series umbrella — at least, that's what Netflix categorizing the show in its originals category suggests.
The one argument the executives could have against using these statistics as a reason to renew the fan favorite for a second season would be the length of the episodes. It's worth noting that the show's approximate duration of six hours (each episode falls around the 90-minute mark) is substantially shorter than a lot of Netflix's other popular shows. According to Nielsen, it would take 23 hours, 50 minutes to marathon Season 3 Orange Is the New Black, while, according to IMDB, the approximate 50 minute duration of each House of Cards Season 5 episode suggests that it would take around 10 hours to consume. As such, the executives at the streaming service are probably aware of this practical context. Maybe a lot of people marathoned this in less than 24 hours because it was supremely easy to do so.
All the same, given the viewing figures and the breathless reviews about A Year in the Life, you've got to admit that, even viewed purely from a business perspective, the powers that be would be crazy not to give the revival a second outing.