The US Coast Guard Removed A Member After Claims That He Made An Offensive Sign On TV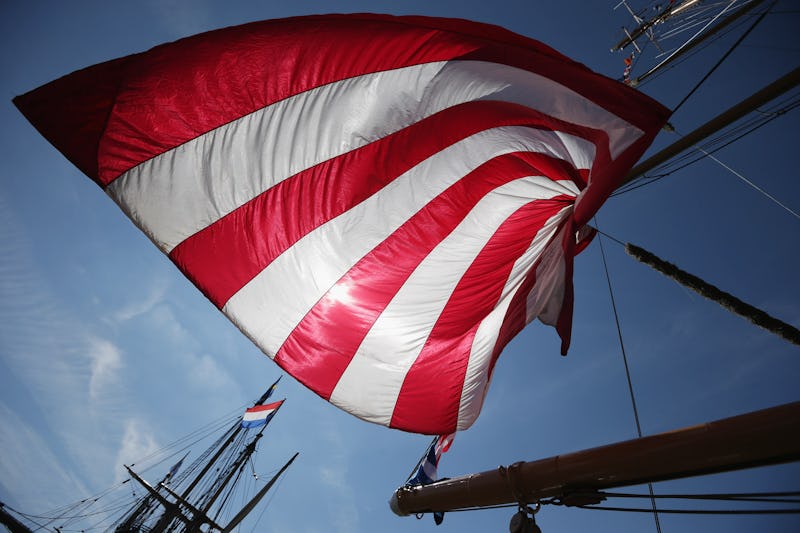 Chip Somodevilla/Getty Images News/Getty Images
The U.S. Coast Guard is moving quickly to ensure its reputation doesn't incur any damage after an incident on live TV. The military branch "removed" a member of its tropical storm response team because he was accused by people on social media of making a offensive sign during a Coast Guard interview on Friday night.
The incident occurred while Coast Guard Commanding Officer Capt. John Reed was doing an interview about Hurricane Florence for MSNBC from Charleston, South Carolina. As Reed was talking, a man sitting at a desk in the background of the camera shot looked briefly at the camera before holding his hand in a certain way while scratching his face. Although there's no proof that it was intentional, many on social media claimed it was a "white power" sign, and outrage ensued. Bustle has reached out to the Coast Guard for comment.
The incident caused the man to get the boot from the Florence response team and an investigation is currently underway, NBC New York reported. Coast Guard Lt. J.B. Zorn told NBC that such actions would not be "tolerated," adding: "Whatever that symbol means, it doesn't reflect the Coast Guard and our core values."
In a statement on Twitter, the U.S. Coast Guard account noted last night that it was aware of the incident.
"We are aware of the offensive video on Twitter - the Coast Guard has identified the member and removed him from the response," the Coast Guard account tweeted. "His actions do not reflect those of the United States Coast Guard."
The Washington Post reported that the hand signal comes from a viral trolling campaign that attempted to anger and embarrass liberal people and members of the media. The Post reported that the idea of using this sign originated in a February 2017 post from 4chan's /pol/ board, which read: "To any who haven't seen the original thread, our goal is to convince people on twitter that the 'ok' hand sign has been co-opted by neo-nazis." As the idea spread, members of the alt-right adopted the gesture, BuzzFeed reported.
The Anti Defamation League said the hand sign is not an actual symbol of white power, but noted in a blog post:
It has become a popular gesture used by people across several segments of the right and far right—including some actual white supremacists—who generally use it to trigger reactions, or what they would describe as "trolling the libs."
The Post noted that this incident comes just over a week after viewers claimed without evidence that Zina Bash, a Republican operative who is Jewish and Mexican-American, and whose grandparents were Holocaust survivors, flashed the sign at Supreme Court nominee Brett Kavanaugh's confirmation hearings. Bash's husband, Western Texas U.S. Attorney John Bash, vehemently denied this, saying that she was just resting her hand. According to TIME, Bash's husband added: "Everyone tweeting this vicious conspiracy theory should be ashamed of themselves."
It's unclear how the Coast Guard's investigation will go, but its response to the incident was undeniably swift.