Twitter Removed A Dramatic 2020 Video Trump Posted For An Unexpected Reason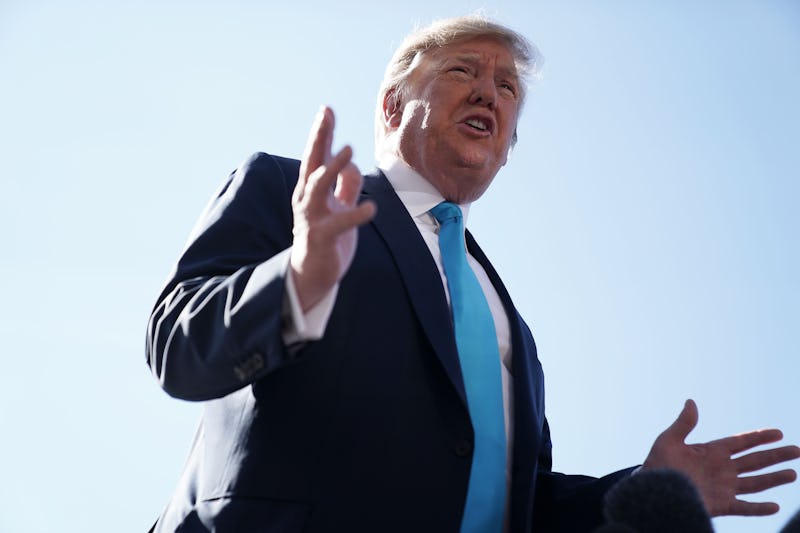 Alex Wong/Getty Images News/Getty Images
You can get away with a lot as president of the United States, but apparently violating a Hollywood blockbuster's copyright protections isn't one of them. Twitter removed a video that President Donald Trump posted on Tuesday to promote his reelection campaign after Warner Bros. filed a complaint with the platform saying Trump's campaign video used Dark Knight Rises music.
Specifically, the video used composer Hans Zimmer's piece "Why Do We Fall?," which plays while Bruce Wayne (spoiler!) manages to climb out of a pit in which Bane imprisoned him in The Dark Knight Rises. It's a powerful orchestral number that's ideal for buoying a video promotion — except that Trump and the person who made the video apparently didn't get permission to use the music.
"The use of Warner Bros.' score from 'The Dark Knight Rises' in the campaign video was unauthorized," a Warner Brothers spokesperson said in a statement to Variety. "We are working through the appropriate legal channels to have it removed." By Wednesday morning, Twitter had blocked the content from its platform and replaced it with a message referencing "a report by the copyright owner," per BuzzFeed News.
"First they ignore you," the campaign video stated, per Variety. "Then they laugh at you. Then they call you a racist. Donald J. Trump. Your vote. Proved them all wrong. Trump: The Great Victory. 2020."
Adding to the copyright mess, the clip also used a font from The Dark Knight Rises, according to Variety.
Slate reports that the video included a "dramatic montage" of moments from Trump's presidential tenure and his 2016 election campaign. It also made visual references to Hillary Clinton, Barack Obama, Rosie O'Donnell, and Amy Schumer, according to Variety.
Trump wasn't the one who made the promotion. The video was put together by visual effects artist Brandon Kachel, who posted it to YouTube shortly after the 2016 election, according to Slate. Other users have taken Kachel's video and posted modified versions; a recent adaptation has been circulating on the Reddit channel "The_Donald," per Slate, which might be how it got into Trump's hands.
Kachel told Slate that he thinks it's "definitely cool" that the president shared his video. "It's funny," he added, "because I actually sent that video to the Trump campaign several times with the hopes of getting it out there."
Kachel also explained his music choice. "To me, that [election] was a monumental, larger-than-life thing that happened," he told Slate. "The music that I used is very big, iconic, dramatic-sounding stuff. When I made the video, I was watching trailers for Christopher Nolan movies. I thought it would work really well for this."
This isn't the first time Trump has dealt with copyright issues in relation to his policies and his 2020 candidacy, either. Last November, HBO responded when the president tweeted out a poster mimicking Game of Thrones to reference putting sanctions on Iran. "Sanctions are coming," the image read — a play on "Winter is coming." Artists like Queen and Rihanna have also tried to stop Trump from playing their songs at rallies since he's been known to broadcast "We Are the Champions" and "Don't Stop the Music."
With all of that in mind, Trump posting a video infringing on the rights of the Batman score isn't surprising. But it sure seems to have angered Warner Bros.