A Teen's Video Documenting Her Brain Cancer Treatment Is Going Viral 2 Years After Her Death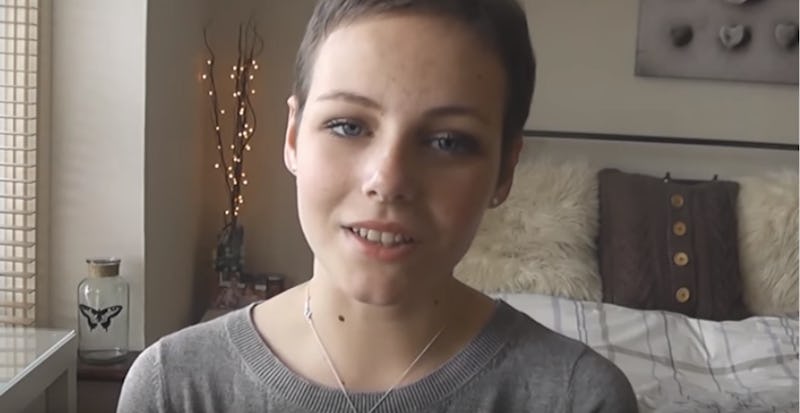 Charlotte Eades/YouTube
A little more than two years ago, teenage vlogger Charlotte Eades passed away due to an inoperable brain tumor. She had been diagnosed with anaplastic astrocytoma, a type of brain cancer when she was just 16 years old. In 2014, she began documenting her struggle with the disease on YouTube. Over the next two years, the self-described "guru of cancer" captured viewers with her candidness about the way cancer affected her daily life. Now, a video summarizing the last years of her life is going viral after it was posted on Reddit.
"I'm just like any other typical teenage girl, but I have a twist. The twist is I have cancer," Eades said in her channel's very first video. She went on to explain that when she was first diagnosed, she searched YouTube for advice about the disease. When she wasn't able to find much information, she decided to start her own channel to "answer questions about hair loss, medication, socializing, friendship, all things that cancer affects."
Needless to say, many of her 112 videos focused on the ins-and-outs of living with a brain tumor, from radiation therapy and hair loss to misconceptions about cancer patients. But she also posted about her personal interests. In fact, in many ways, her channel resembles that of any other teenage YouTube star: responses to viral challenges, daily beauty routines, footage of her cat, and peeks into what she keeps in her purse. After all, she explained in the welcome video, "those really are the things I love about life."
It's safe to say that brain tumors would get even the most optimistic person down, but Eades remained publicly upbeat about her prospects. In a video celebrating her "two year cancerversary," she said she planned to live well into old age.
In September of 2015, however, doctors noticed a new growth in her brain. Eades had developed a stage IV glioblastoma multiform, an aggressive type of tumor known for being difficult to treat. The American Association of Neurological Surgeons writes that on top of being resistant to conventional therapy, these tumors limit the "capacity of the brain to repair itself." According to the American Brain Tumor Association, the five-year survival rate for children with high-grade tumors is about 25 percent. In 2016, Eades' mother told the BBC that doctors refer to glioblastoma as "the terminator" because it is so difficult to cure.
After Eades was diagnosed, she continued to document her life as closely as she had before. She detailed her symptoms, which included vision and balance problems, and showed the physical markings from being "prodded and poked" so often.
Eventually, according to the Telegraph, the progression of her tumor left her paralyzed on the right side of her body. She was unable to walk or talk, and her rapid decline could be seen in the videos she was still making. On Feb. 4, 2016, she published a message (read by a woman, presumably her mother, off-camera) marking World Cancer Day. She also noted that her birthday would be soon, and "it would be really good to see an improvement by then." On Feb. 24, she passed away at the age of 19.
Eades' family keeps her channel active, publishing unseen footage and clips reflecting on her life. Last September, the Charlotte Eades channel posted a heartbreaking compilation summarizing her last two years, which you can watch below.
On Tuesday, someone shared the video on Reddit, and it started trending. The comments section was flooded with thousands of users sympathizing with the teen's disease and sharing their own stories about losing loved ones to cancer.
To learn more about glioglastoma multiform, head over to Charlotte's BAG, the UK-based charity in her name dedicated to researching the disease. Eades may have passed away, but her story is still told around the world.