A Warrant For Rose McGowan's Arrest Has Been Issued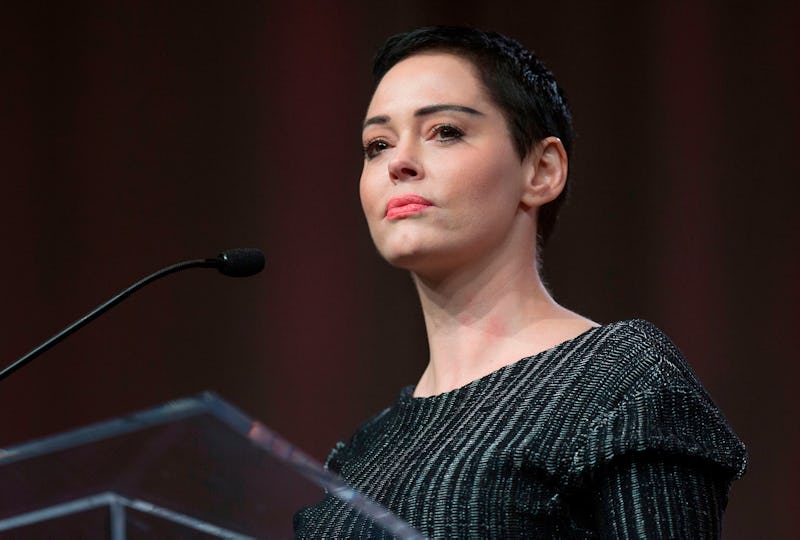 RENA LAVERTY/AFP/Getty Images
Amid her outspokenness about Harvey Weinstein and the allegations of sexual assault against him, Rose McGowan could be facing serious legal trouble. According to the Associated Press, a warrant for McGowan's arrest was issued earlier this year for alleged possession of a controlled substance, and if she's convicted, she could be charged with a felony. In response, McGowan has spoken out about the warrant on Twitter, claiming that it's a way of her being silenced. Bustle reached out to a rep for McGowan who had no comment beyond McGowan's tweet (below).
Weinstein's rep, Sally Hofmeister, has said in response to McGowan's claims and the other claims of sexual assault and harassment against him, "Any allegations of non-consensual sex are unequivocally denied by Mr. Weinstein."
As airport police told Deadline, trace amounts of narcotics were found in belongings allegedly owned by McGowan left in Washington Dulles International Airport after arriving on a United flight from Los Angeles in January. After the warrant was obtained on February 1, it was entered into the national law enforcement database.
Metropolitan Washington Airports Authority Police Department spokesman Rob Yingling told Deadline:
"Her personal belongings that were left behind from a flight arriving on Jan. 20 tested positive for narcotics. Our police have attempted to contact Ms. McGowan so that she can appear in a Loudoun County Virginia court to respond to the charge."
In response to the news about the warrant, McGowan took to Twitter to share her thoughts on the situation:
McGowan also quoted a tweet from someone talking about the warrant, showing that she believes things may have been different for her had she taken the alleged $1 million settlement she claims she was offered last month in exchange for signing a nondisclosure agreement on matters concerning Weinstein:
Last year, McGowan claimed via tweet that she had been raped by an unnamed Hollywood executive and had allegedly been discouraged from reporting it. Then, earlier this month, when she was named among the women who had allegedly been assaulted by Weinstein in the New York Times report about the accusations being made against him, she became a vocal champion for women who had been in a similar position, including those who also made claims against Weinstein.
After posting several tweets about the situation, McGowan was suspended from Twitter days after she'd begun sharing her claims. According to a statement from the social media site, her account had been shut down because she'd tweeted out a phone number, which violated Twitter's terms of service.
In a interview with the New York Times that went live on Monday, McGowan claimed that she'd been considering Weinstein's alleged hush money offer and even asked for $6 million after the initial $1 million offer was made. But just a day after the accusations against him came to light publicly, McGowan claims she had her lawyer withdraw her counter offer.
She told the Times:
"I had all these people I'm paying telling me to take it so that I could fund my art. I figured I could probably have gotten him up to three [million]. But I was like — ew, gross, you're disgusting, I don't want your money, that would make me feel disgusting."
The New York Times reports that McGowan's lawyer confirmed that the offer was received; Weinstein's spokesperson gave NYT the same statement about his denial of any claims of nonconsensual sex. Bustle reached out to Weinstein's spokesperson for additional comment, but did not receive a response at the time of publication.
The former Charmed star has been using her social media presence to bring attention to women who have claimed assault, using hashtags like #MeToo and #WhyWomenDontReport. Not only does she use her Twitter account as a platform to speak out about her own experiences, but she's also been tweeting out articles about the Weinstein story in general as it develops, as well as the same political and feminist issues she's always been outspoken about.
So far, it's not clear whether or not McGowan knew about the warrant for her arrest before now considering it's been nine months since it was initially issued. But whatever happens next, it seems that McGowan will keep her followers updated.