Ava DuVernay's Bold AF Demands To Diversify 'A Wrinkle In Time' Will Give You Chills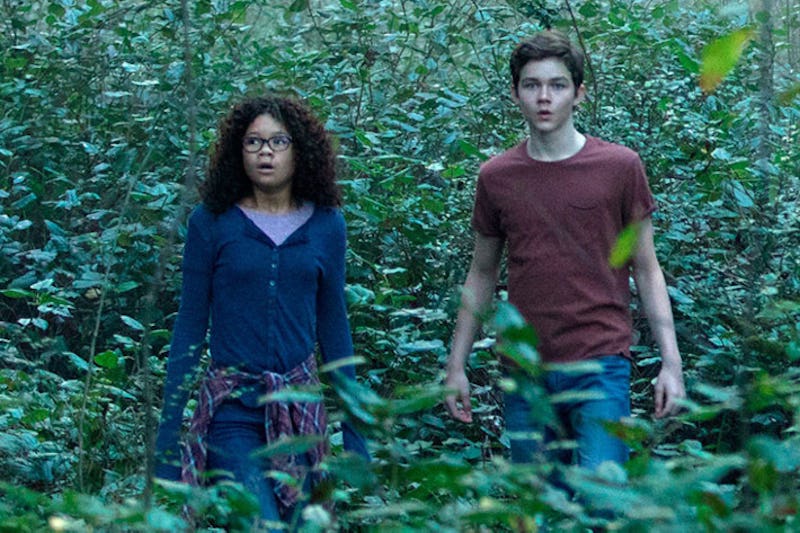 Walt Disney Studios
With A Wrinkle in Time, Ava DuVernay has made history as the first black woman to helm a 100 million dollar film. But according to the director, there was only one way she was going to take on the job: if she was allowed to showcase a diverse family at the center of the film. Specifically, she wanted the story's protagonist, Meg, to be biracial. Disney OK-ed the demand, but still, it must've taken a lot of guts and gumption for DuVernay to ask for what she wanted, especially considering how difficult it can be for female directors to speak up for what they need — let alone gain a seat at the table — in the first place. That's why Duvernay's A Wrinkle In Time demands are the perfect lesson in confidence for women working in film, or any field, today.
"I just wanted a cast that reflects the real world. We're not doing anything that shouldn't have already been done," DuVernay says, sitting inside a production tent on set of the film in February 2017. "The question is, why hasn't this been done before? There's nothing outstanding and outlandish about this cast. It's outstanding and outlandish that there's been casts without true reflections and inclusiveness of our daily lives."
Having a cast representative of the real world was of paramount importance to the director, and DuVernay speaks about its significance as if it's a no brainer. And the utter unflinching nature of her vision made her cast members confident in her requests, too.
"We all knew the importance of what Ava wanted to accomplish with this film," says Reese Witherspoon, who plays Mrs. Whatsit in the film, out March 9. "Everybody put their other busy stuff aside to make this possible. We really made it a huge priority."
Witherspoon explains that because of DuVernay's determination and tenacity, the cast happily went along with the director's version of the film. "It's so much about confidence, and Ava just comes in, and she's like, 'Gimme the ball. I got this,'" says Witherspoon. "It just emanates off her."
For female directors, that self-assurance is wildly important. In 2017, only 11 percent of the top 250 grossing films were directed by women. Being female in the film industry — and, unfortunately, many other industries — can mean a great barrier to entry, so making demands, like asking for a diverse cast and crew, is often a tougher process than it is for men. But for DuVernay, risking the job for the sake of a progressive film was worth it, full stop. And all women could take a page from her playbook.
"I don't know how I got here, but I'm here," DuVernay says of crafting her specific cast and crew. But according to cast members like Witherspoon, how the director got there is screamingly obvious.
"I get emotional thinking how little kids going to the theater to actually see a character that looks like them. And also, to have women who are heroes, who are all different sizes and all different races, because women are the heroes of a lot of kids' lives," Witherspoon says, between takes on set. "To see that properly represented is way overdue. It's exciting to have a director with that kind of vision."
For DuVernay, A Wrinkle In Time is a stepping stone towards making diverse casting "the new normal," she explains. "I hope [audiences] don't see anything odd or unique about a cast like this. I think we're a generation that's moving closer and closer to that, so that's a beautiful thing."
It's thanks to the director, and her fearless and unwavering determination, that this generation is getting a Disney film starring mostly women and with a biracial lead. It's clear that a little confidence, like the kind DuVernay is channeling, can go a long, long way.
This article was originally published on