Why The Man Who Could Be America's First Muslim Governor Is So "Inspired" Right Now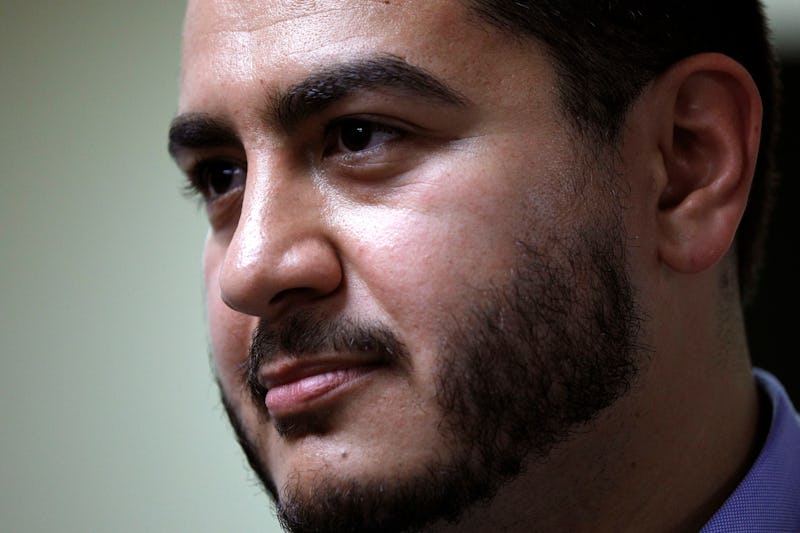 Bill Pugliano/Getty Images News/Getty Images
With over 90 Muslim candidates running for office in midterm elections across the country this year, one state has stood out. Michigan has a total of 13 Muslim candidates running for positions at the state and local levels. Many are running on the left and face crowded Democratic primaries on Aug. 7, but Abdul El-Sayed, a progressive candidate who could become the first Muslim governor in the United States, says he's been inspired by what he's seen.
"What has inspired me most is that, having traveled to over 100 cities statewide — including places where there are few people of color at all, let alone Muslim-Americans — Michiganders are not asking how I pray, but what I pray for — and what I care about," El-Sayed tells Bustle.
El-Sayed represents the new progressivism touted by the likes of Alexandria Ocasio-Cortez and Bernie Sanders. Both Sanders and Ocasio-Cortez have endorsed El-Sayed's campaign for governor, teaming up to support progressive candidates just as they did recently in Kansas.
Ocasio-Cortez was at the #MyMuslimVote rally in Michigan this weekend, where she joined El-Sayed on the campaign trail and said, "I will not listen when folks say it is not possible in the Midwest again. We would not be packing high school auditoriums in Grand Rapids unless there was an audience and unless you were fighting for this issue with us."
Similar to Ocasio-Cortez, El-Sayed has turned criticism of his identity into a rallying cry for unity. "They're telling us that some of us are not as American as others, except that they've forgotten the fact of the matter that America has been about all of us coming together," he told supporters in Detroit on Saturday.
The #MyMuslimVote rally brought together Muslim voters, candidates, and progressive activists to discuss the importance of voting in elections this fall. And while Muslim candidates are embracing their identity on the campaign trail, they want to be clear that there's so much more to them, too.
There are two female Muslim candidates running for Congress in Michigan as well. Fayrouz Saad, who worked for the Department of Homeland Security under Obama, is running against four other Democrats to represent Michigan's 11th district. Her campaign video begins with her saying, "In Arabic, my name means 'precious stone.' In English, it means 17 different spellings on my Starbucks cup." She has not shied away from her identity as a Muslim woman and invites voters to talk to her about it. "Let me tell you about myself. Let me tell you my story. Let me tell you why we're alike and not different," she said.
Rashida Tlaib made history in 2008 after being elected as the first Muslim woman to serve in the Michigan state legislature and is now running for the 13th Congressional District. Tlaib, a Palestinian-American, has openly discussed her identity as well as her views on the Israeli-Palestinian conflict, even relating it back to relations in the U.S. "We need to be honest about the dehumanization on both sides, frankly," she said. "What I bring to the table, growing up in a Palestinian American household, and coming to Detroit, is an understanding that there's so much comparison between what happened there and what happened to African Americans here."
Many of the candidates have spoken openly about relating to those who have been historically underrepresented and overlooked. "I know how much this means to so many people of color who feel locked out of political representation and government decisions," El-Sayed tells Bustle.
Linda Sarsour, one of the co-founders of the Women's March, also spoke at the rally on Sunday and echoed what El-Sayed said. "I don't want you to think that you guys are just one state, one people," she said. "People across this country — immigrants, undocumented people, black people, people who feel intimidated and silenced, you have an opportunity to show those people that democracy still works in America."
While identity has played a role in these races, El-Sayed says his focus is on his ability to relate to, and ultimately represent, all Michigan residents. "The Michigan we're building is the one where all of our kids have a fair and equal shot at their best lives — regardless of where they live, who they love, and how they pray, or if they pray at all."