This New Adidas Sneaker Was Specifically Designed For Anything BUT Exercise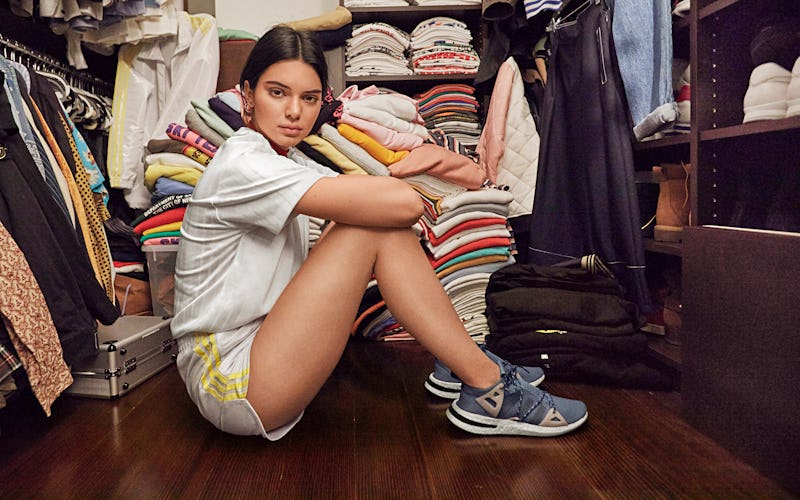 Courtesy Adidas
For those who don't know, Adidas stands for "all day I dream about sports." But in recent times, that has changed. Now, the brand is for everyone from streetwear enthusiasts to models and everything in-between. Adidas' Arkyn shoe was designed with creatives in mind. It's a trainer for creating, working, thinking, inspiring and collaborating in, according to the press release, and it's already Kendall Jenner approved.
When it comes to the recipe for a great shoe, Adidas believes that one foot should be in the past and the other in the future. Not literally, but creatively. You can see exactly how that works with the Arkyn shoe. The shoe has the traditional three stripe pattern, but with a sock-like designs that is meant to fit your foot perfectly.
There's just one big difference between this and the past shoes — it wasn't designed for sports. Instead, it was meant to be for female creators, workers, and thinkers. So, naturally, the brand tapped five female creators to help promote the shoe — Ana Kras, Kendall Jenner, Marisa Competello, Syn De Blare, and Florencia Galaraz.
If the big names aren't enough to get you excited, you're going to love how versatile the sneaker is. It comes in white, black, navy, and, of course, millennial pink and is the perfect mix of traditional and fashion forward.
The shoes are available right now on the Adidas website. The Arkyn shoes are $140, no matter which color you get and are available in sizes five through 11 — including half sizes.
This slim design and mesh fabric make these the perfect commuter shoe. According to the product description, the neoprene heel and corded accents give this a sporty look. Although it was inspired by a vintage sports shoe look, it was designed for everything but. The brand calls the Arkyn shoe as "a brand new shoe for, for a brand new era of creativity."
We're calling time on the old school attitude's that for too long has dominated the female sneaker market," the press release says. "Arkyn is made with creatives in mind, with no pigeon-holing involved in the creative process. The Arkyn is a shoe for defiant individuals who are tired of being boxed in."
To portray the sheer versatility of the shoe, Adidas went into Jenner's SoHo apartment for the campaign shoot. The model sat on top of her massive t-shirt collection to show off the kicks. The shoes will not be the only thing that you'll be busy looking at. There is so many clothing items in this 21-year-old's collection that it's amazing to think that the shoes could match with pretty much everything.
Jenner is the master of streetwear. She has a way of blending together items that you would never think could work. Not to mention that comfort is almost always at the root of everything she wears. These shoes were pretty much made for her.
"I express myself creatively through probably my photography and my style. Then also just like, the music I listen to. I like to kind of be all over the board when it comes to music," Jenner says in the Adidas video.
To have a shoe from an activewear brand that has nothing to do with sports is pretty darn iconic. Whether you're someone who is constantly on the go or just love to be comfortable at all times, you really can't go wrong with this shoe. It won't stick around forever though, so you're going to want to stock up on one (read: all of the possible shades) while you still can.