Alert: Queso Is Being Tested At A Chipotle Location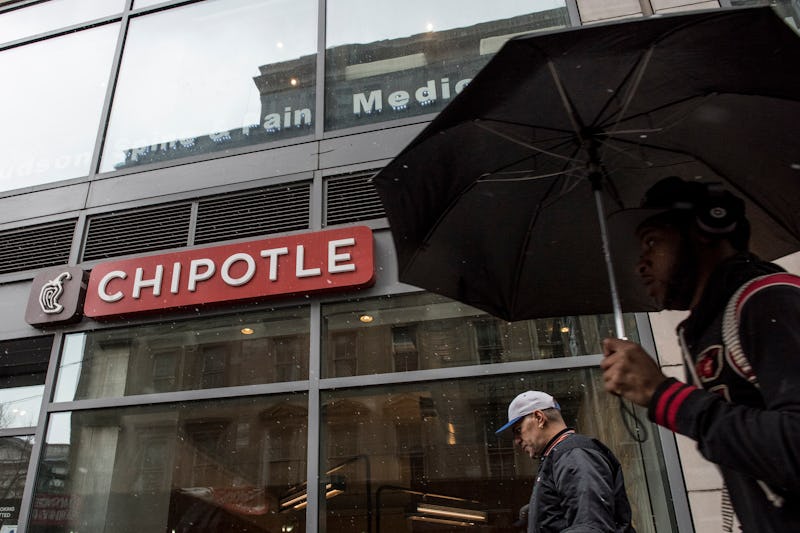 Andrew Renneisen/Getty Images News/Getty Images
If you live in New York City, stop what you're doing immediately and tell your boss there's an emergency, because there is. I mean, kind of — it's a foodie emergency. At this very moment, Chipotle queso is being tested in the restaurant's brand new test kitchen, Chipotle Next Kitchen, located at 504 Sixth Avenue. No, this is not a false alarm — you can actually get your hands on this liquid gold if you're local, mobile, and hungry!
I don't want to be the devil on your shoulder, but might I suggest straight-up sneaking out, faking a doctor's appointment, or pretending you have a personal issue so that you can get out of work and run over to the test kitchen to be one of the first people to try this dream queso out? Especially if you are already seriously struggling with the summer Monday blues, this cheesy opportunity is for you. Because a little bit of cheese can temporarily make anything better, said someone, I'm sure. And if the only time you get to have your paws on queso is tapas night with your girlfriends, you know the struggle. You're all fighting over a tiny little dish, and no one's getting nearly as much cheese on their chips as they desire or deserve. But fight no more! Get your own personal side and have all the queso to yourself — at Chipotle.
And while the new queso might be all the good news you need to hear today, there's actually more to it. The Next Kitchen is officially opened for business, and we're lucky to have it. Next will serve summer favorites like fresh salads and frozen margaritas, all using Chipotle's newest and most progressive kitchen and customer service technology — like blended ice drink machines and touch screen menus. And based on how well things go in the new kitchen, new items and practices will be rolled out nationally to the standard Chipotle restaurants.
In essence, if you live in New York, it's your civil duty to get your butt over to the new test kitchen, try out the queso, and help Chipotle find the confidence it needs to add it to the menu officially. And, obviously, if you're of age, get yourself a frozen drink while you're at it, because summer, and because heat.
Honestly, I don't know how we've gone this long without queso available for chip dipping and burrito drizzling, but now that it's on our radar and that it's a very real possibility, we can't let it get away from us. We've gotta be good customers and help Chipotle help us keep the queso. #KeepTheQueso anyone?