Critics Are Saying Alexandria Ocasio-Cortez Is Changing Her Accent For Certain Speeches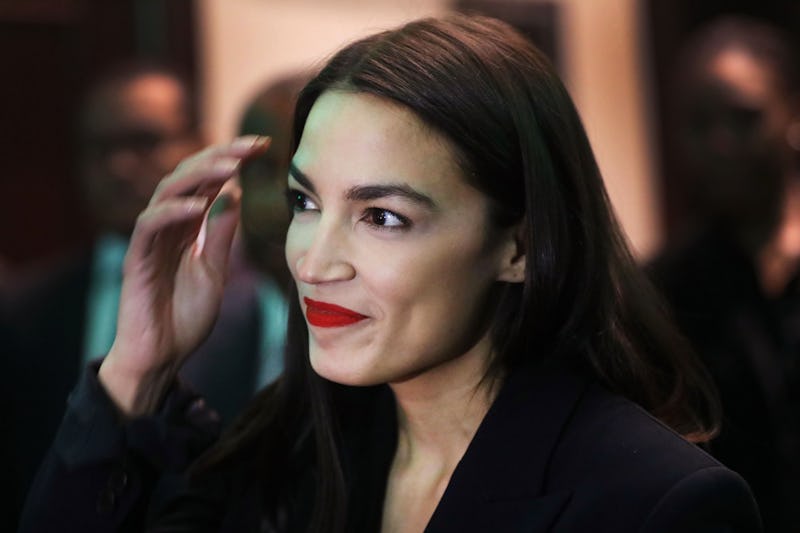 Spencer Platt/Getty Images News/Getty Images
The youngest woman to ever serve in Congress is now having to defend herself against a criticism women in particular have been facing for what feels like the beginning of time: her voice. Rep. Alexandria Ocasio-Cortez defended her voice from critics accusing her of adopting a "southern drawl" or speaking in "Ebonics" while addressing a predominantly black audience Friday at Rev. Al Sharpton's National Action Network convention in New York.
"Folks talking about my voice can step right off," the freshman congresswoman tweeted Friday. "Any kid who grew up in a distinct linguistic culture & had to learn to navigate class enviros [sic] at school/work knows what's up. My Spanish is the same way," she wrote, adding that the "conspiracy mills" churning out such allegations are trash.
A number of conservative commentators and media outlets have accused the congresswoman of pandering or mocking her audience at the National Action Network convention with a fake accent. "In case you're wondering, this is what blackface sounds like," conservative pundit and Newsmax's America Talks Live host John Cardillo tweeted.
Conservative media personality Tariq Nasheed accused Ocasio-Cortez of "using this weird 'Ebonics' accent in her voice," adding "I'm surprised she didn't end her speech with 'can you jive turkeys dig it.'"
Meanwhile, Emily Larsen of The Washington Examiner accused her of appearing to "imitate a Southern accent in a speech to a predominantly black audience," claiming the congresswoman was "exaggerating and drawing out vowels in a distinct change from her usual pronunciation."
CNN Tonight host Don Lemon, however, defended Ocasio-Cortez, telling fellow CNN host Chris Cuomo that she was "code-switching," a linguistics practice of alternating between two or more languages or language varieties in a single conversation often undertaken by those who speak more than one language. "There is a difference between mocking someone or a group of people and knowing your audience and reading the crowd," Lemon said. "She's speaking to a group of black people, from New York, where she is from, she's at Al Sharpton's event, she's from the Bronx. If you are from the Bronx, you have hung out with black people and that is not the first time she has used that accent. Trust me."
On Twitter, Ocasio-Cortez defended her voice, arguing the way she speaks is a result of being multilingual and where she grew up. "As much as the right wants to distort & deflect, I am from the Bronx," the New York representative wrote in a follow-up tweet. "I act & talk like it, *especially* when I'm fired up and especially when I'm home."
But Ocasio-Cortez isn't the only woman to have found her voice picked apart by critics. As Jordan Kisner pointed out in a piece for New York magazine's The Cut, women's voices have been criticized since at least ancient Roman times. Since then, the voices and speech patterns of high-profile women (not to mention those in positions of authority) have been especially prone to criticism. Kisner, for example, pulls together examples of critics' harsh critiques of the voices of Queen Elizabeth I, Margaret Thatcher, female NPR hosts, former New York Times editor Jill Abramson, and, of course, 2016 Democratic nominee Hillary Clinton. "The public sniping at women's voices reflects a deeper cultural anxiety about whether they have a right to speak at all," Kisner argued.
On Twitter on Friday, the freshman representative bemoaned conservatives' continued attacks against her. "It is so hurtful to see how every aspect of my life is weaponized against me, yet somehow asserted as false at the same time," she wrote.