Alexandria Ocasio-Cortez Is Not Here For Trump Shaming Her For Being A Bartender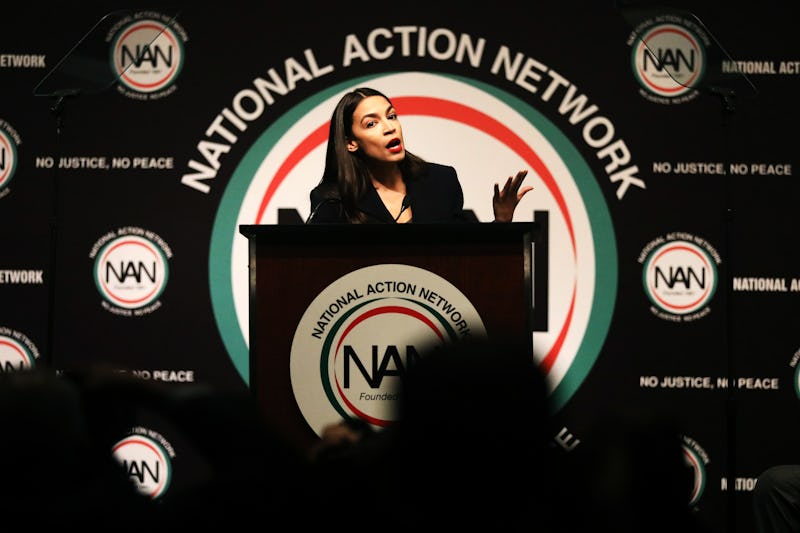 Spencer Platt/Getty Images News/Getty Images
Earlier this week, President Donald Trump referred to New York Rep. Alexandria Ocasio-Cortez as a "young bartender" while criticizing her Green New Deal, prompting similar remarks from his fellow Republicans. In response, Ocasio-Cortez defended her past on Friday during a civil rights conference, Business Insider reported, arguing that working Americans can achieve anything.
"I'm proud to be a bartender — ain't nothing wrong with that," Ocasio-Cortez told the crowd at the National Action Network convention in New York City, per Business Insider. "There's nothing wrong with working retail, folding clothes for other people to buy, there is nothing wrong with preparing the food that your neighbors will eat. There is nothing wrong with driving the buses that will take your family to work."
According to Business Insider, Rev. Al Sharpton introduced Ocasio-Cortez prior to her remarks, and applauded both her work experience and leadership. Sharpton also said that he would rather have a leader like Ocasio-Cortez — who "serves in a bar to feed their family and do the right thing" — than someone like Trump, who has attempted to cut health care and separate immigrant families. And when Ocasio-Cortez spoke, she made it clear that she was unfazed by Republicans' insults.
"I am, in fact, encouraged when people remind the country of my past, not because of anything it communicates about my story — but because it communicates that if I can work in a restaurant and become a member of the United States Congress, so can you," Ocasio-Cortez said, according to the New York Post.
Republicans have spent months attacking Ocasio-Cortez, The Washington Post reported, criticizing everything from her clothing and her intelligence to her background as a working-class American. They have also consistently mocked the 29-year-old lawmaker for being young, with conservatives like Rush Limbaugh and Ed Rollins going so far as to dismiss her as "uppity" and a "little girl," according to the Post.
But Ocasio-Cortez has insisted that the GOP's attacks will not slow her down as she focuses on progressive policy. In fact, during her Friday remarks, she advocated for the Green New Deal and highlighted policy proposals over Republicans' criticism.
"What we need to do with radically deep problems is propose radically visionary solutions," she said, per the New York Post. "Radical doesn't mean crazy, radical means addressing the root — address the rot."
Ocasio-Cortez has long been transparent about her work experience as a bartender and a waitress, CNBC reported. Working those jobs without health insurance while trying to pay off student debt helped her understand "the frustration that working people had across the political spectrum," Ocasio-Cortez said during an appearance on CBS' 60 Minutes earlier this year. That knowledge has been central to her advocacy for economic equality, she added.
"When anybody is saying, 'The economy is going great. We are at record levels' — there's a frustration that says, 'Well, the economy's good for who?'" Ocasio-Cortez told CBS.
Ocasio-Cortez's speech on Friday followed remarks from four 2020 presidential candidates, per Business Insider: former Colorado Gov. John Hickenlooper, and Sens. Bernie Sanders, Kamala Harris, and Elizabeth Warren.