Alicia Silverstone Steps Back Into Cher Horowitz's Shoes In A Photo '90s Kids Will Love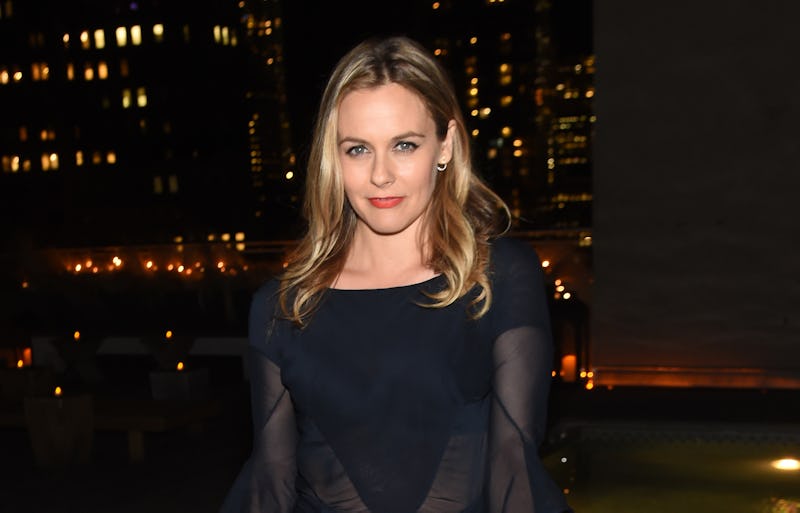 Jamie McCarthy/Getty Images Entertainment/Getty Images
Alicia Silverstone, one of the ultimate '90s actors, is beloved for her role as the unforgettable Cher Horowitz in Clueless. Her iconic fashionable outfits worn throughout the film are still legendary. So, when you see how Alicia Silverstone channels Clueless in a Lip Sync Battle photo with Chrissy Teigen, you'll be totally buggin'. It'll have you feeling all the '90s vibes as Silverstone rocks one of Cher's most iconic outfits from the movie right here in 2017 — it's like Cher is back and better than ever.
The word "iconic" can get thrown around loosely, but Cher Horowitz's yellow plaid skirt suit from Clueless, though, is legitimately iconic. It's the perfect take on a classic school uniform; it's well-tailored, and the right pattern, but also a little ridiculous, yet so fashionable. Somehow, even in 2017, Silverstone was able to rock it. The swingy, coordinated three-piece, when paired with white knee-highs and white, patent leather Mary Jane heels redefined what was so cool for school. Silverstone's Clueless looks also served to illustrate her character's creativity, seemingly bottomless wealth, ahead-of-its-time touch-screen clothes pairing program, and the contrast between her "mature" outfit choices, and the high school boys' grunge vibes. Iggy Azalea and Charli XCX channeled the Clueless costumes in the video for 2014 smash hit song "Fancy."
Oh, and 22 years after the film's release, Silverstone's still got it and rocks that iconic outfit so well.
Somehow, the best part of this entire Clueless throwback is that Chrissy Teigen is the one who posted it and embraced this throwback moment just as much as we all totally would. Fans should be so glad that Teigen was able to capture the moment of Silverstone slipping back into the threads of her classic character and still nailing it — you know, just another day in the life of the '90s queen. Also, Teigen's daughter Luna is living all of our '90s dream at such a young age by standing thisclose to Cher Horowitz. Color me jealous.
Could it be that for Silverstone's Lip Sync Battle debut, she's choosing Azalea's "Fancy," recreating her own look in the process? In the photo, Teigen is wearing a robe, so will Teigen also wear a similarly iconic Clueless outfit during her hosting duties? Could we be getting a Clueless-themed episode of Lip Sync Battle? If you remember, the Clueless soundtrack contains a number of now classic songs, such as "Rollin' With The Homies" by Coolio.
So, while Silverstone is out here bringing Cher Horowitz's fashion full-circle, Lip Sync Battle host Chrissy Teigen is also doing her part to live everyone's best life. She has a cookbook, a lucrative modeling career, TV gig, gorgeous kid, hot husband, and the confidence to say whatever she wants on the Internet. Now that Teigen has posed for her dream photos with Beyoncé and Alicia Silverstone, it's proof that dreams really do come true. Teigen was able to get a photo with Queen Bey at the 2015 Grammy Awards and it is epic.
By Teigen's own admission, she was just so excited about asking for these pictures. But don't worry, Teigen isn't likely out of awesome things she can accomplish next. Maybe she can team up with Silverstone for an Adorable Kids calendar to benefit a charity? Or, the two of them could write a cookbook together - How To Cook Bomb Meals For Awesome Celeb Families, perhaps? Just a few suggestions. If you're reading this, Chrissy or Alicia, feel free to pick them up. Silverstone and Teigen are clearly a dream team we didn't know we wanted and surely, '90s kids will want more.