All The Looks From The 2017 'Not The White House Correspondents' Dinner'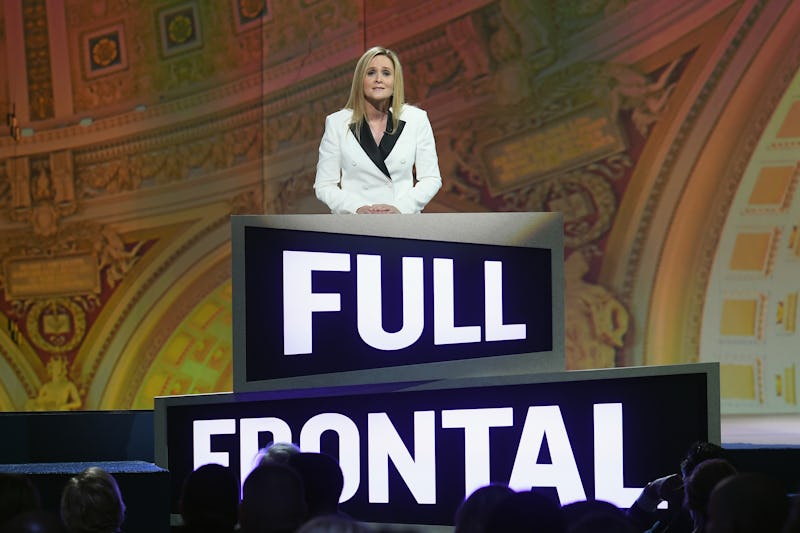 Dimitrios Kambouris/Getty Images Entertainment/Getty Images
There are a lot of differences between the 2017 White House Correspondents' Dinner and previous years. This year, for instance, President Donald Trump will not be in attendance. According to the Huffington Post, he's the first president in three decades to skip out on the event. So, what did some journalists and celebrities decide to do? Go rouge, as well, naturally. See all of the looks from the 2017 Not The White Hose Correspondents' Dinner red carpet because this spin-off event is jam packed with famous faces.
Full Frontal Samantha Bee is the NTWHCD's host for the evening. If her outfit is any indication of how well-dressed the red carpet attendees are, well, you're in for a treat. Bee wore a pantsuit, channeling none other than Hillary Clinton — on purpose or no, it was an excellent choice for the event. So yeah, once she stepped out, it was clear that the evening was off to a great start.
Along with Bee, celebs such as Chloe Bennet, Retta and Ali Larter also stepped out on the NTWHCD red (umm, I mean, purple) carpet. And the incredible fashion just kept on coming. From sparkling dresses to bold, bright colors, these folks may have ditched the WHCD, but they didn't forget to bring their fine dressing skills. That's for sure!
1. Ashley Nicole Black
Black works with Bee on Full Frontal, and couldn't look more fab in this dusty rose color.
2. Samantha Bee
Bee showed up looking fierce in a pantsuit.
3. Chloe Bennet
Can we take a minute to talk about how incredible Bennet looks in this cascading dress (complete with cut-outs.) YAS!
4. Amy Hoggart & Mike Reubens
The interviewers showed up looking dapper as ever. I'm digging the suit and sneaker combo.
5. Retta
I'm loving this bright red, especially since her dress, purse and shoes are all the same color. It works so well.
6. Ali Larter
This outfit is frills on frills, yet somehow, it doesn't seem over the top at all. Just super elegant, instead. Well played, Larter. Well played.
7. Padma Lakshmi
There's no going wrong with a black and white color combo. This white gown couldn't be more sophisticated.
8. Allana Harkin
Harkin brought the sparkle to the red carpet! This isn't your average LBD. Oh no, it's been given a major upgrade!
9. Tegan and Sara
All-black suits for the win. I love the tie and sparkling accents. And also that they're wearing flats. Heels are far too uncomfortable, anyways!
10. David Allen Basche & Alysia Reiner
OK, so Basche is holding Reiner's purse rather than carrying this glittering "Feminist" accessory, but I think he could consider making it a permanent part of his ensemble.
Here are their head-to-toe looks.
11. Ana Gasteyer
Gasteyer chose a classic navy and white dress and pearls for the occasion.
12. Lizz Winstead
The pattern on this dress is super fun.
Not The White House Correspondents' Dinner turned out to be quite the hit. Because, hey, sometimes you've got to go against the norm and do things your own way. These folks get that.