All The Looks Ariana Grande Served Up In The "Thank U, Next" Music Video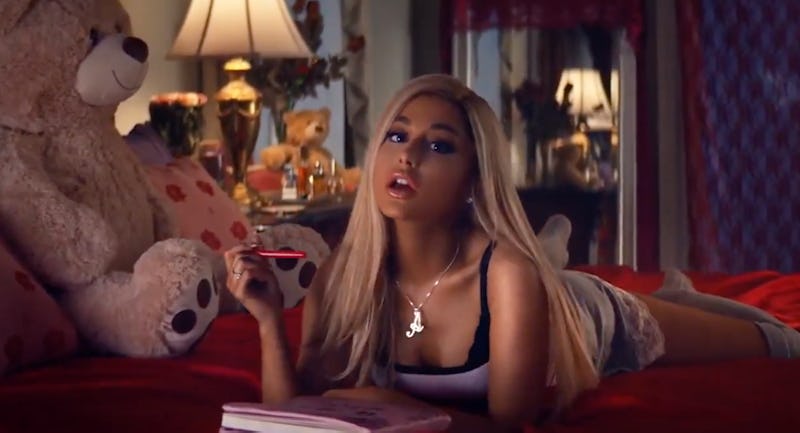 Courtesy of YouTube
Ariana Grande knows how to serve up a lewk or 10. From her street style uniform of over-the-knee boots paired with oversized hoodies and high-end it bags to towering pumps, the singer has a DNA-distinct and signature style. All of Ariana Grande's looks in the "Thank U, Next" video find the stunning singer wearing lots of outfits and paying homage to a variety of your fave female characters from beloved '00s films. Her outfits, ensembles, accessories, and makeup looks will speak volumes to your inner, '00s-loving self.
Grande's personal life has experienced quite a bit of turmoil over the past few years — from the 2017 bombing at her Manchester show to her whirlwind romance and breakup with SNL's Pete Davidson to the unexpected death of former boyfriend, rapper Mac Miller. She has navigated the healing process with grace and balanced out her pain with a professional triumph in the form of her No. 1 single "Thank U, Next."
The video finds Grande doing her best Elle Woods in Legally Blonde. Somewhere Reese Witherspoon is beaming with pride. She also channels iconic baddie Regina George of Mean Girls. The singer nods to Jennifer Garner's 13 Going on 30 and the cheerleading flick Bring It On.
These super specific sartorial salutes to pop culture are playful and dosed with Grande's personal flair.
The song is basically a love letter to all of her exes and celebrates what they taught her. It then transforms into a love letter to herself. The video, on the other hand, is ultimately a love letter to some transcendent '00s movies.
Below are all of the lewks that Grande serves up in the video. Yes, there is a lot of pink.
1. Legally Blonde
Grande does her best Elle Woods and honors the character's love of pink, rocking fluffy fuchsia feathers and more.
She also rocks Woods' signature hot pink, patent leather, and two-piece set.
Instantly iconic.
The manicure scene is full of pink, fluffy feathers and platforms.
2. 13 Going on 30
Grande pays homage to Jennifer Garner's reverse coming-of-age comedy 13 Going on 30. Look! It's Ari with short hair and no ponytail.
OMG, that's a short-haired Ariana Grande doing her best Jennifer Garner — complete with early '00s, brown-toned lipstick.
Since the song is about her love life and since she was set to marry Davidson before the relationship crashed and burned, another character people think is Grande appears in the distance a strapless white wedding dress with a long veil.
3. Mean Girls
Regina Grande? Ariana George?
Grande plays the meanest of the Mean Girls in a pale pink sweater and with long, platinum blonde locks.
Grande and co. also recreate The Plastics' rendition of "Jingle Bell Rock" in the holiday talent show, wearing sexy Santa costumes — glossy over-the-elbow black latex gloves, thigh-high black boots, and all.
Allow us to pause for a second to celebrate Kris Jenner as "a cool mom" in a pink velour sweatsuit.
4. Bring It On
The petite and ponytailed vocal powerhouse enacts the Kirsten Dunst x toothbrushing faceoff scene from the cheerleading comedy Bring It On.
She slays a tank, just like Dunst did.
Grande also wears a classic cheerleader ensemble, featuring a pleated skirt and cropped top along with her pom poms.
Ariana Grande's "Thank U, Next" video brings it on all levels. What will she do, well, next?