These Iconic Throwbacks Are Leaving Netflix In November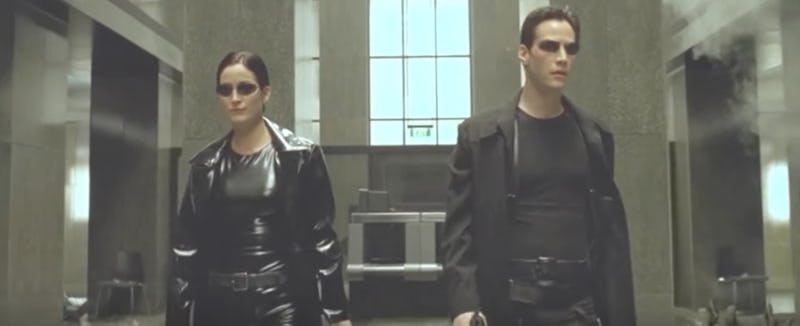 Warner Bros./YouTube
As if it wasn't stressful enough coming up with a last-minute Halloween costume, there's something else to worry about. The time has come to say goodbye to all the nostalgic movies and TV shows leaving Netflix in November 2017, and let us tell you, there are some real doozies. It's like the streaming platform doesn't even care that it's one of our most important connections to our childhood favorites, and our high school favorites, and our adulthood favorites. No pressure, Netflix, but we're counting on you for our must-needed nostalgia fixes.
But luckily for us, even as they taketh away, they do giveth. And one thing we can always count on them for is some fair warning when they taketh away. This month, that means we have a few more precious days with Thomas the Tank Engine, who's toot-tooting a last call before he chugs back to Shining Time Station. Or with Neo, who will be departing our very own movie matrix in just a few short days, ducking under a barrage of our pleas to stay as he goes. Or with Bella Swan and Edward Cullen, who are staying just long enough for you to finally decide if you're #TeamJacob or #TeamEdward, before vanishing forever.
No matter who you are or where you're at in your life, these are important movies and TV shows that were probably important to you at some point. So cherish your last few days with them, and learn to get along without.
1. The Matrix
It was only a matter of time before Keanu Reeves' Neo took a red pill that would also take him away from us. But that reality is finally staring us in the face like so many Agent Smiths, and until you figure out how to manipulate the Matrix yourself, you're stuck in it.
Leaving: Nov. 1
2. The Thomas & Friends Holiday Collection
Everyone's favorite tank engine has gotten himself into quite a few holiday capers, like A Very Thomas Christmas, Holiday Express, Merry Winter Wish, The Christmas Engines, and Ultimate Christmas, and all five will be returning to the depot at the beginning of the month. Relax by the Yule Log with your boy, and spread some holiday cheer while you still can.
Leaving: Nov. 1
3. Twilight
The film that started it all has been a Netflix mainstay, but nothing lasts forever — except for vampires. So take this opportunity to watch Bella and Edward fall in slightly creepy love on last time (or 10) before the film becomes as hard to find as the sun in Forks.
Leaving: Nov. 1
4. V For Vendetta
Remember, remember, the fifth of November, when we were introduced to the Guy Fawkes mask and Natalie Portman shaved her head onscreen. Or actually, remember the first of November, because that's when this 2005 thriller will be gone for good.
Leaving: Nov. 1
5. Hannah Montana: The Movie
Take a stroll down memory lane with the Miley Cyrus character that launched her career — pop singer Hannah Montana. And just try to grapple with the fact that the young teen onscreen is now engaged to one of the hottest men in Hollywood and putting out music that you actually love. The passage of time is crazy, isn't it?
Leaving: Nov. 5
6. Sky High
The Disney film about teenagers who can fly in a world where superheroes are both commonplace and accepted combines about five of our favorite things. So hook yourself up with a dose of nostalgia while there's still time.
Leaving: Nov. 5
7. Goosebumps
Wanna hear a scary story? No, it's not about trading bodies with your mortal enemy, or finding out you're actually a ghost. It's the tale of this classic from your childhood dying an unnatural death, AKA being removed from Netflix too soon. Watch it before it's gone so it doesn't come back with unfinished business to haunt your queue.
Leaving: Nov. 11
8. How I Met Your Mother
This legen—wait for it—dary series has served us well over the years, but the whole gang and all nine seasons will take their bow around the middle of the month. But before you throw yourself into the monumental task of watching the entire series by then, don't forget that it ends with a major letdown. (Major Letdown!)
Leaving: Nov. 13
9. The Break-Up
Um hi, remember when Jennifer Aniston and Vince Vaughn dated in real life and also in this movie? That was a crazy time, right? Pretty cool that you can relive it with just a few clicks of your mouse, but don't get too attached, because it'll be gone soon. This was never supposed to be a long-term thing, anyway, so no hard feelings?
Leaving: Nov. 16
Annnnnd that's all the sadness that Netflix will be wreaking this month when it comes to your nostalgic favorites. But don't worry, if you can survive this, you can survive anything — and who knows, your favorites may come back to the streaming service again one day.