All The Things The 2017 Met Gala Red Carpet Looked Like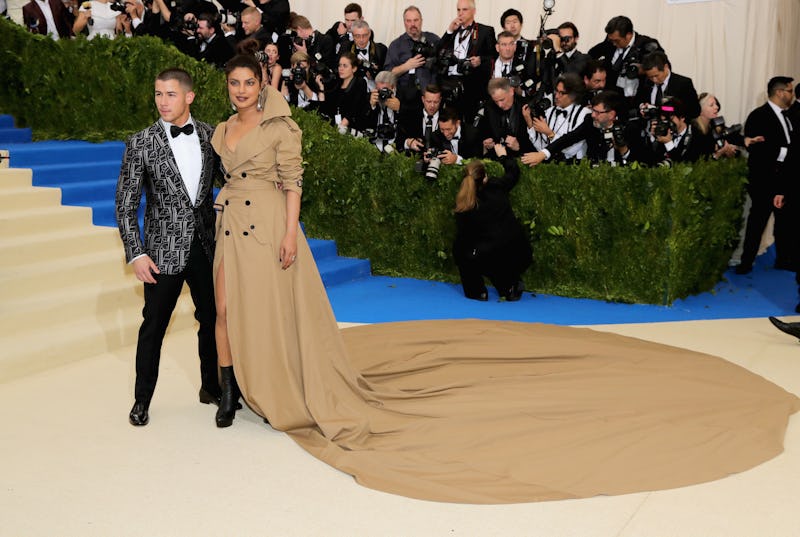 Neilson Barnard/Getty Images Entertainment/Getty Images
The Met Gala is arguably fashion's biggest night, with the most stylish celebrities, editors, and insiders coming out in full force to celebrate the Costume Institute's spring exhibition. The year's official theme may have been "Rei Kawakubo/Commes des Garcons," but the Twitterverse was all about discerning what the 2017 Met Gala red carpet actually looked like — be it your favorite cartoon characters or everyday objects.
Let's be real, memes are the best part of any major cultural event. While all the celebrities at the Met Gala looked incredible, the internet couldn't help cracking some clever jokes about the most over-the-top ensembles. The Met Gala isn't your typical red carpet event in that it's all about celebrating fashion design as an art form, and so there are always bound to be some outfits that, while stunning, aren't the most wearable for daily life. But what they lack in practicality, they make up for in meme-ability.
Plenty of the looks at Sunday night's event inspired hilarious Twitter comparisons, but that doesn't mean they weren't gorgeous. Check out everything that the Met Gala 2017 red carpet looked like, and if your fave is on this list, just remember — it's all in good fun!
1. Inspector Gadget
OK, this is pretty accurate.
2. Three Blind Mice
The three extremely cool looking blind mice, am I right?
3. Spy Kids Thumb
I think that Rei Kawakubo would actually really appreciate this one.
4. Grimace
But if Grimace was totally chic.
5. Gossamer
#Accurate.
6. Men In Black Worm
She has the pose down.
7. The Bottom Of The Sea
Not bad inspo for an outfit, if you ask me.
8. The Beetlejuice Wedding Scene
ICONIC.
9. Diorshow Mascara
Mascara wands are pretty graceful.
10. The Suite Life Of Zack And Cody
Even the Queen of Fashion isn't safe from some good-natured ribbing on Met Gala night.