Amanda Stanton's Daughters Have More Instagram Followers Than You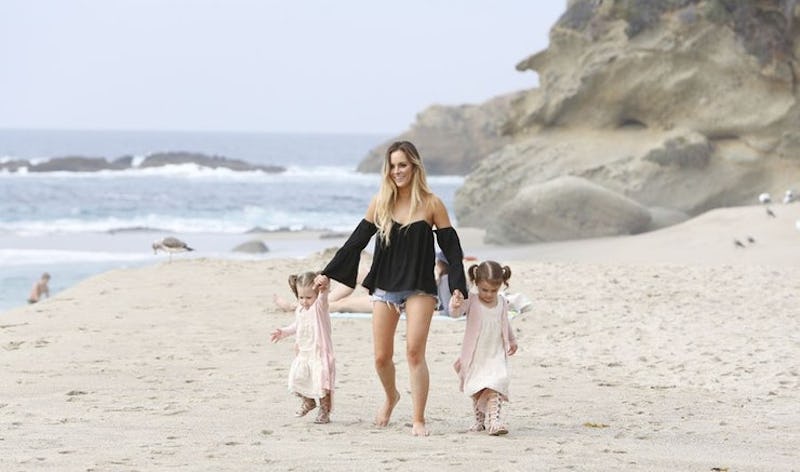 Craig Sjodin/Bustle
While some people really do go on The Bachelor to find love, they also find fame. But who knew the children of contestants on The Bachelor could also become mini celebs? Well, Amanda Stanton's children have Instagram accounts and with less than 50 posts each, they still most likely have more followers than you.
Amanda's daughters, Kinsley and Charlie, were first introduced to the world when Amanda was a contestant on Ben Higgins' season. During her hometown date, Ben played with the two girls on the beach before he ultimately decided to send Amanda home. But Amanda has stayed in The Bachelor limelight due to her two appearances on Bachelor in Paradise and it appears that her daughters are getting their own taste of fame, too.
Amanda has her own Instagram account with over 1.2 million followers, where she shares photos of her daughters, among other things. But she decided to spread the wealth by giving Kinsley and Charlie their own social media accounts. Kinsley is 5 and Charlie is 3, so Amanda runs both of her daughters' Instagrams, as noted in their bios. And while the girls have solo pictures featured on their accounts, their mom is understandably still a prominent and active presence.
Although the photos that Amanda shares for her girls are adorable, her young children having Instagram accounts is not without controversy as there's a Reddit thread dedicated to what Bachelor fans think of Amanda's choice. How a parent handles sharing photos of their children on social media is a contentious topic these days and that's even for parents who have never been on national television. Some parents don't want their children to have a social media presence at all, let alone their own social media accounts. The age that a person is allowed to use Instagram is 13 years old, according to its policy, but as Amanda is running her own children's accounts, that most likely isn't an issue.
Yet, people not approving of her daughters being on Instagram is not going to stop Amanda since she has spoken out about being shamed for her parenting choices before. She was a target on the internet when she chose to go on Bachelor In Paradise for a second time when she had two young children at home. According to E! News, Amanda posted an Instagram story in June 2017 that not only talked about how she is a stay-at-home mom and Bachelor in Paradise doesn't film for as long as it airs, but how Kinsley and Charlie's father is also in their lives. She ended by saying, "My kids are my entire world. I am doing my best to give them a great life." She also addressed the negative comments about her parenting on her blog after the Bachelor in Paradise Season 4 finale.
The judgment hasn't deterred fans of Amanda — and her children — from following the girls' Instagrams since both Kinsley and Charlie have over 32,000 followers each at this point. They certainly put many people's social media games to shame and the people who follow them get to see the girls having fun and being normal kids...
... as well as see the girls master their model poses.
Kinsley already is aware of her growing fanbase, as she helps her mom caption the photos, like in the below photo:
And Charlie seems to already have the duck face down to a science:
So although they are only old enough to attend pre-K, Amanda's daughters have proven that their social media game is on point and as their mother, Amanda is going to continue to grow their internet presence as she sees fit.