Why 'American Vandal' Season 2 May Actually Infuriate You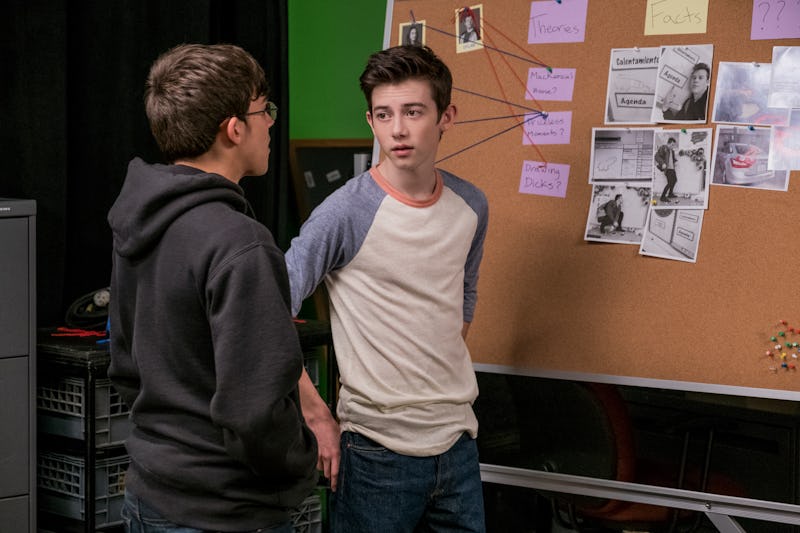 Tyler Golden/Netflix
Netflix's true-crime parody series American Vandal has been a surprise hit for the streaming service. On Thursday, Oct. 26, it was announced that American Vandal is getting a Season 2 renewal. Obviously, the immediate follow-up question is whether fans will actually get closure regarding the Netflix series' central mystery: Who drew the d*cks? After all, the finale of American Vandal Season 1 felt unsatisfying to some fans, as the high school documentarians failed to correctly identify the vandal. At least, not conclusively.
So many questions remain: Was it Christa Carlyle, the class president, who's actually responsible for the graffiti? Will Dylan get into another college? These are the things American Vandal fans need to know. But based on the American Vandal Season 2 teaser posted to Funny or Die's Twitter account, fans might never get the answers they're longing for. And yes, that's more than a little frustrating.
In fact, the Season 2 teaser makes it seem as though the upcoming installment will take place in a new school, focused on a kid named Ben Callahan, not Dylan Maxwell. A huge giveaway seems to be the school uniforms. This raises another key question: Could American Vandal be an anthology series, like American Horror Story? Except, you know, the comedy version. Since it's such a new show, anything is possible.
But if you're looking for some information to cling to, here's what fans should know so far: Season 2 of American Vandal will be eight episodes, according to Splitsider. The exquisite first season, which premiered on Netflix in September, was also eight episodes long. And it sure seems like Peter Maldonado, who narrated the first season, will be back, according to Entertainment Weekly. As Peter says in the teaser clip, "You can be born into the perfect family, the perfect life. But, can you be born above the law?" The camera pans over a new set of students in the yearbook.
New students or not, the series may have found a winning formula. As for why the show works so well, it seems to be the rare comedy that makes few overt jokes. There's no traditional set up or punchline in American Vandal; the series itself serves as both. Each half-hour installment was at once a faithful recreation of true-crime series (including some of Netflix's own, like Making a Murderer) and an artfully composed d*ck joke.
American Vandal Season 2 does not have an official premiere date yet, but will air sometime in 2018, per Funny or Die's tweet. That's a quick turnaround time, which is beyond exciting. Of course, fans could not be more pumped (even if they may wind up being let down later on, if they don't find out who drew the d*cks back in Season 1).
It especially seems likely that Season 2 of American Vandal will tackle a whole new adventure when you consider a recent interview with The Hollywood Reporter. According to the site, showrunner Dan Lagana revealed back in September,
"We actually had a very funny pitch in the room during season one that shaped what our pitch to Netflix was for season two. We just had that pitch last week at Netflix and it went very well. It's a completely different crime."
While Lagana may have been specifically talking about a pitch meeting in that THR interview, the teaser that just dropped seems to imply that this wound up being the pitch that got picked up for Season 2.
And even though we may never know who drew the phallic graffiti in round one of the Netflix series, it's likely fans will become just as obsessed with whatever this brand-new crime may be. Maybe it'll even be enough to fill the void of the original unsolved mystery.
Additional reporting by Jamie Primeau.