Why The Disney Channel's First Coming Out Storyline Is Such A Huge Deal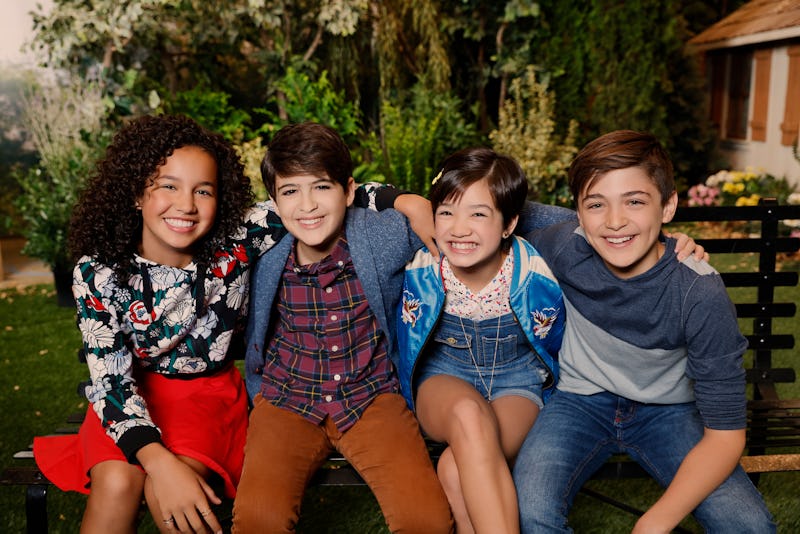 Disney Channel/Craig Sjodiin
In a move that feels like a step forward for inclusive storytelling, the Disney Channel will feature a character coming out as gay in a series, a first for the network. An upcoming Andi Mack episode will feature the LGBTQ+ storyline, in which 13 year-old Cyrus Goodman's coming out journey will be depicted in the hour long season premiere airing on Friday, October 27. The coming of age tween show follows lead character Andi, her family, and her two best friends, Cyrus and Buffy, as they navigate the often complicated terrain of growing up. And one of those terrains, as we all remember, is the crushes you develop at that age.
In the season premiere, audiences will see Cyrus coming out to a supportive Buffy, but don't think this is an isolated incident just for a very special episode. According to reports, subsequent episodes will show the character struggling to figure out how to break the news to his girlfriend, and, over the season, fans may also see a developing love story between characters, Cyrus and Jonah. It's a relationship that has been 'shipped by fans since the Season 1 finale, and one that is sure to be complicated by Andi's own longtime crush on Jonah, too.
The fact that the writers are taking the time to develop this storyline with the care and realism that can provide representation and inspiration that the children (and adults) who may be watching need makes this network first even more groundbreaking.
It's still rare to see sufficient amounts of LGBTQ+ representation in mainstream TV shows and movies. According to GLAAD, for instance, of the 895 regular characters expected to appear in TV shows over the coming year, only 43 of them were identified as LGBTQ+. (That's a meager 4.8 percent, by the way.) Chances are then, that if you're a young person looking for LGBTQ+ representation and narratives on TV, then you may struggle to actually find any.
And that is exactly why the Andi Mack storyline deserves to be celebrated; it's providing the sort of inclusive narratives that children deserve to see in order to understand and reflect upon their own sexuality. On top of that, these narratives encourage acceptance when it comes to sexuality. Acceptance for strangers, for loved ones, and, most importantly, for ourselves. That's a lesson that no one is too young to learn.
As proven by the response to the Season 1 finale of Andi Mack, in which an attraction between Cyrus and Noah was hinted at, fans are more than ready for a tween show to explore these ideas, too. In the scene, Jonah asks his friend, Amber, how to tell when a girl is into you, to which Amber replies, "If she turns to look back at you, it means she likes you." Cue Cyrus turning around to look directly at Jonah, and Twitter immediately exploding with excitement over what this moment could mean.
Following the premiere, one Twitter user remarked, "Cyrus looked back I couldn't believe it Disney really about to do that," meanwhile another user enthused, "I know this sounds hyperbolic, but I truly believe lives will be saved because Cyrus looked back." The truth is that by providing a positive portrayal of a young coming out story, Andi Mack could potentially help with saving the lives of LGBTQ+ youth, who are statistically more susceptible to violent experiences and at a greater risk of suicide. Though one storyline may not be able to directly save a life, it could certainly inspire the sort of conversations that could. Considering the popularity of the show (the Season 1 premiere of Andi Mack had amassed an impressive 14.4 million views by April alone), it has the power to reach a wide array of viewers. And, in doing so, the show could open up a healthy dialogue regarding LGBTQ+ issues among young people and acceptance thereof.
The actor who portrays Cyrus on the show, Joshua Rush, released a touching Instagram post regarding the announcement that perfectly summarizes exactly why this storyline is so important:
"Starting conversations about trust, love, relationships and family dynamics is easier when you have a show that you can relate to. Andi Mack gives young people and their parents, mentors, and champions a meaningful way to talk about these topics and the power to decide their futures."
And it's true that TV shows provide young viewers with ways to engage with topics that they might not feel ready to talk about with anyone else yet. When dealing with complex issues like sexuality, these sort of shows provide the power of visibility and solidarity. They also provide the supportive olive branch of an entire community of fans who may be feeling exactly what you are, or, at the very least, may be able to understand your experiences in a way that's significant. Whether you're a kid, tween, teenager, or fully fledged grown up, that solidarity means the world.