Andrea Constand Gave A Statement During Bill Cosby's Sentencing & It's So Powerful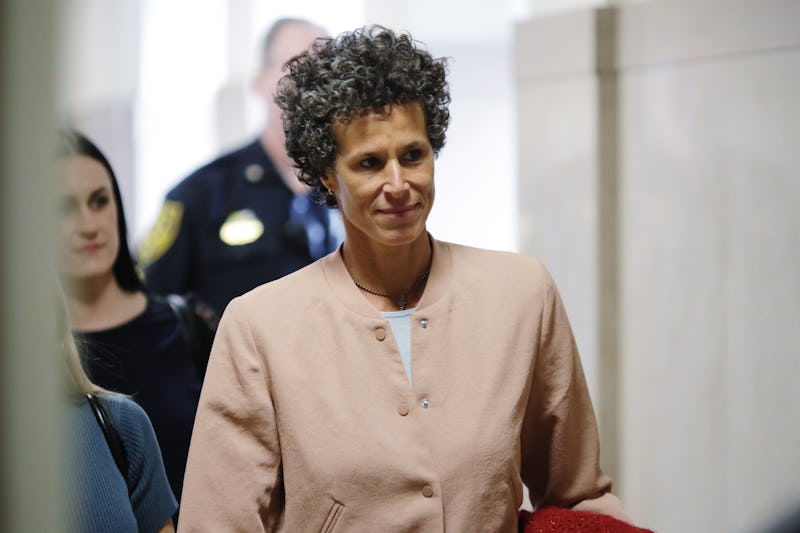 Pool/Getty Images News/Getty Images
Before Bill Cosby was sentenced for sexual assault on Tuesday, the survivor who took him to court had the chance to address the judge deciding his fate. Andrea Constand's full victim impact statement describes the "pain and anguish" she felt after the 2004 assault, adding that she only felt more vulnerable after reporting Cosby.
"Nothing could have prepared me for an evening of January 2004, when life as I knew it came to an abrupt halt," she wrote in the statement obtained by Alanna Vagianos at HuffPost on Tuesday.
A jury found Cosby guilty on three counts of aggravated indecent assault in April for drugging and sexually assaulting Constand. The 81-year-old comedian was accused of sexual assault by dozens of women, but was only found guilty of assaulting Constand. Cosby denied all the accusations against him and claimed his encounter with Constand was consensual. On Tuesday, a judge will determine how long he'll spend behind bars, with Cosby facing a maximum sentence of five to 10 years in state prison.
"Your honor, I have testified, I have given you my victim impact statement," Constand said in court on Monday, per Vagianos at HuffPost. "The jury heard me, Mr. Cosby heard me, and now all I am asking for is justice as the court sees fit."
In her victim impact statement, Constand said she felt "powerless to protect herself" when a man she "had come to know as a mentor and friend" drugged and assaulted her.
"After the assault, I wasn't sure what had actually happened but the pain spoke volumes," Constand said. "The shame was overwhelming. Self-doubt and confusion kept me from turning to my family or friends as I normally did. I felt completely alone, unable to trust anyone."
As the women's basketball coach at Temple University at the time, Constand said she threw herself into her work. But when the team wasn't traveling, she had to see Cosby, who served on the Temple University Board of Trustees, around campus. Cosby resigned from the board in 2014 after he was accused of sexual assault.
"The sound of his voice over the phone felt like a knife going through my guts. The sight of the man who drugged and sexually assaulted me coming into the basketball offices filled me with dread," she said, adding that she thought she'd feel better when she went home to Canada. "Instead, the pain and anguish came with me."
Constand said she's often asked herself "why the burden of being the sole witness in two criminal trials" fell on her shoulders.
"The pressure was enormous. I knew that how my testimony was perceived — that how I was perceived — would have an impact on every member of the jury and on the future mental and emotional well-being of every sexual assault victim who came before me," she said. "But I had to testify. It was the right thing to do, and I wanted to do the right thing, even if it was the most difficult thing I've ever done."
After feeling like she's been "stuck in a holding pattern" for the past 15 years, she's finally looking toward the future.