Bill Cosby's Publicist Said The Disgraced Comedian & Kavanaugh Are Victims Of A "Sex War"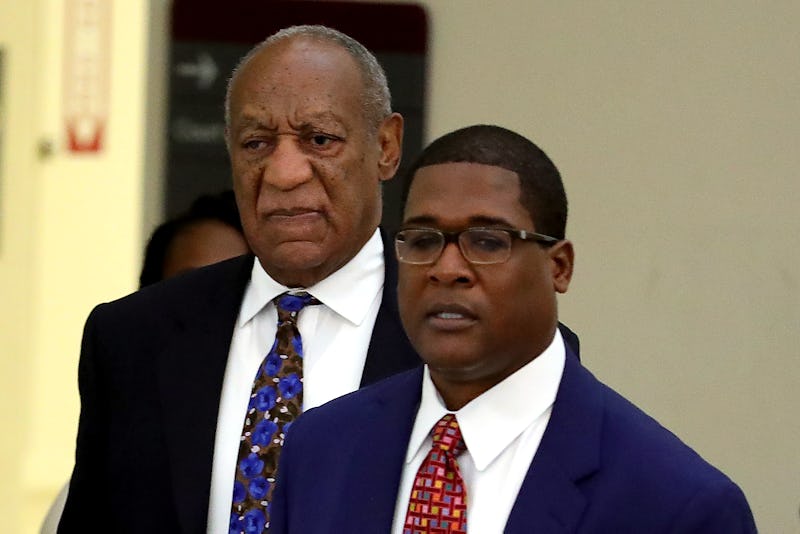 Pool/Getty Images Entertainment/Getty Images
Standing outside the courthouse in Norristown, Pennsylvania, on Tuesday, Bill Cosby's publicist lamented what he called "sex war" against Cosby and Brett Kavanaugh, the SCOTUS nominee. Andrew Wyatt's statement came after Cosby was convicted of drugging and sexually assaulting former Temple University athletics coordinator Andrea Constand in 2004. The disgraced comedian was sentenced to three to 10 years in state prison.
In his remarks outside the courthouse, Wyatt brought up Kavanaugh as part of the apparent "sex war" that's happening in Washington, D.C. On Sept. 16, California professor Christine Blasey Ford publicly accused the SCOTUS nominee of sexually assaulting her in the 1980s. One week later, another woman, Deborah Ramirez, alleged that Kavanaugh sexually assaulted her when they were at Yale together. Kavanaugh has categorically denied the accusations.
"I believe and think it is important to point out," Wyatt said in his remarks Tuesday, "that this has been the most racist and sexist trial in the history of the United States. Dr. Cosby has been one of the greatest civil rights leaders in the United States for over the last 50 years. He has also been one of the greatest educators of men and boys over the last 50 years."
As it rained in Norristown, Wyatt continued to speak with the media and said that neither Cosby's supposed civil rights background nor his public influence as a culture icon for men and boys was brought up for the jury to consider. The publicist also lampooned the "racist and sexist mass media" for "denouncing" and "attacking" Cosby. Here's the CNN clip of Wyatt delivering his comments.
In his comments, Wyatt criticized unnamed white women who he claimed profited off of accusing black men of sexual abuse. "All three of the psychologists who testified against Dr. Cosby were white women who make money off of accusing black men of being sexual predators," Wyatt said without taking specific names. "It is no accident that the prosecutors worked so close with anti-black and anti-male activist groups who tried to extort $100 million from Dr. Cosby in 2014."
While Wyatt issued his statement outside the Norristown courthouse, there were those who expressed different emotions after Cosby's sentence came out. Among them was Lili Bernard who accused Cosby of drugging and sexually assaulting her. Cosby denied the allegation.
While speaking on CNN, Bernard said, "It's incredibly important. I do have mixed emotions. On the one hand I feel absolutely elated that justice was served. On the other hand I also feel disappointed because clearly the three-year minimum sentence does not adequately reflect the havoc this man, this rapist, has inflicted on so many women including myself."
Based on his statement, it wouldn't be wrong to say that Cosby's publicist did not agree at all with the sentence the disgraced comedian received on Tuesday. But his accusers viewed the development as a sign of a gradually changing society.
"It does indicate there is now a shift in the legal system that is now going to reflect modern culture," Bernard said on CNN, "and that now women's voices are being believed and women's lives are being valued."