Anheuser-Busch Stopped Brewing Beer To Send Canned Water To Hurricane Harvey Victims Instead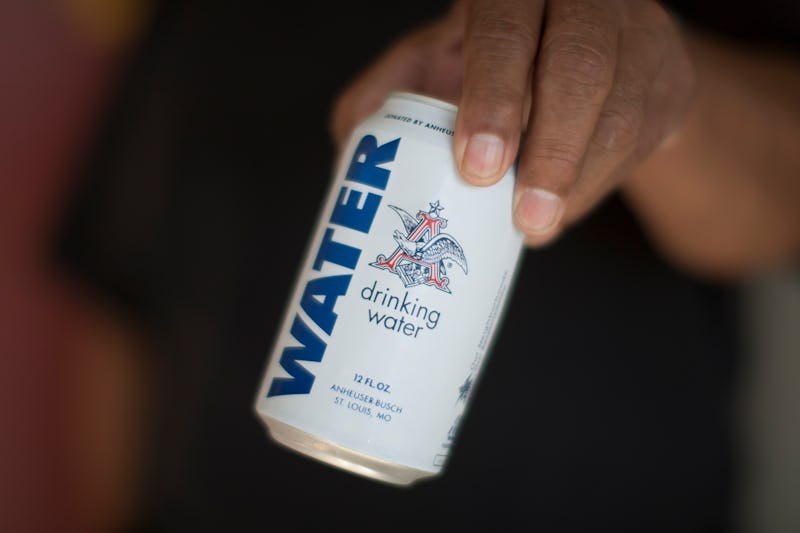 David McNew/Getty Images News/Getty Images
All hands have been on deck since Hurricane Harvey made landfall on Friday night in Rockport, TX, immediately causing damage to the small town before barreling into Houston. Swooping in as an unlikely hero, Anheuser-Busch stopped producing beer at it's brewery in Cartersville, Georgia and instead canned emergency drinking water for victims of Hurricane Harvey. In the short time since Harvey hit, the Budweiser brewery has sent over 155,000 cans of drinking water to Arlington, Texas and Baton Rouge, Louisiana.
"Since 1988 we have donated an excess of 76 million cans of clean drinking water. The Cartersville location is our designated brewery for the emergency water program — it's something we're very proud of." Bill Bradley, Anheuser-Busch's VP of Community Affairs, told TODAY.
Apparently, this is not the first time the location has served a purpose beyond providing a buzz. First opened in 1993, the Cartersville brewery canned emergency water for residents spanning the states of Alabama, Georgia, Tennessee, Florida, and South Carolina once, even twice a year if needed. Given the devastating effects of Harvey, it only makes sense for the brewery to step up to the plate.
"Throughout the year, we periodically pause beer production at our Cartersville, Georgia brewery to produce emergency canned drinking water so we are ready to help out communities across the country in times of crisis. Putting our production and logistics strengths to work by providing safe, clean drinking water is the best way we can help in these situations," said Sarah Schilling, Anheuser-Busch Brewmaster, in a statement.
For over 100 years the Anheuser-Busch foundation and the American Red Cross have had a partnership. This partnership makes the distribution of emergency drinking water markedly easier, because shelters and Red Cross volunteers can help dole them out.
Perhaps following its competitor's suit, MillerCoors is also sending water to Harvey victims.
"Providing clean water to communities enduring a crisis will aid in recovery and hopefully give some sense of comfort to those in need," Karina Diehl, director of community affairs at MillerCoors, wrote in a statement.
As part of its efforts, MillerCoors will donate 50,000 cans of drinking water to be distributed by the American Red Cross through its Revolver brewery, located roughly 275 miles northwest of Houston.
It's nice, for once, to see energy and competition funneled towards the greater good of surrounding communities. Once people are supplied with ample water, I can imagine many Harvey survivors will also still need a beer.