Here's What Anita Hill Said The Kavanaugh-Ford Hearing Needs — Or It "Cannot Be Fair"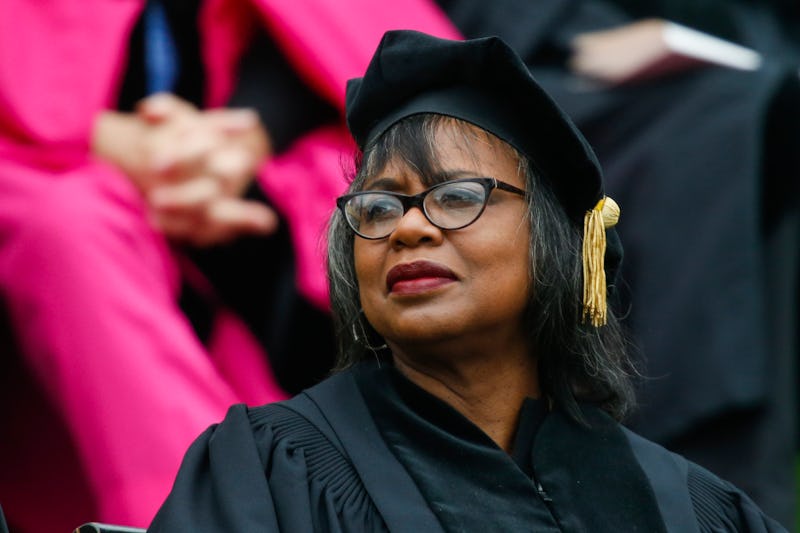 Eduardo Munoz Alvarez/Getty Images News/Getty Images
The one woman who will have been in Dr. Christine Blasey Ford's shoes as she testifies on Thursday said that the Senate Judiciary Committee hearing, as it is currently organized, "cannot be fair and thorough." Anita Hill said the Kavanaugh and Ford hearing needs a "real investigation" if it is to be an improvement on the one she endured 27 years ago.
Hill spoke with NPR's All Things Considered for a segment that aired Tuesday about her experience during the confirmation of then-Supreme Court nominee Clarence Thomas. Hill accused him of sexual harassment in the workplace. Thomas denied the charges, called the hearing a "circus," and was confirmed 52 to 48 with 11 Democrats voting in favor —almost exclusively from what would now be called "Trump country." Republicans from Oregon and Vermont voted against Thomas.
As for the hearing with Ford on Thursday, Hill wasn't too optimistic it would be an improvement from her own hearing in 1991. "To do it better, what we have to have is a fair process," Hill told NPR. "And a fair process starts with and becomes framed by a real investigation."
Ford will be testifying in front of the Republican-led committee on Thursday about her allegations that Judge Brett Kavanaugh, Trump's SCOTUS nominee, attempted to sexually assault her at a party in high school. Kavanaugh has denied the allegation — as well as another by Deborah Ramirez, who said Kavanaugh exposed himself at a party in college.
As for an investigation, the chair of the Senate Judiciary Committee Sen. Chuck Grassley, a Republican from Iowa, has said the committee's own investigation will suffice. Hill did not say it had to be the FBI — as many Democrats and Ford herself have called for — Hill did say it needed to be a "neutral body." Hill told NPR what that would look like:
In a real hearing and a real investigation, other witnesses would be called, including witnesses who could corroborate, witnesses who could explain the context of the experiences of Dr. Blasey Ford and Judge Kavanaugh during that period in their lives, as well as experts on sexual harassment and sexual assault.
Hill took great pains not to speculate on Kavanaugh specifically, but she did acknowledge that "someone who comes into the court should not have a cloud over himself and over the court."
She also said the format of Thursday's hearing would not allow the general public to understand the significance of the accusations — and Kavanaugh's response to them.
"It's not to say that there cannot be a situation where a person has risen above these kinds of behavior or teenage behavior," Hill told NPR, "but is to say that what we have is a person speaking the privilege of representing the laws of this country, and when that individual is reasonably believed to have broken those laws — and then not been truthful about it — to me, that's a disqualification."
Hill also addressed the time that has passed since the alleged attempted sexual assault took place. She said it "has to be taken into account and taken seriously."
"A confirmation hearing about the character and fitness of an individual who's is going to sit on the country's highest court, presumably for the rest of his life, the confirmation process involves going back and looking at the entirety of the nominee's life," Hill said. "Whether it's 10 years or 30 years, we're talking about an experience that is potentially a reflection the character and fitness of the nominee."
The difference in Ford's hearing — 27 years later — will become clear Thursday.