Anita Hill Addresses The Allegations Against Brett Kavanaugh In A Powerful Statement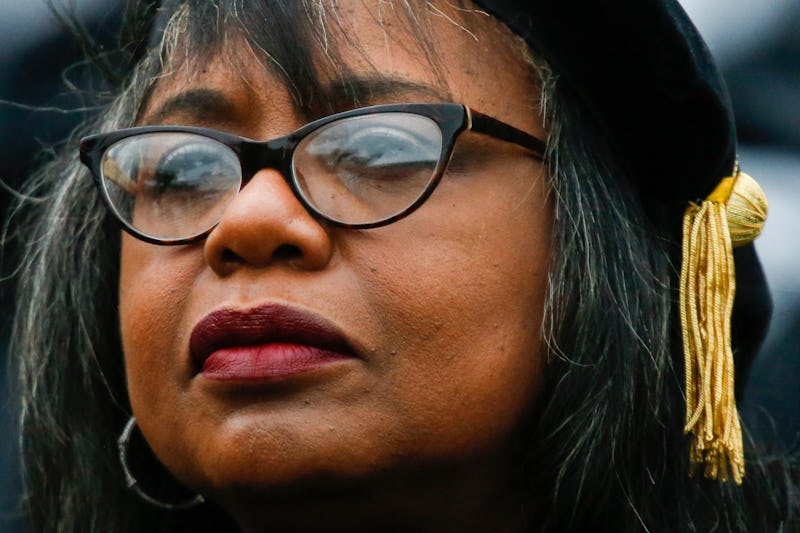 Eduardo Munoz Alvarez/Getty Images News/Getty Images
Although Supreme Court Nominee Brett Kavanaugh's confirmation hearings are over, it doesn't mean that the drama surrounding him has ceased. The Senate hasn't voted on his nomination yet, and The New Yorker broke a story about him in the eleventh hour. The magazine reported Friday that a woman accused Kavanaugh of sexual misconduct at a party when they were both in high school. Now, Anita Hill wants to see Kavanaugh properly investigated by the Senate Judiciary Committee, she told Politico through a spokesperson.
Hill has a vested interest in ensuring the Senate Judiciary Committee does its job right when it comes to investigations like this. Back in 1991, Hill spoke at Supreme Court Justice Clarence Thomas's confirmation hearing and claimed he sexually harassed her while he was her supervisor. He was confirmed anyway. Thomas denied the allegations at the time of his confirmation.
On Friday, through a spokesperson, Hill — now the leader of a commission working to combat Hollywood sexual harassment and a professor at Brandeis University — told Politico that there should be a distinct, "fair and neutral" process to deal with complaints like these.
"The Senate Judiciary Committee should put in place a process that enables anyone with a complaint of this nature to be heard," Hill said, according to Politico. "I have seen firsthand what happens when such a process is weaponized against an accuser, and no one should have to endure that again."
The New Yorker reported on the allegations against Kavanaugh after they were turned over to the FBI for investigation by Democratic Sen. Dianne Feinstein. The allegations came from a woman — who wished to remain anonymous and did not grant The New Yorker an interview — who said that in the 1980s when they were both high school students, Kavanaugh held her down and attempted to force himself on her at a party with a classmate. She alleged he and another classmate had both been drinking, and Kavanaugh covered her mouth, but he was able to eventually free herself. Kavanaugh responded to The New Yorker's reporting in a statement, saying: "I categorically and unequivocally deny this allegation. I did not do this back in high school or at any time." The unidentified woman laid out her allegations in letters to Feinstein's office and the woman's congresswoman, Rep. Anna Eshoo.
Hill said in her statement that there should be a process for handling claims like those against Kavanaugh. Meanwhile, Feinstein is being criticized for her handling of the allegations, which were brought to her via the letter back in July. People want to know why she didn't ask Kavanaugh about the allegations during his hearing and why she didn't reveal more information about the letter until this week.
The Sacramento Bee reported that Democratic state Sen. Kevin de León released a statement criticizing Feinstein for withholding the information, saying:
The American people deserve to know why the Ranking Member on the Senate Judiciary Committee waited nearly three months to hand this disqualifying document over to the federal authorities and why Sen. Feinstein politely pantomimed her way through last week's hearing without a single question about the content of Kavanaugh's character.
The New Yorker reported that sources close to Feinstein said she didn't bring forth the woman's allegations for a few reasons: To give the woman privacy, and because Democrats' strategy with Kavanaugh was to focus in on legal issues, rather than personal ones.
Outlets such as Vox have pointed out similarities between Kavanaugh's and Thomas' confirmations. The New Yorker reported that at the time of Thomas' hearing, former Sen. Joe Biden — who was the Democratic chairman of the Judiciary Committee during Thomas' confirmation — didn't call three female witnesses who were willing to back up Hill's claims about Thomas' alleged sexual misconduct.
Meanwhile, Hill's statement to Politico made a point to say that — even in the wake of #MeToo — it's hard for women to come forward with allegations about men in power. The systems in place, or lack thereof,  have to do with that.
"The reluctance of someone to come forward demonstrates that even in the #MeToo era, it remains incredibly difficult to report harassment, abuse or assault by people in power," Hill's spokesperson told Politico. "Given the seriousness of these allegations, the government needs to find a fair and neutral way for complaints to be investigated."