Anna Faris Reportedly Cut A Chapter About Chris Pratt From Her Book & The Details Will Hurt Your Heart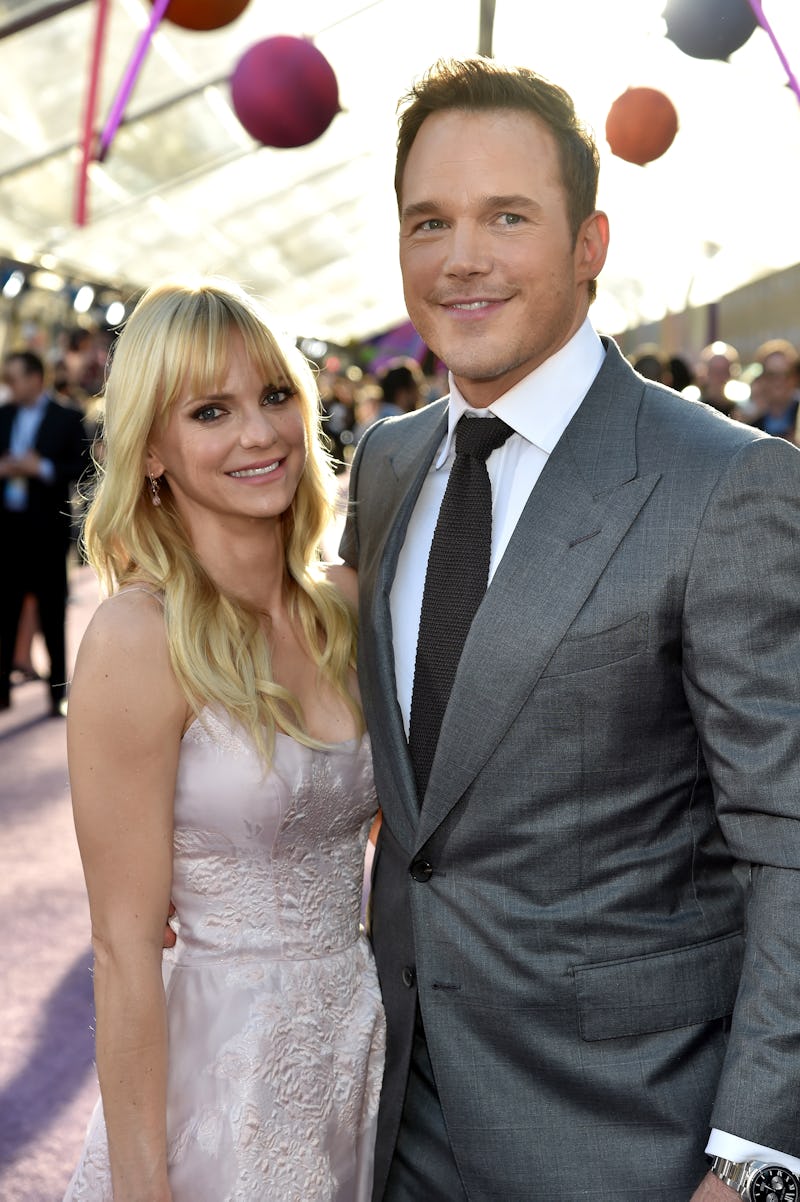 Frazer Harrison/Getty Images Entertainment/Getty Images
Following the news of her split from husband Chris Pratt, Anna Faris has undoubtedly had to make a few changes in her life, and it appears that her new memoir was not exempt from those adjustments. According to Page Six, Anna Faris' book originally had a chapter about Chris Pratt and their relationship that has since been removed, and the details are purely heartbreaking.
Advance copies of her memoir, Unqualified, were reportedly sent to the press two months before the couple announced their separation. Inside that version, there was an entire chapter dedicated to how she and Pratt keep their relationship intact amidst their sometimes grueling work schedules, according to Page Six. Faris reportedly revealed in the book that she and her then-husband of eight years constantly kept in contact over the phone during their long periods apart while filming. She also reportedly elaborated on savoring what little time that they did have to spend together during their marriage. (Bustle reached out to Faris' rep for comment on this book news, but did not receive an immediate response.)
Among other topics, Faris reportedly shared her hopes to move back to Washington State (their shared home state) with Pratt and their 5-year-old son Jack to live a more private and quiet life. She also mentioned the prospect of adding on to their family in the now-deleted excerpts, as Page Six detailed her desire to have a second child and revealed she was reportedly considering freezing her eggs in preparation.
The pair's different views on family structure were rumored to be at the center of their August 2017 breakup, according toTMZ. The report claimed Faris wanted to have more children in the near future, while Pratt decided to focus more on his rising career in the film industry. Other stories suggested that Pratt's newfound superstardom was a point of contention for the former lovebirds, with People reporting that the Guardians of the Galaxy actor was away from home for long periods of time. It appears that the revisions in Unqualified may provide a bit of clarity to some of the various theories that circulated around the time of their separation.
However, the only details currently known for sure are the ones shared by Faris and Pratt themselves in their joint statement from August:
"Anna and I are sad to announce we are legally separating. We tried hard for a long time, and we're really disappointed. Our son has two parents who love him very much and for his sake we want to keep this situation as private as possible moving forward. We still have love for each other, will always cherish our time together and continue to have the deepest respect for one another."
Although Faris and Pratt had broken things off by the time the book got released, the Passengers star still penned the memoir's foreword. The text — which was slightly amended before going into the final printing stage, according to Page Six — seemed to address some of the media speculation regarding fame being a contributing factor to split. A snippet of the prologue reads in part:
"We're both well-known actors, and it's worth mentioning — fame can be a pain in the butt. But we're thick-skinned. And despite what it may seem, we'll be just fine regardless of what you think of us. She's been in the spotlight longer than me yet continues to be the voice of reason in uncomfortable situations regarding our lack of anonymity."
Although a divorce is undeniably upsetting, Page Six reported that the completed version of Faris' book does suggest she's ready to move on in life. She wrote,
"There is no finish line when it comes to relationships, and I think the search for one will just make you frustrated. So I have no illusions that this book is done and now I can close the door on my past. I do feel like this book is done so … let's keep moving and focus on the future. I'm excited to see what will come next."
For what it's worth, Faris has reportedly began dating cinematographer, Michael Barrett, recently. She and her rumored new beau have been spotted out and about in Malibu during recent weeks, according to TMZ.
Although parts of Faris' book (both those deleted and remaining) may provide heartbreaking specifics about her recent transition in marital status, it's safe to say that the entertainer will not allow divorce to define the remaining chapters of her life.