The US "Lost" Even More Migrant Children, And There's More To The Story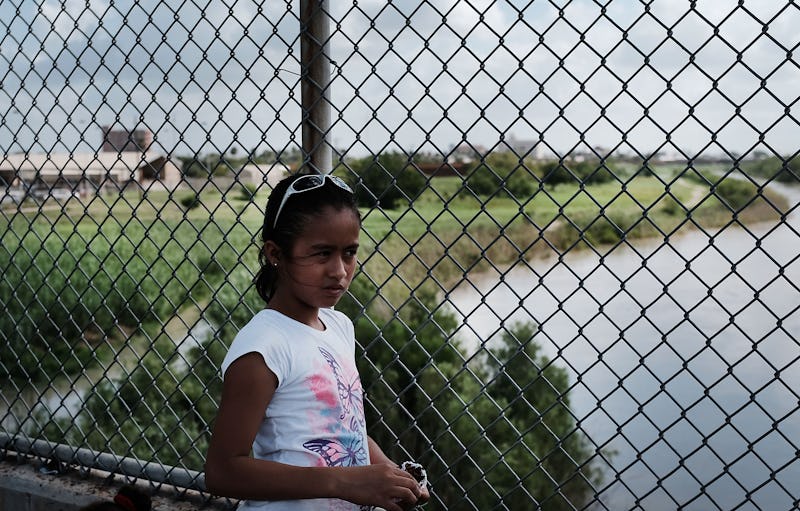 Spencer Platt/Getty Images News/Getty Images
Though news of the Trump administration's policies surrounding migrant children has died down, the problems have not. The federal government lost track of nearly 1,500 migrant children who were placed with sponsors after illegally entered the country alone earlier this year, according to a congressional investigation released on Tuesday and obtained by The New York Times. That's in addition to the roughly 1,500 children the government lost track of last year after moving them out of federal shelters — so the problem isn't entirely new; it just hasn't been resolved.
The Department of Health and Human Services (HHS) acknowledged in April that the agency couldn't determine the whereabouts of 1,475 children who arrived in the country alone and were then released to adult sponsors in 2017. History repeated itself this year when 1,488 out of 11,254 children HHS placed with sponsors couldn't be found when the agency placed follow-up calls from April 1 through June 30, per The Times' report.
"As communicated to members of Congress multiple times," HHS spokeswoman Caitlin Oakley told The Times, "these children are not 'lost.' Their sponsors — who are usually parents or family members and in all cases have been vetted for criminality and ability to provide for them — simply did not respond or could not be reached when this voluntary call was made."
Lawmakers disclosed this information on Tuesday while introducing bipartisan legislation aimed at ensuring HHS does its due diligence when placing children with sponsors in the United States. The agency has placed more than 135,000 unaccompanied children with sponsors while they wait out their immigration case since October 2014, according to The Times. While children getting lost in the system has raised concerns about possible human trafficking, there are myriad reasons sponsors might not answer HHS' calls.
Josie Duffy Rice, a lawyer and research director at the Fair Punishment Project, made a similar point in a tweet thread about the 1,500 children the government lost track of last year. "They aren't missing! They are almost certainly living with family members who almost certainly don't want to interact with the government and WE SHOULDNT ASK THEM TO," she wrote in May.
Adult sponsors the "missing" children were placed with could be undocumented or otherwise scared to interact with immigration officials, Rice noted.
Nevertheless, the lawmakers who introduced the Responsibility for Unaccompanied Minors Act this week worry that minors who come to the U.S. alone are vulnerable to abuse. This concern preceded the Trump administration, as someone pled guilty to bringing Guatemalan teenagers to the U.S. and forcing them to work on egg farms in Ohio in 2015, as The Guardian reported at the time.
"This bill will ensure that we keep track of unaccompanied minors in our country, which will both help protect them from trafficking and abuse as well as help ensure they appear for their immigration court proceedings," Sen. Rob Portman (R-Ohio) said in a Tuesday statement posted to his website. "These efforts are critical for safeguarding these children and upholding our immigration system. This isn't a partisan issue."
Portman's bill would require HHS to run background checks on sponsors and notify the appropriate state governments before a migrant child is placed with a sponsor in that state. But even if the bill is passed, it wouldn't impact the roughly 3,000 children the government has already lost track of.