Anthony Bourdain Had His Own Book Imprint — But It's Set To End Following His Death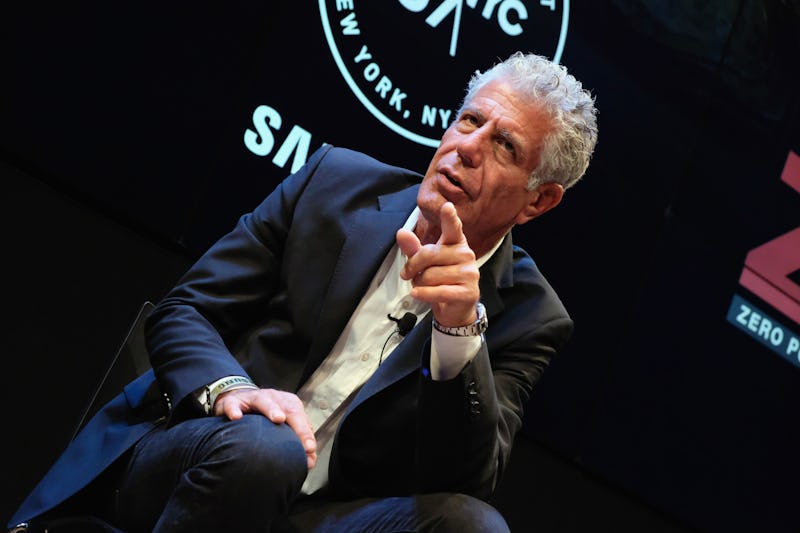 Mike Coppola/Getty Images Entertainment/Getty Images
Since 2011, Anthony Bourdain Books has released nonfiction titles through HarperCollins imprint Ecco Books. Bourdain's imprint publishes "books by people with strong voices who are good at something and speak with authority," according to the HarperCollins website. The Associated Press reports that Anthony Bourdain's publishing imprint will not move on without him, however. Instead, Anthony Bourdain Books "will be discontinued after the remaining works under contract come out."
Anthony Bourdain died by suicide on Friday. He was 61 years old. The world-famous chef was the author of a number of books, including novels, essay collections, and other works of nonfiction. His mainstream success came in 2000, with the publication of his bestseller, Kitchen Confidential: Adventures in the Culinary Underbelly. Bourdain followed up Kitchen Confidential with a 2010 essay collection, Medium Raw: A Bloody Valentine to the World of Food and the People Who Cook.
Bourdain also hosted four television series, beginning with A Cook's Tour, which aired in 2002 and 2003 on the Food Network. From there, Bourdain moved to the Travel Channel in 2005, where he hosted No Reservations until 2012 and The Layover from 2011 to 2013. Bourdain was working on his most recent show, CNN's Parts Unknown, at the time of his death. Parts Unknown is currently in its 11th season.
Anthony Bourdain Books began with a kick-ass lineup of acquisitions: L.A. Son by Roy Choi, Prophets of Smoked Meat by Daniel Vaughn, and Pain Don't Hurt by Mark Miller. Additional titles include Grand Forks by Marilyn Hagerty, You're Better Than Me by Bonnie MacFarlane, and WD-50 by Wylie Dufresne. Anthony Bourdain Books will publish at least four more titles: Prisoner by Jason Rezaian, Stealing Green Mangoes by Sunil Dutta, and Unleashed and We Fed an Island by Jose Andres. A fifth, as-yet-untitled book by Jonathan Gold is also on the way from Ecco Books, but it is unclear whether it will be published under the Anthony Bourdain Books imprint. In addition to publishing four of Bourdain's books — Kitchen Confidential, A Cook's Tour, Medium Raw, and Appetites — Ecco has two more books forthcoming by Bourdain: Points East and World Travel. Ecco and HarperCollins will not release any additional books beyond those acquired during Bourdain's lifetime.
In a Friday press release responding to Bourdain's death, Ecco President and Publisher Daniel Halpern said, "I've known Tony as an author and friend for many years. He not only revolutionized the memoir genre with his groundbreaking and iconic work Kitchen Confidential, he supported emerging voices and chefs with his imprint Anthony Bourdain Books. His death is a great personal tragedy. Our thoughts are with his daughter and family at this difficult time."
If you or someone you know are experiencing suicidal thoughts, call 911, or call the National Suicide Prevention Hotline at 1-800-273-8255, or text the word HOME to the Crisis Text Line at 741741.