A Women's Rights Group Projected Haunting Messages On The Court Where Kavanaugh Works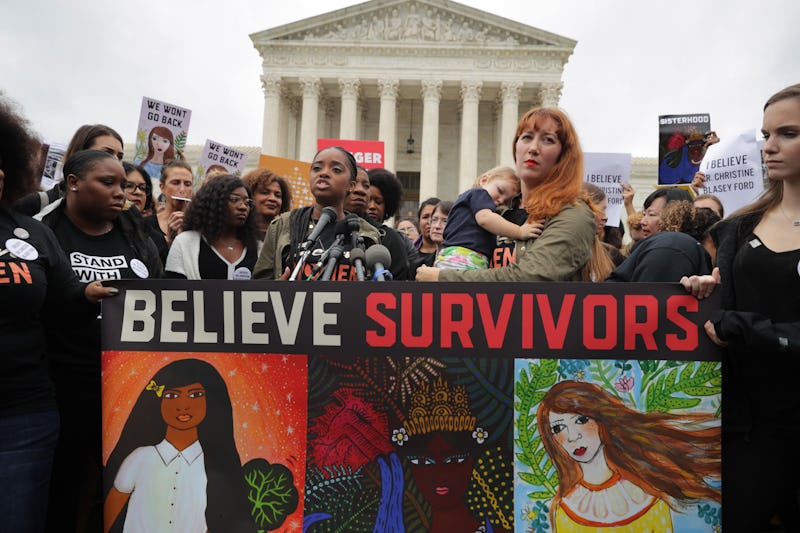 Chip Somodevilla/Getty Images News/Getty Images
On Tuesday night, a women's rights group projected anti-Kavanaugh messages onto the courthouse where he currently works. The messages included "Kavanaugh Must Withdraw," "Kavanaugh Is a Sexual Predator And Well-Documented Liar," and "He Lied Every Time He Testified." This isn't the first time that the group, called UltraViolet, has protested in this way. A few weeks ago, UltraViolet projected the message "Roe v. Wade Is More Popular Than Brett Kavanaugh" onto the Supreme Court, along with an image of Kavanaugh.
Kavanaugh has not yet commented on the messages projected onto his courthouse, but he has repeatedly denied two women's sexual misconduct allegations. In a Fox News interview on Monday evening, Kavanaugh said,
The truth is I've never sexually assaulted anyone, in high school or otherwise. I am not questioning and have not questioned that perhaps Dr. Ford at some point in her life was sexually assaulted by someone at some place, but what I know is I've never sexually assaulted anyone.
According to its site, UltraViolet is a "1,000,000 strong community that leverages high profile media moments to hold decision makers accountable, create a cost for sexism, and shine a light on the people and policies that are improving all women's lives."
In addition to the message projections, UltraViolet also purchased TV ads for six states in an attempt to sway several senators towards voting no on Kavanaugh. In mid-September, it bought ads for the states of Arizona, Nevada, Maine, Alaska, Texas, and West Virginia in a concentrated effort to convince Republican senators Dean Heller, Shelley-Moore Capito, Lisa Murkowski, Susan Collins, Ted Cruz, and Jeff Flake to vote no on Kavanaugh.
In a statement via BroadcastingCable, Shaunna Thomas, the executive director of UltraViolet, said, "We believe women and we believe Christine Blasey Ford. Ford has demonstrated tremendous courage in coming forward and sharing her story of how Brett Kavanaugh sexually assaulted her."
UltraViolet leads other initiatives aimed towards supporting and believing sexual assault and rape survivors, as well. It offers people the opportunity to "thank" Christine Blasey Ford for coming out with her allegation that Kavanaugh attempted to rape her, saying, "We will send thank you cards like this one to all the survivors who come forward."
UltraViolet's acts are nowhere near the only forms of protest that have occurred in response to the Kavanaugh nomination in the last few days. Yale University has had to cancel several classes due to the protesting of its students (Kavanaugh was both an undergraduate and a law student at Yale), protestors have swarmed to locations like New York City Hall with signs like "I Believe Christine," and several sexual assault survivors even gave impassioned speeches about Kavanaugh's nomination in front of Susan Collins' office.
Tarana Burke, the woman who started the #MeToo movement long before it moved to Twitter, tweeted in a thread on Monday, "We will not let Dr. Blasey Ford's experiences be invalidated by partisan nonsense ... This isn't her burden to bear. She is the one who should be protected and if the government won't do it then we will. We will stand up for her and stand by her."