Anti-Refugee Ban Memes & Images To Show Support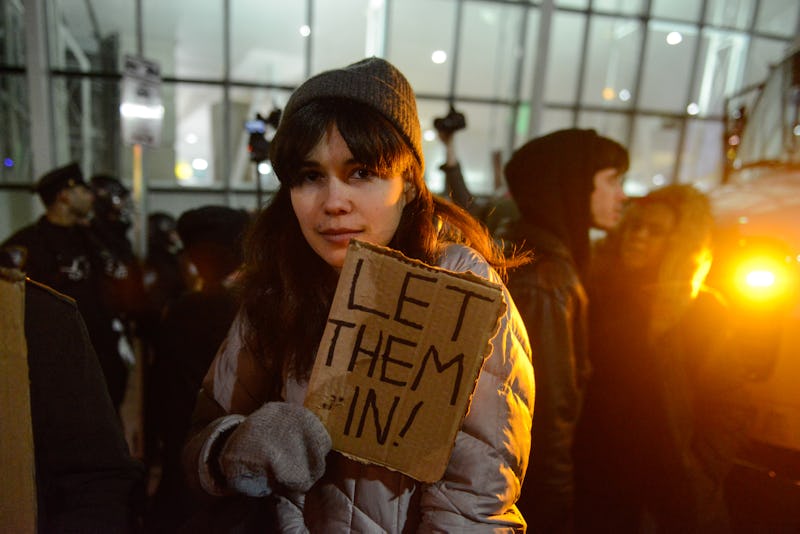 Stephanie Keith/Getty Images News/Getty Images
On Friday afternoon, Donald Trump signed one of the most controversial executive orders to ever cross the desk of the Oval Office: An immigrant and refugee ban that would stop refugees from entering the U.S. for three months — longer for Syrian refugees, many of whom are desperately fleeing the bloody civil war in their country — and block citizens of seven Muslim-majority countries from entering the United States for 90 days. If you're unable to attend a protest, here are some anti-refugee ban memes and images you can share on your social media accounts to let everybody know where you stand.
As immigrants and refugees tried to enter the United States after Friday afternoon, when the order went into effect, many were detained in American airports and/or stopped in foreign airports. This included those who were in the U.S. legally and had left the U.S. legally for work or travel reasons, expecting to return to the country that had issued them a green card, dual citizenship, or visa. By Saturday night, mass protests were engulfing many U.S. airports, including JFK, Dallas-Fort Worth, Denver, and more.
On Saturday evening, a petition brought by the ACLU on behalf of two Iraqi detainees led a federal judge in New York to issue a temporary stay on the ban. However, the stay only applies to those who are in the U.S. or en route, and is expected to be shut down by the White House as soon as Trump's administration is able to.
This Powerful Photo
This Quote From Malala Yousafzai
These Phone Numbers To Call
This Abraham Lincoln Quote
Stay Strong
This First Amendment Quote
This New Yorker Extract
This Statistic
To Share Information
This Quote From Mark Zuckerberg
This Memo From The New York Times' Editorial Board
Be Counted
Don't Let It Happen
If You Love How California Is Handling It
Photos Of Protests
This Simple Meme
This Photo
If You're In D.C.
A Bit Of Mr. Rogers Inspiration
A Reminder
We Are Greater Than Fear
The Statue Of Liberty Cries
Fight With Facts
This Heartbreaking Image
This Child
To make your voice heard now, you can attend a protest, call your representative and senator, and be as vocal about your views as you can be.