This 'RuPaul's Drag Race' Season 10 Star Shares Something In Common With A Former Winner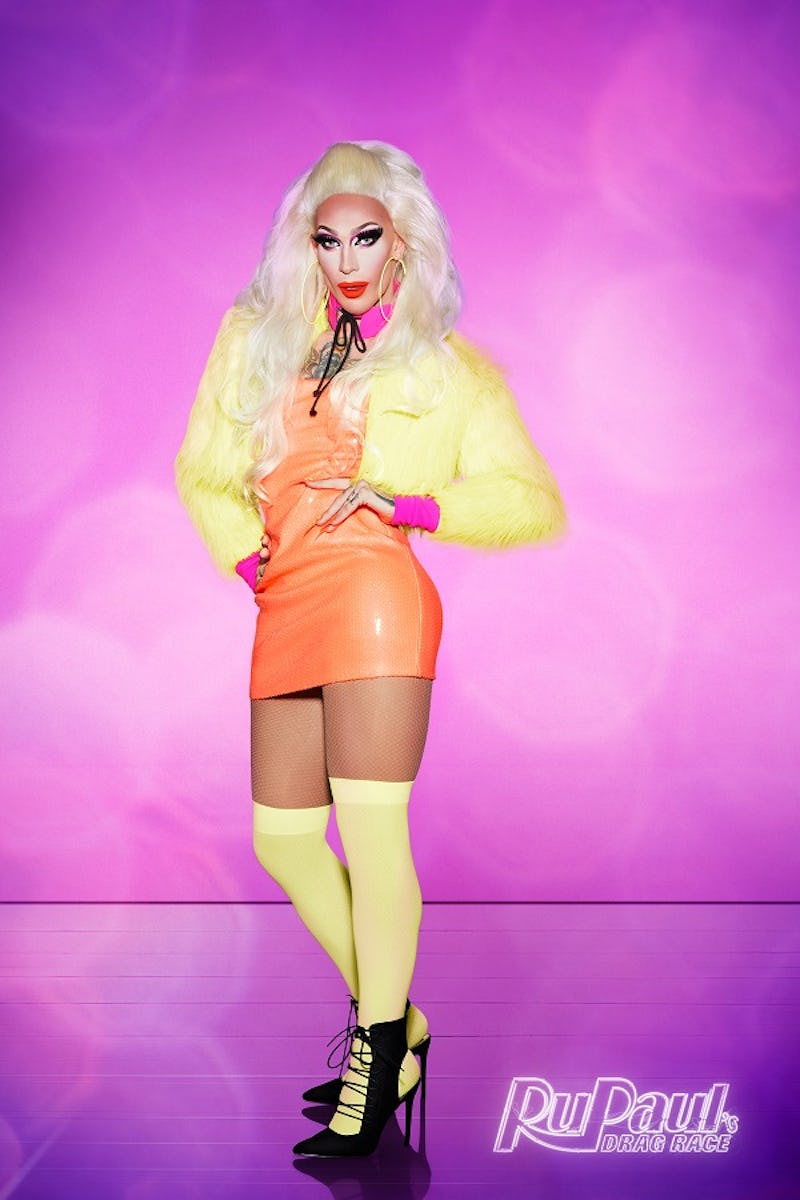 Vh1
When fans of Drag Race think of the name Michaels, there is no doubt that their minds immediately go to Chad Michaels, the All Stars 2 winner. However, in Season 10 of the show, there is a new Michaels to watch: Kameron Michaels. That will of course lead some to ask whether Chad and Kameron Michaels are in the same drag family. However, despite having the same last name, Kameron chose her name to stand out from the crowd — not to associate herself with Chad.
According to an interview with a blog called Foul Mouth of the South, the 31-year-old from Nashville was asked about the origins of her name and said that Kameron Michaels was a drastic switch from her previous drag name: Arianna St. Claire. "HA! I laugh every time I remember it. It was just not me. I wanted an androgynous name and that is why I chose Kameron," she said. "I chose the last name Michaels because I thought it sounded strong and there were no other queens in Nashville at the time with that name. I didn't want to be connected or associated with another "family." I wanted to rise myself and be my own individual."
So, it would appear that Kameron and Chad Michaels merely share a name and are not actually drag family.
Being a unique individual certainly seems like something that's very important to Kameron. In an interview with VH1 done before Season 10 aired, she explained just what sets her apart from the rest of the competitors. "Kameron is a chameleon queen. She's a little bit of old school drag, a little bit of new school drag, mixed together. I like to do everything, I don't like to box myself up into one type of queen," she said. "I'm so diverse. I can be quirky, and funny, and stupid, and weird, but also be pretty, and then there's the muscle queen thing, so I think that in itself makes me stand out. So yeah, I'm a chameleon."
Something else that sets her apart is her incredible hairstyling which she does professionally when she's not slaying runways in drag — which now she'll be doing as a RuPaul contestant. In that same VH1 interview, she said she joined the show because of a bit of a heartbreak. "I went through a recent breakup and I needed something to bring me back to life and drag is always what does that for me," she said. "The breakup fueled the audition tape and here I am."
So, Chad and Kameron do not have a drag family connection, but it's sure that Kameron knows Chad is a former winner. However, it is unclear if Chad knows of Kameron. Looking on social media can often help determine whether or not a pair like these two are friends. However, looking on Chad's Instagram profile, there seems to be no mention of Kameron. The same would appear to be true for Chad's Twitter profile, as well. While it is not a confirmation, the two do not appear to be friends nor do they know each other by social media standards.
But, while Chad and Kameron Michaels did start this experience as drag family, they certainly may end it as family. Kameron could win this season and join Chad as crowned queen. Even just going through the same process will link them together to some degree. The experience seems to bond queens together, giving them a shared life event unlike any other. Perhaps, with the shared name, Chad's got a queen to pull for as Season 10 kicks off.