'RuPaul' Stars Eureka & Asia O'Hara Have Some Seriously Famous Drag Family Members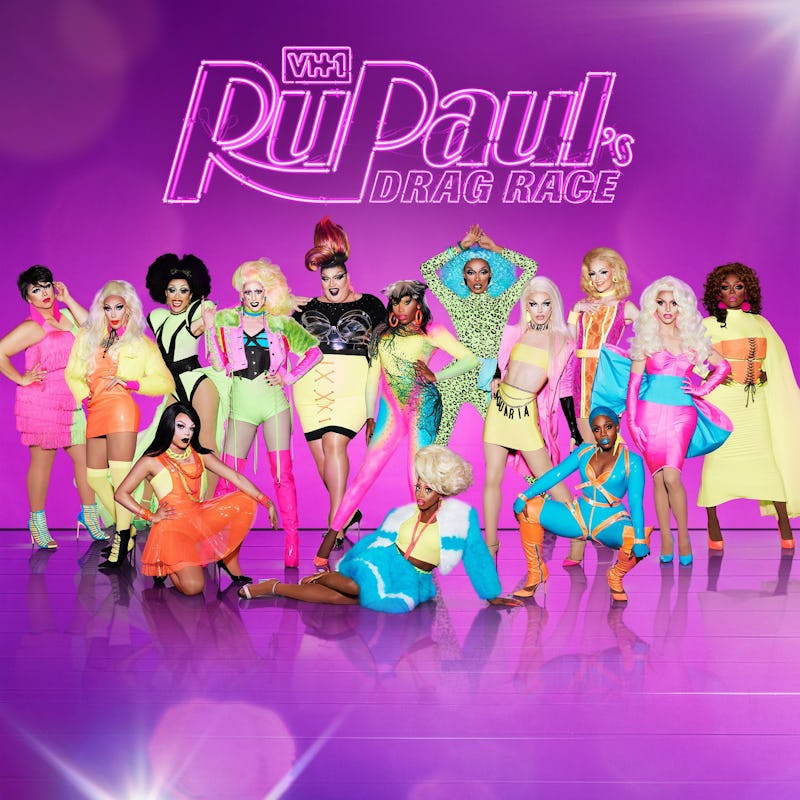 VH1
The last name "O'Hara" has seemed to become the drag equivalent of Smith lately. First, there was Phi Phi O'Hara who appeared in Season 4 and All Stars 2. Now, in Season 10 there are two more O'Hara queens: Asia O'Hara and Eureka O'Hara. With the same name it is very fair to wonder whether RuPaul stars Eureka and Asia are in the same drag family.
However, the similarity is nothing but a coincidence. Eureka and Asia are not from the same drag fam. But, Asia does have a famous drag daughter. That famous drag daughter of Asia's is none other than Phi Phi, according to a tweet she made in 2012. Despite being Asia's daughter, Phi Phi appeared twice before her mother Asia got her chance in the Drag Race spotlight this season. While those two are connected, there is apparently no connection between them and Eureka. That was made clear from Phi Phi's tweet dispelling the rumors they may be drag-related. "No.....Eureka and I are not part of the same drag family......just like there are more than one Smiths in the world," she wrote.
Eureka, whom fans will remember from her leaving Season 9 with a knee injury, also revealed her own drag-family-history on social media. In a tweet Eureka said that her drag mother is Jacqueline Presley-Grizzle.
Of course, there's no biological relation among any of these queens. Drag families are simply a way to imply close friendship among drag performers, described in the 1990 documentary Paris is Burning. Queens who began doing drag in the same place at the same time often identify as sisters, while queens who are mentored by other queens often are described to have a mother-daughter relationship. Doing drag (and being gay) is still stigmatized in certain communities and, as a result, drag performers can sometimes have strained relationships with their own biological families — these drag families help provide support even if they're not blood relations.
Although there may be plenty of fans who are rooting for either Asia or Eureka, there's one queen who is a fan of them both. Kalorie Karbdashian-Williams tells Bustle that she's pulling for both of them to succeed in Season 10. "I'm personally team O'Hara … Mainly because Eureka is a big girl and I think it's time that a big girl finally wins this competition. And then Asia, she's been one of my drag inspirations for so long," Kaloies says, "So those girls, I feel I want them to go so far in this competition. One of them needs to win."
The idea that Asia or Eureka could go on to win Season 10 of Drag Race isn't some outlandish fantasy, either. Either one could be a real contender as the season progresses for different reasons. While Asia hasn't won any maxi-challenges in the first two episodes like The Vixen (Ep. 2) or Mayhem Miller (Ep. 1), her success is still obvious. In Episode 2, Asia did end up winning the quick-drag mini-challenge, and it's clear she's capable of winning more and even bigger challenges.
Eureka may be more of a dark-horse in the competition. However, there are several reasons to think that she could make it until the end of the competition. Unlike any of the other queens this season, Eureka has competed on a previous Drag Race season. That experience is something unique to her and it means she'll know how runways work, how challenges work, and just generally what to expect as the competition continues. While some may argue that Eureka's knee injury will continue to affect her mentally like last week, I'd argue against that.
Returning to this competition shows immense drive. Sending home a close friend like Kalorie to stay in the competition shows even more drive. That passion for the show will undoubtedly mean future success in challenges for Eureka if she can get out of her own way as the judges suggested.
So, while Asia and Eureka may not be drag family, this experience will undoubtedly bring the pair closer together. Who knows? By the end of this season they may be as close as cousins. If one doesn't send the other home in a lip-sync battle that is.