These 'Drag Race' Alums Aren't Quite Sisters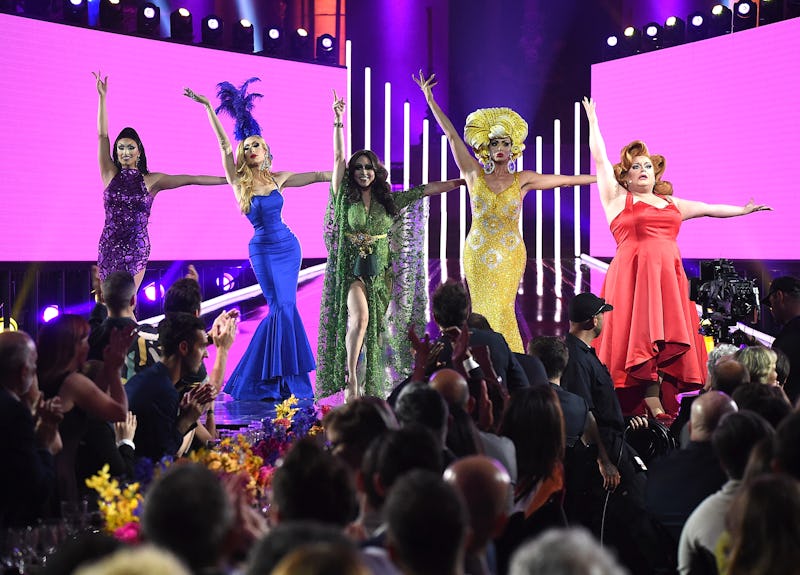 Gary Gershoff/Getty Images Entertainment/Getty Images
RuPaul's Drag Race had fans scratching their heads in the April 21 episode of the show when Eureka O'Hara — who was not in the bottom two — was suddenly eliminated from the competition in order to allow her to recover from her knee injury. Luckily, RuPaul extended an invitation to Eureka to return for Season 10. Well, that kind of solves that, but fans are still wondering about another major mystery involving this beloved contestant. And they've probably been curious about it all season long (I know I have been): Are Eureka O'Hara and Phi Phi O'Hara in the same drag family?
For most RuPaul's Drag Race fans, the very mention of Phi Phi's name probably conjures up images of her yelling "go back to Party City where you belong" to Sharon Needles in Season 4 or not showing up for the RuPaul's Drag Race All Stars Season 2 reunion. So when Eureka was introduced as part of the Season 9 cast with the same last name as Phi Phi, I wondered if the infamous RuPaul's Drag Race alum's influence would be felt in this season, as well if the two belonged to the same drag family. I mean, Eureka was starting to ruffle some feathers among the group, just as Phi Phi had done in her respective seasons.
For those who don't know what a drag family is, the term grew out of the houses formed in ball culture of like-minded individuals who bonded and banded together, as described in the seminal 1990 documentary Paris Is Burning. It became a way for people to identify themselves as part of a group, especially since many members of the LGBT community didn't (and some still don't) have the support of their biological families. House mothers, or drag mothers, arose to lead and mentor the house or family.
But just because Eureka and Phi Phi share the name O'Hara doesn't mean they're part of the same drag family. "No....Eureka and I are not part of the same drag family......just like there are more than one Smiths in the world," Phi Phi, whose real name is Jaremi Carey, tweeted earlier this month. It appears that Eureka has not explicitly commented on the similarities in their names.
Eureka and Phi Phi also have different drag mothers. Eureka's is Jacqueline Presley-Grizzle, and Phi Phi calls Asia O'Hara her drag mother, they each revealed on Twitter.
Some past RuPaul's Drag Race contestants have belonged to the same drag family. The late Sahara Davenport and Kennedy Davenport were drag sisters. Alyssa Edwards, Shangela, Laganja Estranja, and Gia Gunn form the Haus of Edwards.
Even though Eureka and Phi Phi are not part of the same drag family, they're now both a part of the RuPaul's Drag Race family forever, and it doesn't get much better than that.