Gigi Hadid's New Bangs Could Set A Summer Hair Trend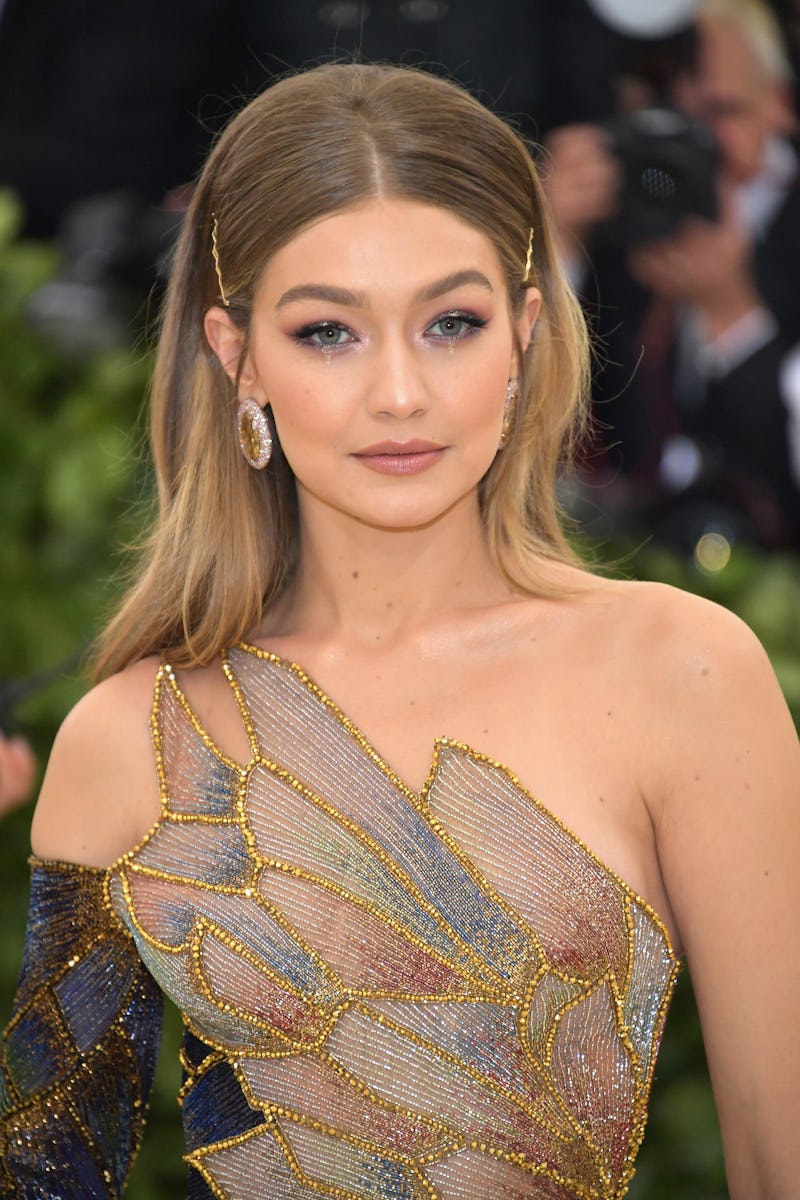 Neilson Barnard/Getty Images Entertainment/Getty Images
The summer is all about experimentation. We've come out of hibernation and it's time to try out new trends, swipe on electric lip glosses, and tinker with new hairstyles, all because the sunshine makes us feel adventurous. Gigi Hadid gets that mood, where Hadid's new bangs show the supermodel is open to changing her style on a whim — and she just might inspire you to do the same.
Many people like to take some time to weigh the consequences of a drastic haircut. After all, getting bangs is a months long investment, where they will take a good amount of time to grow out if you're not into them. But sometimes taking that risk is part of the fun. If you really want to transform your look, there's no faster way to do it than getting some fringe around your eyes.
The model shared a glimpse of her new style on Instagram, where she shared a video of her sitting in a makeup chair and a team of beauty experts touching up her face and playing with her wet hair. In the video, she was sporting dramatic makeup, where she had smokey peach eyeshadow on that created a perfect crescent over her lids and extended past the corners of her eyes, creating a bold but doable summer look.
Accented with bronzed cheeks and a lip color in that same peach shade, you can easily imagine yourself wearing that same look while getting drinks on a patio on a Sunday afternoon, or adding unexpected color and art to a minimalist outfit.
But the hair is what really caught people's attention, where her wet blonde tresses were in the middle of being styled and — most importantly — were cut into blunt, wavy bangs.
But are they real? Some of our favorite celebs have been known to put on fake fringe for an event or photo shoot, proving that you don't need to commit to a haircut in order to rock a new look. For example, in April Modern Family actress Sarah Hyland wore eye-grazing, blunt bangs for a Hollywood red carpet, and then after the event took them off in her bathroom while on her Instagram stories.
Emma Roberts went more drastic with her bang cut, where she rocked sci-fi inspired baby bangs to the Critics' Choice Awards in January. While everyone wondered whether she actually took the plunge and committed to such an avant-garde style, her hairstylist, Nikki Lee, spilled the secret that it was in fact a wig.
Lee posted the mannequin wearing the baby bang wig onto her Instagram story, captioning the photo, "Guess who's rockin baby bangs?!!!"
Seeing how realistic these faux-bang examples look, there's a good chance Hadid might not have committed to an actual cut, either. The clues on whether or not she did are in the captions of her videos, where she tagged six people that were involved in the beauty transformation: hairstylist Ward Stegerhoek, makeup artist Fulvia Farolfi, stylist and Italian Vogue editor Patti Wilson, production designer Giovanni Bianco, nail artist Honey Nailz, and Italian Vogue. Seeing how the magazine was tagged — as well as the editor and a production designer — one can assume that this is the behind-the-scenes moments before a shoot, where Hadid is being prepped for an editorial. If that's the case, then chances are she's wearing a wig.
If you also head over to Wilson's Instagram, you'll notice she posted up photos of that particular spread, where you can see Hadid rocking her wet, wavy bangs in one of the photos — but then appearing in fringe-less, swept-back hair in the rest.
Even if the bangs aren't real, her wavy fringe can still inspire you to pick up a pair of scissors and create the chic look yourself — or invest in clip-ons to play with the look just for a day. Whatever you choose, you'll definitely have fun with it.