You'll Never Want To Wear Halloween Contacts Again After Reading This Teen's Story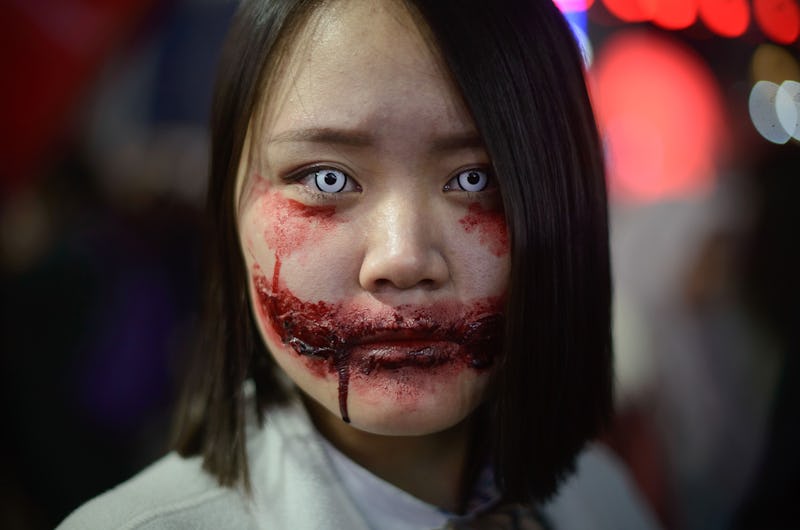 ED JONES/AFP/Getty Images
When it comes to Halloween, everyone wants the perfect costume. Whether that's glam or gore, there's a perfect get-up for everyone. Some, however, may be scarier than you think, and have impacts that last longer than All Hallow's Eve. A teenager's Halloween contacts may have caused partial blindness, and it's a reminder to always be extra careful when experimenting with new looks.
According to Allure, 17-year-old Leah Carpenter wore a pair of contact lens as part of a zombie costume for an all-girl football game. The next morning, her eyes were red and swollen, according to her mother. After visiting the ophthalmologist, Carpenter and her mother discovered that the contact had actually ripped a layer of her cornea. Now, the teen is facing potential surgery and has been coping with vision issues since she first used the contacts.
With many Halloween tutorials and costumes incorporating colored or creepy contact lens, you can never be too safe. And you can never investigate too much when to comes to safety — especially when it's your eyes and face.
The Detroit news station that originally covered Carpenter's ordeal, WXYZ, did quite a bit of digging into whether contacts sold without prescriptions can be safe. According to the news station who spoke with an agent with Homeland Security Investigations, the sale or purchase of any contact without a prescription is actually illegal.
While it may seem fun to change your eye color for the day or to rock a literal cat eye for Halloween, but it's all fun and games until someone's cornea gets ripped out. Contacts, however, aren't the only unsafe measure someone people take when it comes to getting the perfect Halloween costumes. Tons of party-goers and costume lovers go all out for their annual looks, but they may be damaging their health in the process.
Another common product used during Halloween? Makeup. If you're a beauty junkie, you know that not all products are created equal. When it comes to Halloween looks, cheaper alternatives are everywhere, but they're not always a safe bet.
According to Cosmopolitan, cheaper makeup can be made with more preservatives which can hurt your skin and cause breakouts and rashes. Even if you do save money by purchasing less expensive makeup, the amount of post-costume skin care you'll need to do will probably end up breaking your bank anyway.
Another unexpected issue? Metal. While you may be wondering why there's metal involved in a costume, think about accessories like necklaces, belts, swords, or the occasional chainmail. If you've ever worn a piece of plated jewelry, you'll be all too familiar with the shiny green stain they can level on your body. While that may seem like a small danger, there are bigger ones.
Cosmopolitan explains that cheaper metals have the potential to severely irritate the skin. If your skin is irritated, those itch could then become a rash. While Halloween is sure to get spooky and maybe just a tad weird, you probably don't want someone ask you if those red bumps or green bands are part of your costume.
While cheap, preservative filled makeup and coated metal accessories aren't exactly your best bet when it comes to Halloween costumes, non-prescription contacts may just take the cake for the costume idea to avoid at all cost. Carpenter is still dealing with the effects of using the eyewear to change to look of her eyes.
If you've already got a pair of colored contacts stashed in a drawer for your Halloween look, now may be the time to re-evaluate. With tons of incredible tutorials on YouTube and ideas aplenty, no should should be rocking these dangerous accessories.