Apparently, Idris Elba & Kate Winslet Became Friends Under Extreme Circumstances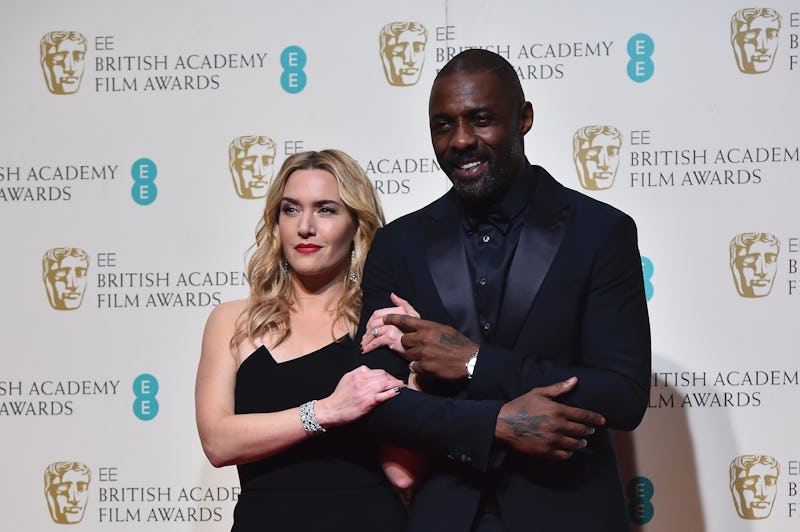 BEN STANSALL/AFP/Getty Images
Kate Winslet and Idris Elba's new movie The Mountain Between Us is somewhat hilariously called a "romance-disaster" film on Wikipedia, but it's not the romance that's disastrous — it's the plane crash that lands the two actors in the frigid landscape of the High Uintas Wilderness in Utah. The stars endured some brutal conditions together since director Hany Abu-Assad didn't want to use any green screens, and, as such, Winslet and Elba became friends while going through hell and back in temperatures that were sometimes as low at -38 degrees. But while they were frozen together for months on end, Elba and Winslet have nothing but warm feelings for each other now.
The film is primarily just the two actors seriously roughing it, and filming took about three months in Vancouver from December 2016 to February 2017. Elba, 45, was highly impressed by his co-star's ability to stand the cold. In an interview with Jess Cagle from People, when asked "who was the bigger baby," Elba laughed like it wasn't even a question. "You know who it is!" he said. "I don't do the cold! Kate, actually, is quite an outdoorsy person. She had these gloves that had a button you'd press and they'd heat up. I was like, 'Are you kidding me?" And, like a true friend, Elba pranked Winslet every once in a while by turning off her heated gloves so she could suffer with him, too.
As for Winslet, though she's a huge movie star, she was still struck by just how dang handsome Elba is — and rightly so. When discussing the film with the Independent, interviewer Melena Ryzik said: "I bet a lot of people would be thrilled to be stranded on a mountain with Idris Elba." To which Winslet laughed and responded, "Hell yeah! I could think of worse people to be trapped with. I haven't worked with him before." She went on to say, about their great experience working together:
"I think it was really good that we didn't know each other — we discovered a lot about the other person. We got quite good at reading what the other person was thinking and needing — hot packs and hidden candy supplies. We would eat Maynards wine gums [a British gumdrop-like candy]. We called [them] our acting pills."
Anyone that you share a favorite candy with is automatically a fast friend. And Winslet felt selfless even when she was going through one of the most difficult scenes in the film. Her character falls through the ice of a frozen lake and is knocked unconscious, and Elba's character has to pull her dead weight out of the water. In an interview with Jimmy Fallon on Wednesday, Winslet said the terrifying ice scene was just as hard for him as it was for her, if not more so. She felt bad about not being able to move her body at all, saying, "I found it really hard not being able to help my friend! That upset me... It was actually pretty rough on poor old Idris."
And even though Winslet finds sex scenes more than a bit awkward, she wasn't all too disappointed to be acting in them with her new friend. Of course, all her friends were jealous, naturally, which of course she told her co-star, saying in an interview with E News: "[My friends] say, 'Can I just live vicariously for a minute, what was it like kissing Idris?' I say, 'Oh my darling, the pillowy lips..."
Ultimately, these two brave Brits survived the cold together and came out with a strong bond at the end of it.