Kim & Kanye Were Reportedly Burglarized & Here's What We Know So Far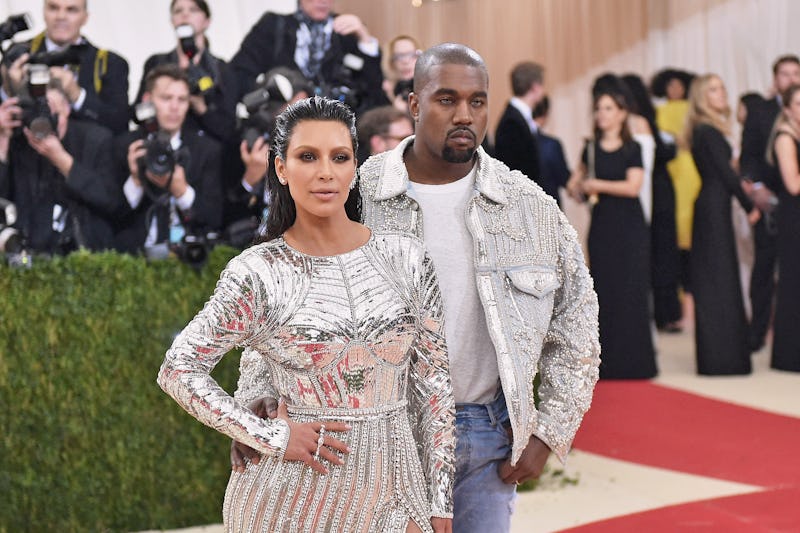 Mike Coppola/Getty Images Entertainment/Getty Images
Kim Kardashian and Kanye West's property was reportedly involved in a serious incident early Friday. According to TMZ, Kim Kardashian and Kanye West's cars were allegedly burglarized when a robber allegedly attempted to break into three of the couple's vehicles. The thief allegedly only broke into the couple's cars and didn't enter their Bel Air home or come into contact with Kardashian or West. Bustle has reached out to reps for Kardashian and West and to the LAPD for comment, but did not receive any responses at the time of publication.
UPDATE: On Friday night, the LAPD released the following statement to Bustle:
Today, October 20th at 5:10 a.m., WLA officers responded to a theft from motor vehicle at the 11700 block of S. Hampton Court. A witness observed a suspect enter and exit the victim's vehicle and then flee the location. A second suspect also fled the location. Suspect #1 took personal items from the victim's vehicle.
The statement continued, "This is an ongoing investigation and there is no further information at the time."
UPDATE #2: A source told Bustle that nothing was stolen from the car, which actually belonged to a staff member, not West or Kardashian. According to the source, the suspect tried to open the car door and take something, but dropped it after being startled by multiple security agents, who had their guns drawn.
EARLIER: According to TMZ, the alleged burglar didn't get away with much, reportedly only attaining an iPhone from one of the cars that reportedly belongs to one of Kardashian and West's staffers. The alleged incident reportedly went down around 4 a.m. PT and was caught on tape, thanks to the couple's security footage. The publication also reported that security at the house caught site of the alleged thief and drove him away from the house.
The alleged robber didn't stop there, though. TMZ reports that when they left West and Kardashian's house, they allegedly moved over to Kimye's neighbor Kathy Griffin's property where they allegedly stole a purse that they later ditched. (Bustle has reached out to a rep for Griffin for comment, but did not receive a response at the time of publication.) There are no reports as of yet that state how Kardashian, West, or Griffin are doing after the reported incident.
Of course, this isn't the first time Kardashian has been involved in a burglary. In October 2016, she was involved in a terrifying robbery ordeal while she was in Paris. As the reality star has recounted on Keeping Up With the Kardashians, during the incident, she was held at gunpoint while burglars robbed her. Kardashian was alone at the time as her bodyguard was accompanying her sisters Kourtney Kardashian and Kendall Jenner at an event. The traumatic event was obviously a lot to handle for Kardashian and her entire family. As a result of the ordeal, the family beefed up their security, as Kardashian's mother Kris Jenner said during a roundtable with The Hollywood Reporter.
Kardashian was understandably shaken up by the robbery and still experiences anxiety stemming from it. On an episode of Keeping Up With the Kardashians from March 2017, Kardashian described how a simple interaction with her husband frightened her because she was still on edge. West came home from a concert late at night and the noise of him entering the house triggered memories her about robbery incident all over again.
In a more recent episode of KUWTK from October 2017, Kardashian again opened up about how the incident has affected her. During an episode showing a trip Kardashian, Kourtney, and some friends took to Mexico, Kardashian experienced anxiety and looked for reassurance that the villa where they were staying was safe. Kardashian explained on the show, "Ever since Paris, I just like go through this worst-case scenario mode in my head."
Thankfully, no one was reportedly harmed during the alleged car burglary, but that doesn't mean that this matter isn't serious, especially considering Kardashian's past trauma.