Obama's Daughters Might Not Be At The Inauguration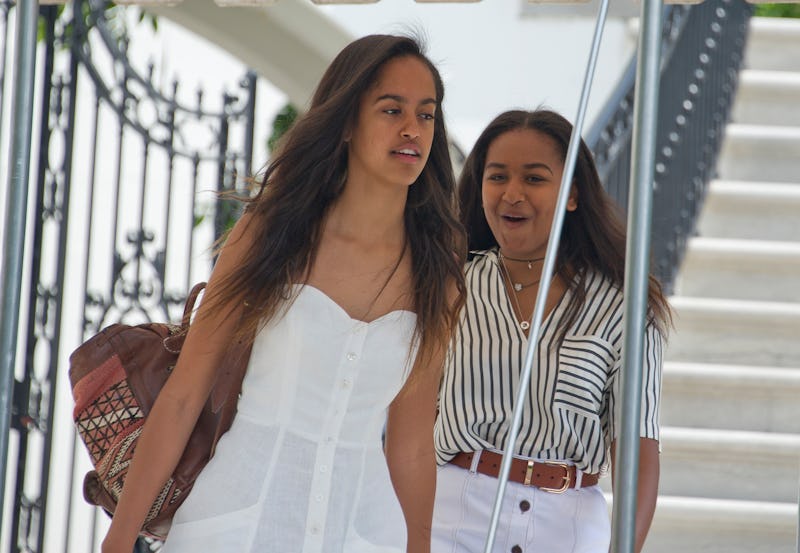 Pool/Getty Images News/Getty Images
Every four years, Inauguration Day is filled with historic traditions and famous faces. There's the inaugural parade, the official swearing-in, and the series of inauguration balls, all to welcome the new president into office. As President-elect Donald Trump opens his first term, President Obama and the first lady will be there to metaphorically pass the torch. But soon-to-be former first daughters Malia and Sasha Obama aren't expected at Trump's inauguration by their parents' side.
The guest list for Trump's inauguration festivities has been the subject of speculation for weeks. His wild and unruly campaign, as well as his controversial moves since winning the election, have made him a divisive figure. As a result, some famous faces may have been hesitant to attend the official proceedings and celebrations.
Among the most unexpected of confirmed attendees may be Hillary and Bill Clinton. The former secretary of state understandably stepped away from the spotlight after losing November's presidential election to Trump, but it was announced in early January that she and the former president would attend. Other former presidents in attendance will include George W. Bush and Jimmy Carter. Former President Bush and former First Lady Laura Bush will also be in attendance. Meanwhile, former President George H. W. Bush is not expected to be in attendance, due to his age a recent bout of ill health; earlier this week, the 92-year-old was hospitalized after experiencing respiratory problems.
While Malia and Sasha are not expected to attend Friday's inauguration, they had previously attended both of their father's ceremonies. But when it comes down to it, this Friday is likely a school day for Sasha, still in high school at Sidwell Friends School in Washington, D.C. After Friday's inauguration, the Obamas plan to stay in the District so that Sasha can finish her schooling.
Despite the Obama daughters' absence, the inauguration will not be without presidential kids. Trump's children, who have appeared with him at many of his political events, will likely join their father on the steps of the Capitol building. Throughout his campaign, Trump's children helped to humanize the unconventional candidate, and he often references them among his many accomplishments.
In fact, the role that Trump's kids will have after Friday's inauguration has caused controversy. For instance, Trump has hinted that his older children will take over control of his business interests when he takes office. The question remains whether or not that is enough separation to prevent a conflict of interest as Trump serves the American people.
Ivanka Trump, in particular, could have a unique role for a first daughter. She and her husband, Jared Kushner, are reportedly moving to D.C. (As it turns out, they will live less than two blocks from the Obamas.) Ivanka has not announced plans to take a formal position in her father's administration, but she could likely serve as a close adviser to him. So, too, could her husband.
On Inauguration Day, though, the controversy over Trump's family and his administration will be all but drowned out by the pomp and circumstance of tradition and celebration. For their part, Malia and Sasha will likely stay removed from the festivities, likely adjusting to life after the White House. Later this year, Malia will reportedly attend Harvard after taking a gap year, and Sasha will continue her high school education in D.C.