Mila Kunis Looks TOTALLY Different With Her New Edgy Haircut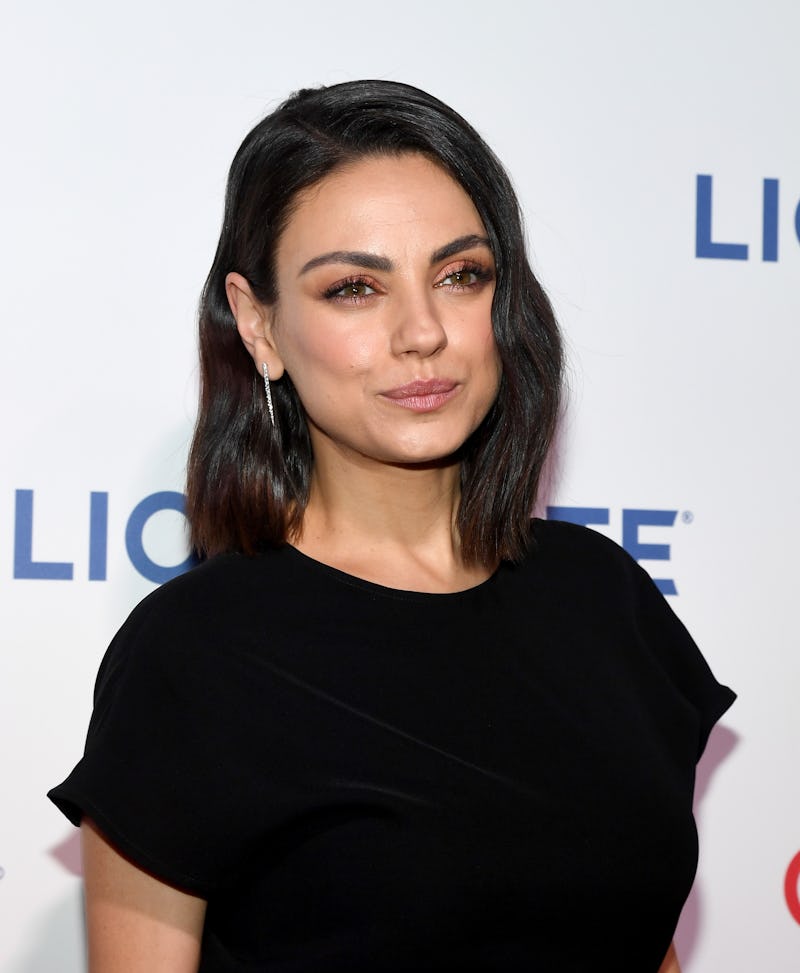 Ethan Miller/Getty Images Entertainment/Getty Images
The red carpet is a place for killer fashion moments, but the hair changes are just as incredible. Mila Kunis wore blunt bangs to the Billboard Music Awards, and yes, they are real. The social media-free actress switched up her signature style in an edgy way for the red carpet. If her stylist's caption on Instagram has anything to say for it, there's a good chance that she will be rocking this look for the rest of the season.
Kunis might not be on social media to show fans her every style update, but thankfully her stylist is. Celebrity stylist Chad Wood share Kunis' new cut on Instagrm, and it is edgy AF. She kept her natural hair color and a little bit of wave, but traded in her long locks for a blunt bob and bangs instead.
"Bangs and bobs are this years theme for sure [sic]," Wood captioned the photo on Instagram.
If you still need a reason to go edgy with your look this summer, Kunis' Billboards Music Awards red carpet look will convince you. She kept her middle part, but added fringed bangs into the mix, proving that just a little change can so so much for a look.
Top that off with an all-black outfit and a smokey eye and you can the definition of edgy. Not to mention the one-shoulder cutout and embellishment on the skirt. The actress looked a lot different than her casual daytime, effortless look that people are used to seeing.
As far as why she got the look, it seems like Kunis just wanted a change. Celebrities: they're just like us. According to Wood's Instagram photo, this seems to be a personal hair choice, instead of one for a movie role.
Kunis was at the Billboard Music Awards to present the award for Top Selling Record, which went to Taylor Swift. The two of them on stage together was a very good versus evil style situation that would make for an epic costume in the next Disney movie coming out. Swift wore a delicate — get it? — dress that was light pink and featured a high-slit and her hair in an effortless ponytail.
Kunis was the exact opposite of that with black from her head to her toes. Needless to say, they both looked incredible, but Kunis' hair stole the show.
This isn't the first hair change that Kunis has had even just in the last month. On April 26, Wood posted photos of the bob that he cut for the actress just before the Cinema-Con. It looks to be the same bob that the actress was rocking at the Billboards, with a few tiny changes. The original style was parted to the side and had no bangs along with it.
Wood ins on a roll with bobs this season too. Kunis isn't the only celebrity that he's apparently inspired to make the cut. Vanessa Hudgens, Jenna Dewan, and Jessica Alba have all gotten their bobs from Woods, according to Instagram. All three of them have almost identical edgy bobs. So maybe Woods is right — bobs and bangs are here for the season.
According to the celebrity hairstylist's Instagram, Wood does hair in both Los Angeles and New York. There is no word on whether or not he is with a salon or just makes house calls, but Bustle reached out for comment. At this point, it's looking like you have to be an A-lister to get him to touch your locks.
If you're looking for a new style for the summer, this bob is the way to go. I meant, just look at how good it looks on Kunis.